Red symbolizes passion, luck, and joy. This Chinese New Year, Dior Men presents its lunar capsule collection with a rabbit motif.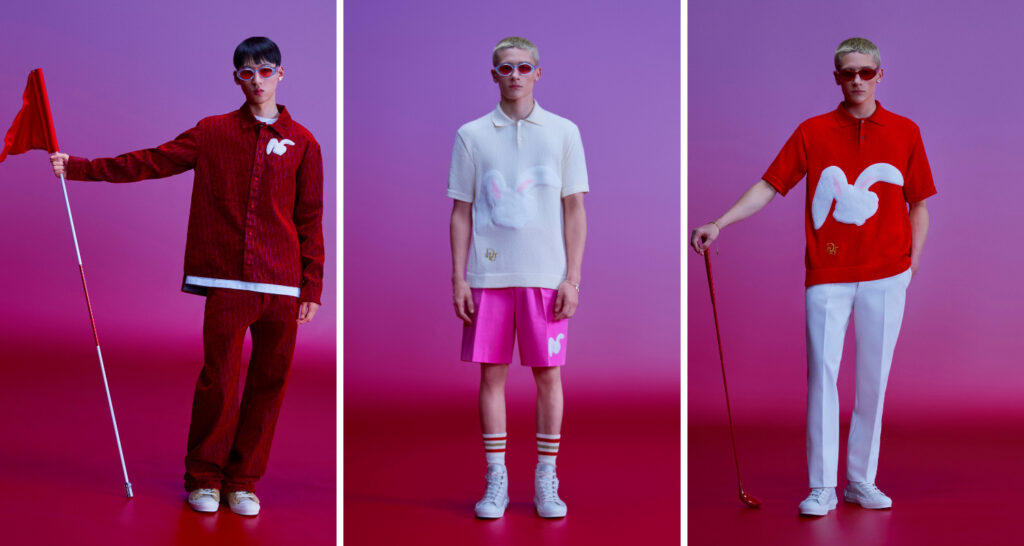 Red is traditionally the colour of happiness, luck and good fortune. In relation to Chinese culture, the colour is a popular choice-  people may consider wearing red during festivals and important events. In celebration of Chinese New Year, Dior Men unveiled an exclusive lunar capsule collection continuing the dialogue initiated between Kim Jones and ERL – during the Dior Spring 2023 men's show.
A Water-Rabbit – the Chinese zodiac sign of 2023 is drawn on a series of new creations. The rabbit motif can be seen on pieces such as a flocked denim ensemble or the Dior Lingot 22 bag in Dior Oblique Mirage quilted toile. From ready-to-wear to small leather goods, these pieces revolve around the colours beige, white and red that provide a contemporary polished festive look.
Jersey and Jeans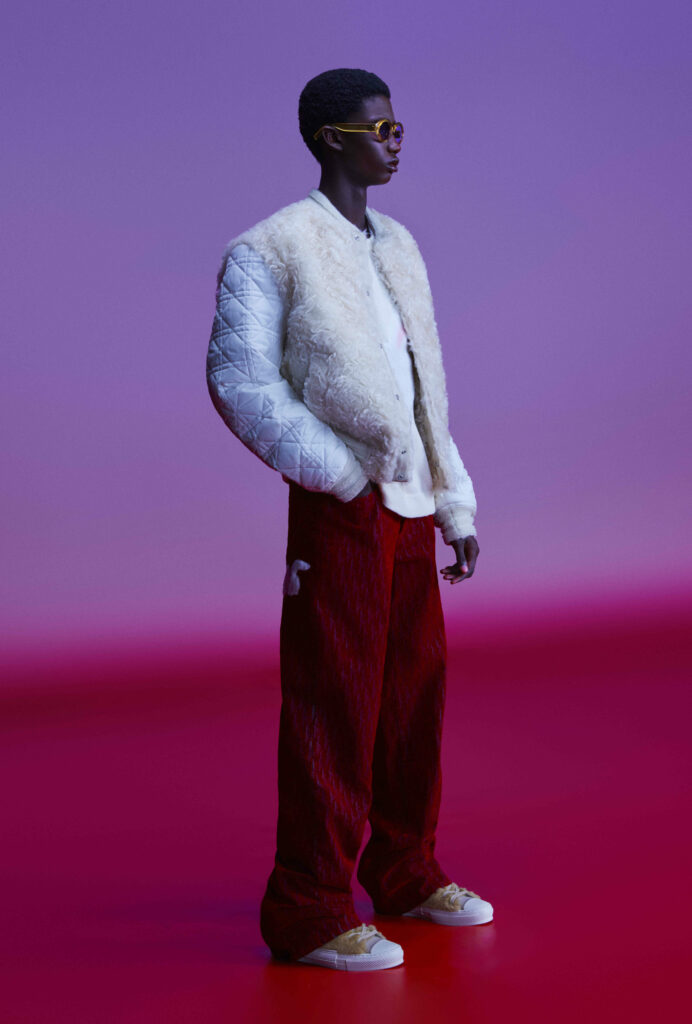 The chicest style for Lunar New Year goes to a combination of casual and modern. A rich hue with a beige jacket works just well. Crafted in beige mohair and cotton blend, it stands out with a Cannage embroidery on fur while a DIOR BY ERL rabbit patch celebrating the lunar year of the rabbit highlights the back.
A contemporary look needs to have an eye-popping colour. Straight-cut trousers crafted in red-flocked cotton denim with a velvet effect is a showstopper. To finish the look, match the jeans with an overshirt. In addition, add a bold touch to your CNY look with the LuckyDior R1I sunglasses in a rounded shape. The gold-tone acetate frame and purple lenses combine modern spirit with Californian charm.
Schoolboy Chic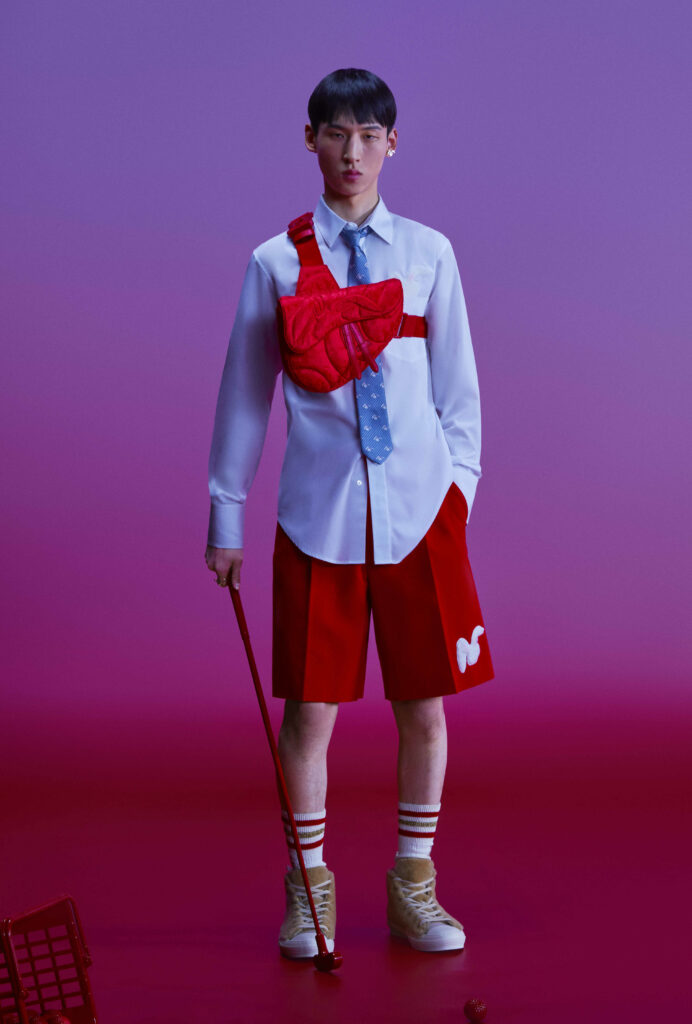 This look is so completely casual-chic. It includes a timeless satin shirt, shorts with a classic rabbit embroidery, and a seasonal pouch. The rabbit motif is apparent on the Lingot 22 Bag – it is distinguished by a functional design that embodies The Maison's style. Crafted in bold red, the bag is ideal for this season. Furthermore, red cotton canvas shorts complete a variety of looks that matches well with a plain shirt. Put on a warm B23 High-Top Sneaker to finish the festive theme. The sneaker features eyelets, a lace-up front, a rubber sole, and rear tab.
Woolly Red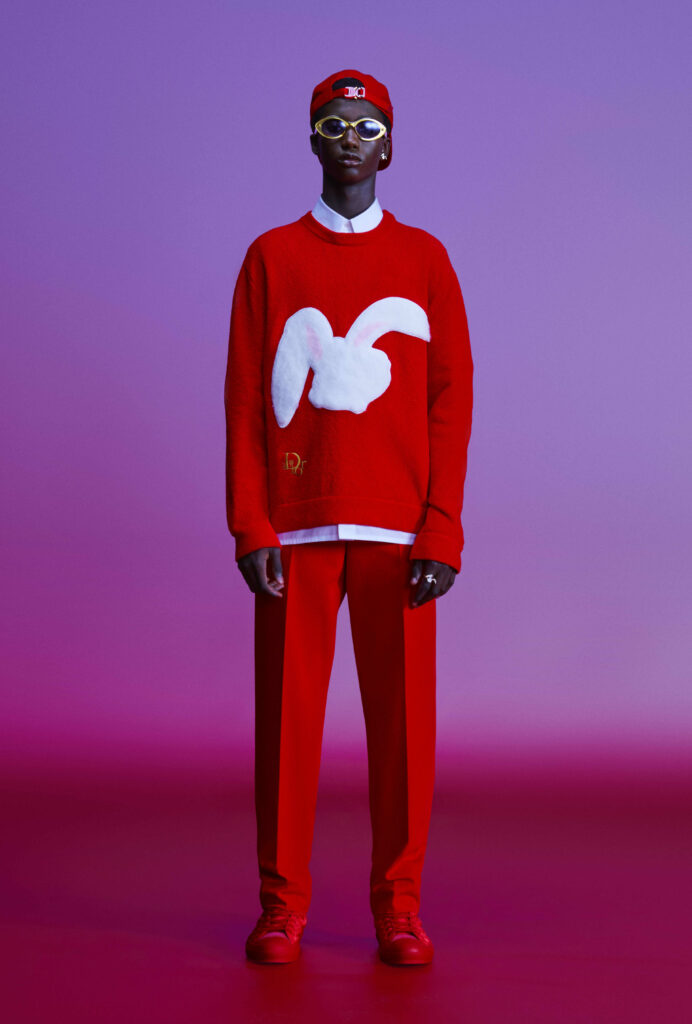 Dressed for the occasion. The long-sleeved T-shirt is crafted in red compact cotton jersey. Featuring a relaxed cut and ribbed cuffs, the comfortable T-shirt can be worn with any DIOR BY ERL trousers. Elevate your look with a baseball cap accompanied by Dior's signature logo.
The White Set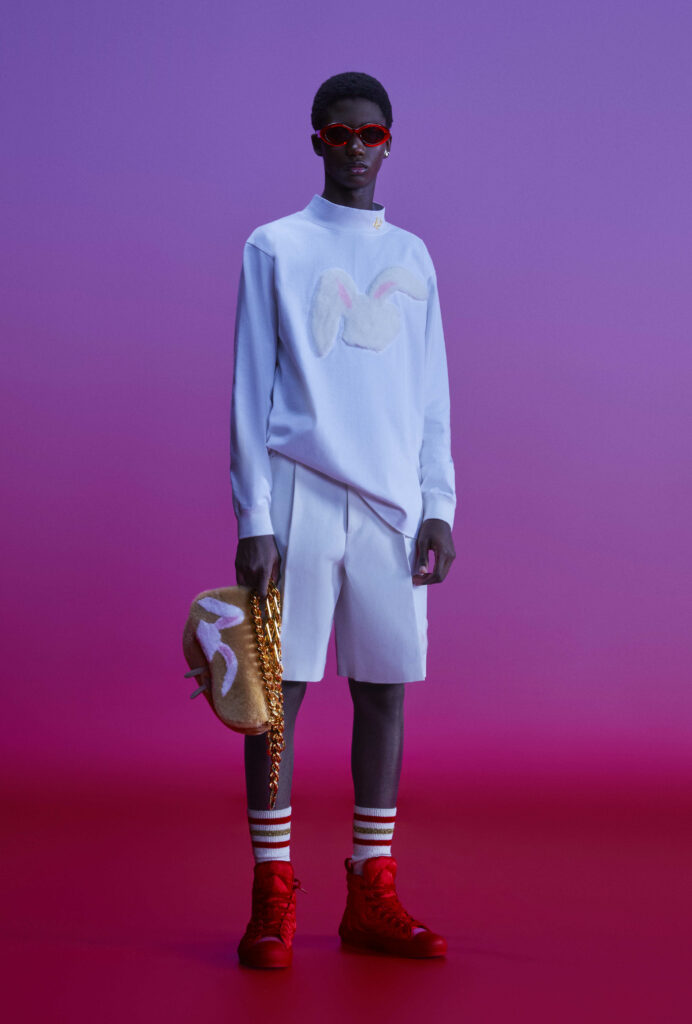 Choose classic white for a clean look and feel. We love the gold-chained plush bag that conveys the vintage Californian spirit. The B27 low-top sneaker in red elevates this outfit for the lunar new year.
The Modern Polo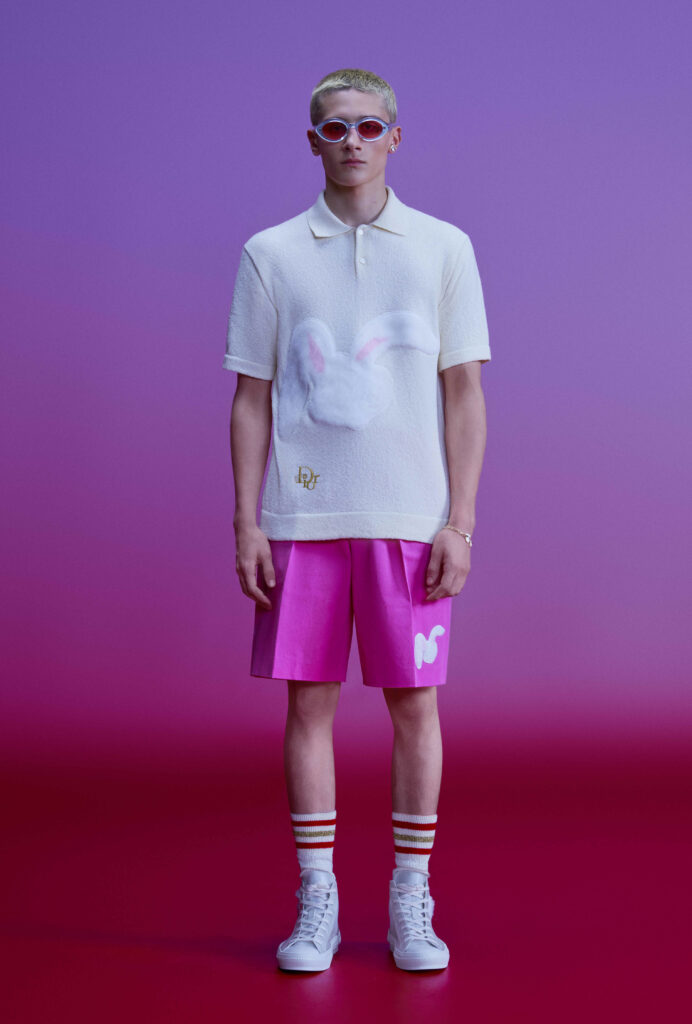 Go pink or go home. The Bermuda shorts in bright pink feature creases on the front and back. Thanks to its classic fit, the DIOR BY ERL shirt can be worn with any jeans or trousers to complete your contemporary look.
Dior Men Lunar Capsule Collection
In other news, Dior Spring/Summer 2023