With utmost respect for skin's innate intelligence and years of pioneering research, Clé de Peau Beauté is loved by some of the world's most attractive women. The face of the luxury beauty brand is none other than actress Felicity Jones. "I draw beauty radiantly," says the English rose in one of Clé de Peau Beauté's mesmerising campaigns. "I dwell in possibility."
This season, Jones continues to embody the brand's inimitable spirit, and we're already in love with the stars of its Autumn/Winter 2018 collection.
Lip Glorifier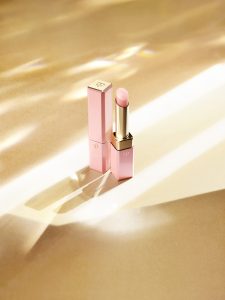 Brace yourself for effortless impact with this balm, tint, and primer. The key to its sublime radiance lies in the Glow-up Oil Base. This three-part innovation is made up of colour components and luminous oil, and suspends pigments in a sheer veil. One hydrating stroke and lips appear plump and soft.
Its formula harnesses the moisturising power of shea butter, safflower oil, and premium argan tree oil. Dryness is significantly improved and vertical lip lines are less visible with continued use. At the same time, colour agents respond to amino acid levels in your skin for a soft pink tint that is not only customised to your natural shade but enhances its unique beauty.
As a primer, the Lip Glorifier creates a smooth base that promises an unbeatable finish for your lipstick. What more could a girl ask for?