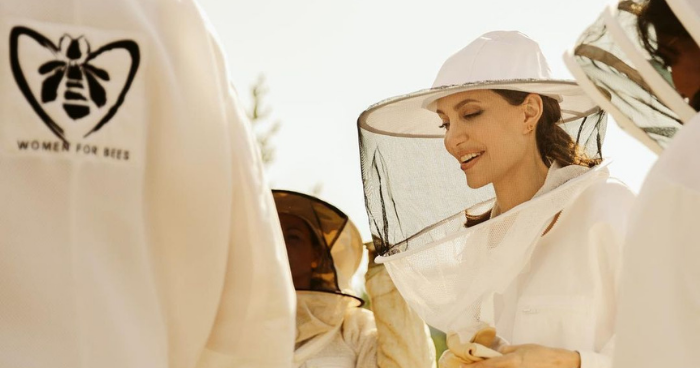 Angelina Jolie is an actress, mother, philanthropist, UNHCR special envoy and now has partnered with French beauty house Guerlain in their latest women empowering Women For Bees initiative. Aiming to give women a pathway to economic independence via beekeeping, the Women For Bees initiative sees Guerlain partner with UNESCO, the OFA (French Observatory of Apidology) and now Angelina Jolie joins the fold as the 'godmother' of the 2021 graduating Women for Bees" class.
View this post on Instagram
"We think of a future without bees as science fiction, but bee populations are declining globally, due to human activity. The implications for our food supply, for biodiversity if we continue on this path, are apocalyptic. As I started to work with Guerlain we spoke often about bees, and then we really started to talk about what could we do to improve the situation – what could we do for both for the bees and also for women. This global sisterhood that is forming with this "Women for Bees" programme is very exciting." says Jolie.
View this post on Instagram
Jolie is the first 'godmother' of the Women For Bees initiative as she saw this year's first-ever graduating class of women beekeepers receive their diplomas, with the program set to expand worldwide in coming years. It consists of a month-long training program that sees participants acquire the necessary theoretical and practical beekeeping knowledge to mount and manage a sustainable beekeeping operation.
Aimed at being deployed within UNESCO's biosphere reserves, the programme looks to train and support women beekeepers all throughout the world. Guerlain have set a goal that by the year 2025, 2,500 hives will have been created across 25 UNESCO biosphere reserves, which will then contribute to the repopulation of 125 million bees!