BAZAAR reveals the 75 exclusive winners of Spa Awards 2018. Indulge, relax, and find peace with high-tech treatments and all-natural rituals— only at these picture-perfect spas.
Best Light Therapy Facial
Intense Hydra-Light Therapy, RM538 for 90 minutes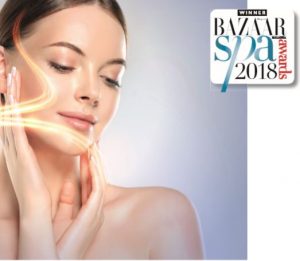 Step Up
At-home sheet masks and regular skincare investments aside, revolutionise your routine with AsterSpring's Intense Hydra-Light Therapy. When conventional methods no longer make the cut, this high-performing LED light therapy will give the desired effects individually tailored to different skin types, delivering an instantly smoother and firmer complexion.
Light Years Ahead
Initially, LED light therapy was pioneered by NASA to treat wounds in zero-gravity situations. Here at Aster Spring, this cutting-edge technology effortlessly delivers maximum results in minimal time, from treating acne-prone skin and soothing sensitive complexions to reversing the effects of ageing.
Game Changer
Suitable for all skin types, this treatment is extremely calming and gentle. Paired with a soothing, stress-relieving facial massage, find yourself slipping into a deep slumber, only to be awaken to skin that's incredibly hydrated, thanks to the plumping effects of hyaluronic acid.
Available at AsterSpring centres nationwide. www.asterspring.com