BAZAAR reveals the 75 exclusive winners of Spa Awards 2018. Indulge, relax, and find peace with high-tech treatments and all-natural rituals— only at these picture-perfect spas.
MOST RELAXING PEDICURE
Zenspa Pedicure, RM115 for one hour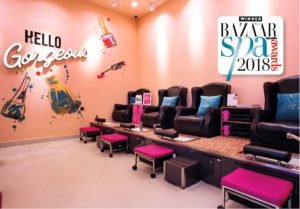 Confidence Booster
Living in a climate where heat and humidity prevail, our feet, though tough as they may seem, are still prone to dryness and cracking. A trip to The Nail Parlour for the indulgent Zenspa Pedicure will smooth out rigid heels and have you walking out like a woman who's got the world at her feet.
Soft & Supple
Featuring papain, an enzyme extracted from green papayas, this ultra-pampering treat eliminates layers of dead skin rimming the heels and softens skin around your feet. Natural ingredients such as oat bran and safflower are infused in a salt polish to buff gnarly skin, while an intensely moisturising heel cream is massaged in to reveal well-pedicured feet—perfect to slip into those open-toe Jimmy Choos.
Sensual Bliss
If you've had a long day, this one-hour sole-saving treatment is highly recommended. Reap the benefits from
the foot massage, where your solar plexus reflex point is targeted to alleviate stress and anxiety,
and feel your burdens unload. Go ahead, treat yourself.
6.48.00, Level 6, Pavilion KL. Tel: 03-2110 4908; S070, 2nd Floor, Mid Valley Megamall. Tel: 03-2287 2908; F142, 1st Floor, 1 Utama Shopping Centre. Tel: 03-7710 4908;
401B, 4th Floor, Suria KLCC. Tel: 03-2163 4908; UG23, Level UG, Paradigm Mall. Tel: 03-7887 3908; L147, First Floor, IOI City Mall, Putrajaya. Tel: 03-8328 0632. www.thenailparlour.com