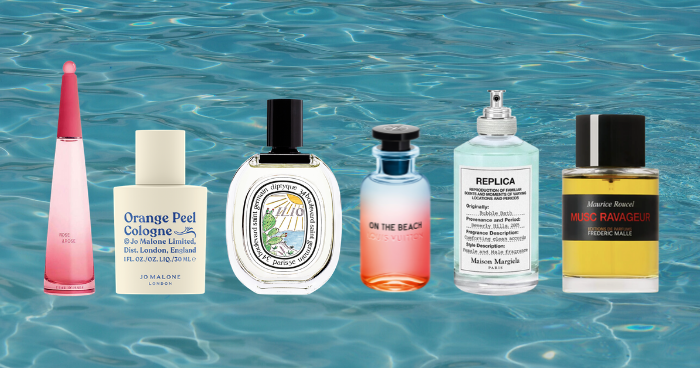 Slowly coming to terms of the fact that travelling abroad won't be possible till 2022, we're using the magic of perfumery to transport ourselves out of the country. From beachy escapes, to tranquil floral gardens and more, here are some of the best new summer fragrances to wear this season for an olfactive escapade to a destination of your choice.
Louis Vuitton On The Beach
View this post on Instagram
Mimicking the softness of sun-warmed sand against the skin, the latest On the Beach fragrance by Louis Vuitton charms us to dream of relaxing beachside escapes. This latest creation masterly encapsulates the vivacity of inviting waves and the sensual touch of sunlight with its combination of yuzu, neroli and aromatic herbs marrying together to create a summer of serendipity.
Guerlain Aqua Allegoria Flora Salvaggia
View this post on Instagram
A retelling of the magic of nature through perfume, the Guerlain Flora Salvaggia is fresh, light and bright. The unique concoction of jasmine sambac, the warmth of orange blossom, the freshness of melon and a burst of white musk all come together to reveal a stunning light floral bouquet.
Diptyque
Ilio
View this post on Instagram
Diptyque's summer collection embodies a heavenly Mediterranean escape. Counting the days we can travel there in person—for now, the new Ilio fragrance will have to fill that dreamy void. It mimics the warm summer air—fresh and light—it is laced with addictive fragrances of prickly pear, bergamot, iris, and jasmine.
Jo Malone Orange Peel Cologne
View this post on Instagram
To be very honest, every single scent of this new limited edition Jo Malone Marmalade collection is a summer star. Inviting us to explore the dreamy British summer feeling, a favourite of ours from the collection is the Orange Peel Cologne. Its zesty aroma and bitter bite tantalises the senses with warm woods blended with orange to create a refined, golden fragrance.
Frédéric Malle Musc Ravageur
View this post on Instagram
New to the Malaysian market, Frédéric Malle will finally be available at Ken's Apothecary. With Frédéric Malle's grandfather co-founding Christian Dior Parfums, the brand has created a philosophy to truly let their scents speak for themselves. Acting as a publishing house for fragrances, each scent is created by only the best perfumers and noses of the world. Our favourites include the Musc Ravageur and Portrait of a Lady.
Maison Margiela Replica Bubble Bath
View this post on Instagram
This scent is exactly what we need now that we're stuck in our third lockdown—a much needed bubbly escape. This Maison Margiela fragrance is a fresh floral that's perfect for summertime, but evergreen that it can be worn all year round. With aromatic soap bubble accord at its heart, its accented by the soft floral scents of rose superessence, jasmine, and lavender. The clean, fresh fragrance meets a subtle wave of musk and coconut to reveal a delicate creaminess to the scent.
Issey Miyake L'Eau D'Issey Rose & Rose
View this post on Instagram
A fruity floral fragrance that is truly timeless, the Issey Miyake L'Eau D'Issey Rose & Rose is vividly fresh with an exuberant and joyful bouquet of Bulgarian rose essence and rose infusion. Completed by the fruity tones of osmanthus, raspberry and pear, the scent has a soft intensity to it thanks to base notes of patchouli underpinning the gentle opulence of ambrox and cashmeran to create a long-lasting and silky sillage. It makes the perfect gift either for yourself or your loved ones this summer as the fragrance is a definite classic, and you can quickly purchase your very own on their new Lazada flagship store.