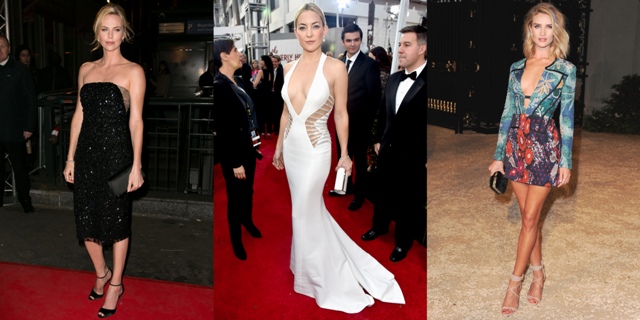 .
Want Gisele's unnaturally long, toned, bronzed legs? Gwen Stefani's insane abs? Hilary Rhoda's defined arms? Of course you do. Click through for our sort of choose-your-own-adventure guide to finding the right workout for the body of your dreams.
The Celebs: Adriana Lima, Khloé Kardashian, Gigi Hadid
The Workout: Boxing
The Body Benefits: Shadow boxing is the biggest new boutique fitness craze; the training exercises deliver ultratoned arms, improved core strength and stability and intense fat burning.
The Hot Spots: Shadowbox, Overthrow, Gotham Gym
The Celebs: Jessica Alba, Olivia Palermo
The Workout: Barre
The Body Benefits: Barre classes use exercise balls, rubber bands and ballet barres to increase flexibility and lean muscle mass and tone and strength all over. Plus, they're gentle on the joints.
The Hot Spots: Flybarre, The Daily Method
The Celebs: Lauren Santo Domingo, Doutzen Kroes, Lily Aldrige
The Workout: Ballet
The Body Benefits: The graceful workout leads to better postural alignment, increased core strength and lean, willowy limbs
The Hot Spots: Ballet Beautiful
The Celebs: Madonna, Gwyneth Paltrow, Jessica Alba
The Workout: Tracey Anderson Method
The Body Benefits: The cult fitness guru's transformative classes focus on working smaller, under-targeted muscles for tone without bulk
The Celebs: Charlize Theron, Kate Hudson, Rosie Huntington-Whiteley
The Workout: Yoga/Hot Yoga
The Body Benefits: Yoga improves posture, flexibility and muscle imbalances in the shoulders and back caused by sitting all day.
The Hot Spots: Tangerine Hot Power Yoga, Sweat Yoga, YogaWorks
The Celebs: Gisele Bündchen, Naomi Watts
The Workout: The Class by Taryn Toomey
The Body Benefits: Toomey's class blends cardio with strength training with meditation and reflection for a sculpted body and centred mind.
The Celebs: Christy Turlington, Reese Witherspoon, Ivanka Trump
The Workout: Running
The Body Benefits: Not only is running key for weight loss and building lean muscle mass, it's also been proven to relieve stress and help with depression.
The Hot Spots: The Run, Mile High Run Club
The Celebs: Elsa Hosk, Hilary Rhoda, Karlie Kloss
The Workout: Cycling
The Body Benefits: Spinning burns major calories and builds cardio endurance while toning lower and upper legs, butt and abs.
The Hot Spots: SoulCycle, Flywheel, Monstere Cycle
The Celebs: Kate Upton, Hannah Bronfman, Gwen Stefani
The Workout: Strength Training/TRX
The Body Benefits: Weights and suspensions challenge every muscle and build a rock-hard core – think six-pack abs plus defined arms and calves.
The Hot Spots: S10