Thanks to advances in technology, the beauty and cosmetics industry have produced innumerable products for the perfect skin maintenance. As great as that is, the vast selection of skincare available is immensely overwhelming, not to mention it isn't always guaranteed that the ones you pick will work on your skin type.
While having perfect skin isn't the be-all and end-all, consistently taking care of your skin is essential in ensuring that you age gracefully. Find that your serums and creams aren't really doing their job as much as you'd like them to? Consider a treatment that'll go straight down to the skin's dermal layer and give you noticeable results in no time.
The Diamond Touch
Developed in Korea by Orient Europharma, Diamond Feel Forte is a skincare booster comprising a cocktail of 67 active ingredients that include plant stem cells extract, polydeoxyribonucleotide (salmon DNA), hyaluronic acid, vitamins, minerals and amino acids, that work to provide a total solution for your skin problems. Whether you have fine lines, dry, lacklustre, or uneven skin and looking for a glow boost, this is the treatment to try. It is said to be favoured by K-pop stars and is listed in more than 20 countries as the number one choice of skin booster.  
Administered by aesthetic doctors, the entire treatment comprises up to three to four sessions with two-week intervals between each clinic visit. So yes, that does mean that it's an injectable regimen, however, worry not as it's non-invasive with hardly any downtime as proved by my own appointments at Bright Clinic in Sunway Geo.
View this post on Instagram
My first visit started off with a consultation and skin examination by Dr Jason Teng, who explained thoroughly the effects of the treatment and the steps that come with it. Generally, I didn't have any skin concerns other than it being very dry lately and Dr Jason assured me that this treatment would help with that issue. What caught me by surprise was the number of injections needed to be administered, which was ten on each side of the face, and needless to say, I was very nervous for my treatment to start. After applying numbing cream and waiting 30 minutes for its effects to work, the first shot was made and thankfully, I only felt a slight pressure of the needle minus any pain at all. After the injections were done, the nurse applied a soothing gel mask to calm down several red spots and all in all, the session took about 45 minutes.
While there weren't any visible results on the spot, my skin's dryness went away within a week. After the second treatment, there was a noticeable difference every time I looked into the mirror – the texture was smoother and plumper to the touch and my skin was able to better retain the moisture of the skincare I applied.
On my third visit, Dr Jason suggested skipping the numbing cream and instead, ice the areas of injections (using a medical ice roller tool) in order to take take the sting out. This is because the effects of numbing cream can last for up to two hours and causes slight discomfort. I have to say I very much preferred using ice to the numbing cream although, it really does depend on your pain tolerance. With ice, you'll definitely feel the pinch of the needle but it isn't anything too painful. Two weeks after the third treatment was done, my skin was the most radiant it has ever been post-lockdown. It felt hydrated, rejuvenated and makeup glided on even better, not that I needed to wear much anyway!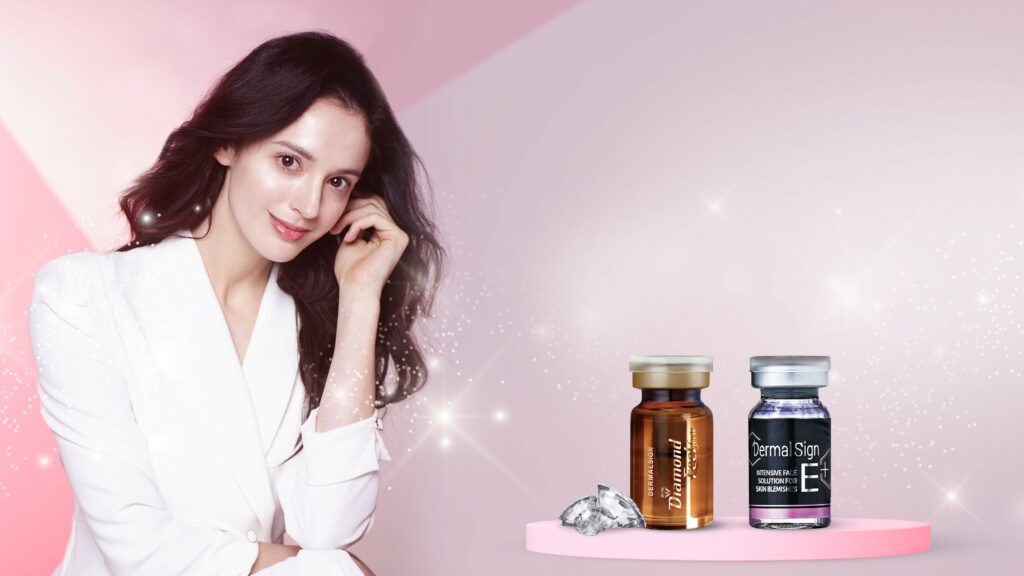 On a side note, Orient Europharma also offers another treatment called Demal Sign E+ that's targeted to those who are looking for clearer, pigmentation-free skin. The solution is made with triple brightening ingredients that are glutathione (a water-soluble ingredient), tranexamic acid (a brightening ingredient mainly used in medicine for the therapy of pigmentation) and AA2G (anti-oxidant effect of stabilized Vitamin C). Just like Diamond Feel Forte, Dermal Sign E+ is also injected straight into the skin for 4 sessions but that also depends on your skin condition too. 
Diamond Feel Forte is priced at RM 2,800 for one session but you can get a discounted package price for RM 7,000 with four sessions. For questions on the treatment, contact Bright Clinic.