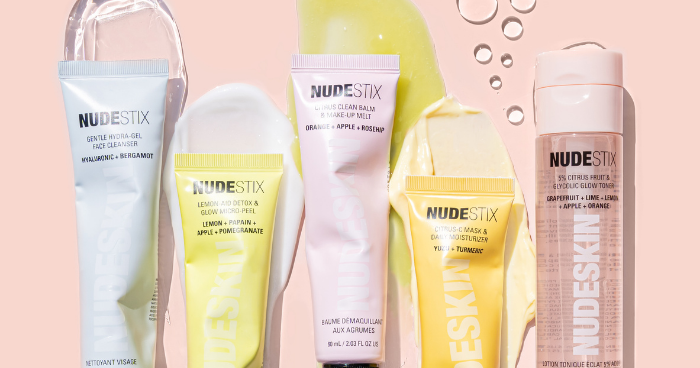 Birthed by the ladies that brought you multi-tasking, functional beauty in the form of Nudestix, this year they introduce their brand new clean, earth-friendly skincare line, Nudeskin. Keeping true to their makeup philosophies that have been woven into the Nudestix DNA, they keep those same principals in their approach with Nudeskin. Everything is multi-tasking, vegan and clean! Speaking to co-founder Taylor Frankel, she elaborates on all things Nudeskin: what makes this new skincare collection unique, her favourite products and what she recommends for the first time user.
View this post on Instagram
What makes Nudeskin so special and unique? 
TF: Nudeskin is simple, multi-tasking, vegan-powered skincare for confident nude-faced beauty. Nudeskin's uniqueness lies in our vegan and clean powered formulas, simultaneously fuelled by efficacy and results with the help of renowned Dermatologist, Dr. Jason Emer. In addition, Nudeskin is all about minimal effort, maximum impact! With every individual product, we've packed in ingredients that create a multi-tasking experience — to ensure you're maximizing each step in your routine! Finally, all of our packaging is travel -friendly, recyclable and/or biodegradable.
View this post on Instagram
What were some of your core skincare values that could not be compromised when you first decided to create Nudeskin as well as coming into partnership with Dr. Jason Emer? 
TF: Our core values consist of vegan-powered, clean and multi-tasking formulas backed by Dr.Emer's knowledge of skin science and Dermatology efficacy.
Nudeskin packaging is extremely earth-friendly, has this always been something you've been passionate about? 
TF: Yes! Since the launch of Nudestix we've always been very passionate about less one time use packaging. For example, our Tins are re-usable and recyclable. Even our original Nudestix sharpenable pencils were considerate of the environment as they are made from sustainable forestry wood. All of our Nudeskin products are either recyclable and/or biodegradable. 
View this post on Instagram
Any fun, quirky stories to share about the creation of any of the products from the Nudeskin collection? 
TF:  My dad was actually the ultimate test when it came to trying our 5% Citrus Fruit & Glycolic Glow Toner. He's 61 years old, and never had a strict skincare routine. After using our Toner for only a few weeks, we noticed his sun spots reduce, skin tighten and overall tone become brighter and more even. He literally *freaks out* when he's all out of his toner! If that doesn't speak to the efficacy of the product, I don't know what does!
What does your skincare routine look like and has it changed since the pandemic? 
TF: My skincare routine consists of our 4-step cleanse, exfoliate, tone and moisturize regimen. I typically add in a vitamin C serum and SPF. My routine has not changed tremendously; however, I've definitely spent more time enjoying my skincare time as a self-care and wellness moment.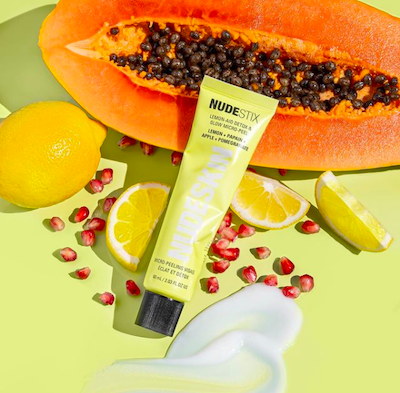 Currently obsessed with the Lemon-aid Detox & Glow Micro-peel—I even use it as a lip balm—but what would you say to those still skeptical/scared to try a chemical peel? 
TF: Same here! I would say to start off by using our peel 2-3 times a week, and increase to 5 if you feel like you need it. We've formulated our Lemon-aid Detox & Glow Micro Peel with gentle citrus-based ingredients like papain (papaya extract), lemon extract, to ensure it is safe for use for all skin types. So, although it is similar to a chemical peel in how it works, there are no harsh or intense chemicals that can harm your skin. 
View this post on Instagram
What would you recommend a first-time user of Nudestix to pick up and try? 
TF: I would definitely recommend our Tinted Cover Foundation and Nudefix Cream Concealer for skincare infused complexion products. From Nudeskin, I would recommend our Lemon-aid Detox & Glow Micro-Peel and our Citrus C Mask & Daily Moisturizer.