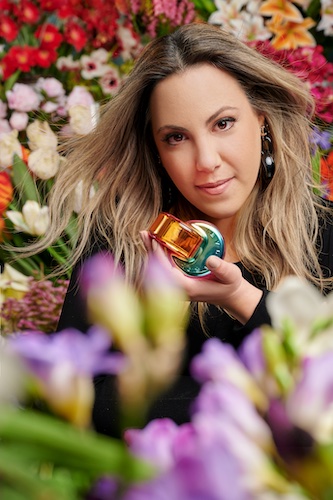 Fashion designer Mary Katrantzou reimagines the Bvlgari OMNIA in an exciting capsule collection—infusing her poetic and jubilant style into one of Bvlgari's most emblematic perfumes. In an exclusive interview with Harper's BAZAAR Malaysia she reveals her creative process behind this extraordinary capsule collection and how the collaboration with Bvlagri Omnia first came about.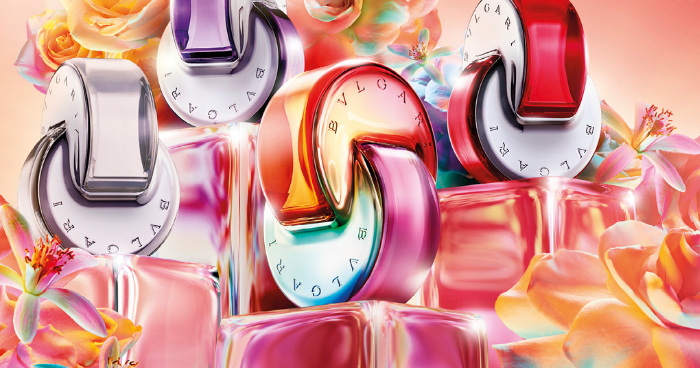 How did this collaboration to create a capsule edition of the Omnia come about? Have you always been a fan of the fragrance? 
MK: Our first encounter was when BVLGARI loaned us their incredible High Jewellery for my first couture show at the Temple of Poseidon, in October 2019. We both felt a mutual appreciation and I was subsequently invited to design a capsule accessories collection titled, "Serpenti: Through the eyes of Mary Katrantzou" that was released in March 2021. Working together we both felt a strong synergy and discovered we share a very similar vision that led to our second collaboration with Omnia fragrances. It has been a privilege to be able to collaborate with BVLGARI on two different projects that allowed me to examine the rich history of the house and examine its design codes before applying my own creativity. I've always been a fan of BVLGARI fragrances, so it was an honour when they opened up their world for me.
Has perfumery been something you've always wanted to do? 
MK: The perfumery world has certainly been one that I have desired to explore. With OMNIA, there is design integrity and a daring quality from the design of the bottle, to the choice of colours, to the scent itself. I was inspired by the joyful spirit and the exuberance of the Omnia Collection. I always use colour as a wellness tool and Omnia's universe is known for its brilliant colours, so it felt natural to collaborate with the Omnia family of perfumes to create our own fragrance.
View this post on Instagram
Known as the 'queen of prints', how did you translate your personal style and personality to fragrance form? 
MK: Print has allowed me to define my work as an image maker, which additionally allows you to create possibility out of impossibility. Over the years, this visual language has become very distinctive of my work. Image creation is still the foundation of a lot of my collections. My work has become about filtering beauty through design. I wanted to approach our Omnia collaboration through a similar lens, focusing on distilling the beauty found in nature by re-imagining the bottle as a sculptural vase holding a bouquet of flowers and colours encompassing every olfactive note Master Perfumer Alberto Morillas used in our scent. I'm grateful to be given the opportunity to define a new visual dialogue between the two worlds. 
What was your experience like working with Master Perfumer Alberto Morillas? What was the creative process like? 
MK: We created this fragrance in lockdown, which is completely unorthodox for any collaboration. I was fortunate to have met Alberto Morillas once in London at the start of our collaboration, where we tried the samples together. My initial brief for Alberto was to distill the rainbow into a scent. I was inspired by the phenomenon of Synaesthesia and wanted to apply this idea to create an interplay between colour, smell and emotion. Alberto also asked me about the smells that I am drawn to and I talked to him about the memories I have of my childhood summers in Greece. When we met, he presented two different directions inspired by our initial brainstorm. It was at that moment that we decided to blend both worlds: his alchemical exploration of the rainbow and the smells that are drawn from my own childhood memories. 
View this post on Instagram
What was your inspiration behind the fragrance? 
MK: Our fragrance was created and is being launched during a time of uncertainty and I really wanted to send a message of optimism. OMNIA by Mary Katrantzou is a celebration of life's purest pleasures: an explosive flower bouquet, the smell of an unforgettable bloom and the joy of colours. It was a real journey of exploration and when I think about palpable joy, there is no comparison to the optimism found in observing and experiencing nature. The sun, the rainbow and the uplifting scent of flowers became the foundation and inspiration to create this fragrance that we hope brings you joy.
Were there any specific notes that were non-negotiable and you really wanted to be included in the fragrance? 
MK: My favourite flower is the gardenia, which I really wanted to include. Every time I smell it, it takes me back to the gardenia tree we had in our garden growing up and my summers in Greece. Alberto took my favourite flower, and blended it with the luminous notes of mandarin and the freshness of fig leaves to create this uplifting scent.

View this post on Instagram

Who do you envision wearing the Omnia by Mary Katrantzou? 
MK: Everyone! Our Omnia fragrance has notes that are personal to me but the scent itself is very universal. It was created with one of the most universal symbols of positivity and inclusion as its primary inspiration: the rainbow. I believe everyone benefits from an injection of colour in their life. We all want to be surrounded by positivity and that's what we tried to achieve through the creation of Omnia by Mary Katrantzou.