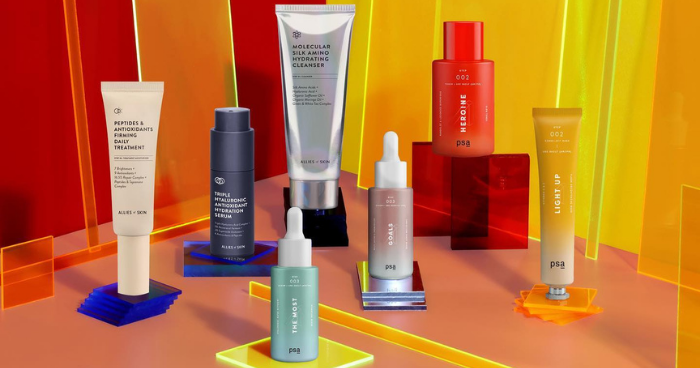 Having had the pleasure to meet Nicolas Travis, founder of Allies of Skin and PSA Skin, back in 2019 at one of the swankiest bars in Singapore, the first thing i thought to myself was 'wow this guy has the best skin ever'—I was almost blinded by his glow (truly not an exaggeration) and wanted to know all his skincare secrets. At this time, PSA Skin (Purposeful Skincare by Allies) hadn't been launched yet, but he did give a little nugget of information that a sister brand was about to be birthed. Fastforward a couple of years and cult favourite Allies of Skin now has a fun, vibrant sister that's all about merging super smart formulations with exciting aesthetics.
With both brands delivering skincare innovation at its finest, we speak to Nicolas Travis, himself as he shares what is has been like navigating the beauty industry amidst a global pandemic, how we should keep skin happy whilst indoors and new releases to look out for!
View this post on Instagram
How has it been like navigating the skincare industry amidst the pandemic—and with many renewing their interest and importance back into skincare?
NT: It's been a double-edged sword honestly because on one hand, the renewed focused on skincare has been great for business but on the other hand, the global supply chain crisis brought on by COVID has caused massive delays and it's been tough to keep up with the increased demand. So, it's been quite an exciting challenge – there are no dull moments. 
What skincare tips and tricks would you recommend to keep skin happy whilst indoors (especially the over-exposure to air conditioning)?
NT: Listen to your skin. With lockdown and time on our hands, we sometimes get the temptation to go down a rabbit hole and assume that we need to use what everyone on social media is using. What works for someone you follow on social media may not work for you, so it is best to let your skin guide you. 
Focus on nourishing treatments like masks. I like doing a clay mask and following up with pure Manuka Honey as a mask or PSA's LIGHT UP Vitamin C & E Flash Brightening Mask. You can leave the Manuka Honey and LIGHT UP Mask for as long as you want if you are working from home. 
Follow up after with serums and moisturisers. If you are feeling dehydrated from over-exposure to air conditioning, I like to mix a few drops of oil with a moisturiser for extra nutrients and to help seal everything in. My go-to is PSA's GIFTED Acai & Sea Buckthorn Vitamin C Glow Oil. 
View this post on Instagram
What makes PSA so different to its sister brand Allies of Skin?
NT: While Allies of Skin is focused on supercharged clinical formulas with maximum potency, PSA offers snackable science presented in an easy-to-digest format (we have the steps and how often to use printed on the front of every bottle and tube) at wallet-friendly prices with formulas that are fun yet extremely effective. 
What was the inspiration to create PSA and what are some of its core philosophies? Were there any different concerns when launching PSA as compared to Allies of Skin?
NT: I feel incredibly privileged to have figured out my purpose in life and, that's to help people feel great in their skin. I want to think that we're in the business of spreading joy, the kind of joy that feeling good about yourself brings. 2 years ago, when we launched in all Sephora ASEAN doors, I realised that the price of 1 AOS product was equivalent to 1/3 or 1/4 of the monthly salary of a Sephora retail executive in Malaysia and Thailand. During the training I had with the team, they had all expressed their love for the products that they received as gratis, but they were not able to repurchase because of the high price points. It broke my heart. 
This gave me the determination to start PSA. PSA is a play on Public Service Announcement, and it stands for Purposeful Skincare by Allies. I wanted to create an effective range of products that not only felt fun but also with ingredients and % that work. Most importantly, it should be accessible; the retail price for PSA products is US$38 and below. Every formula will serve a purpose in your regimen. I remember how daunting it was to shop for products as a teenager with severe acne, and I still think it can be. 
So, I wanted to ensure that we made the process of creating your own routine easy with every step listed on the packaging (Step 1: Cleanser, Step 2: Toner, Step 3: Serum etc.) So, no matter if you're 14 and experiencing your first breakout or 33 and needing to start on Retinol, you only buy what you need. To be truly accessible to everyone, we formulated PSA without drying alcohol, essential oils, synthetic dyes + fragrances and sulfates, so that your skin barrier is respected (especially important when you are first beginning your skincare journey as damage to your barrier is cumulative). 
View this post on Instagram
We're fans of both your PSA Boosters—which serums do you recommend to pair with the two different boosters to maximise its efficacy?
NT: I love pairing PSA's LIQUID CLARITY BHA & Bakuchiol Booster with our Allies of Skin's 20% Vitamin C Brighten + Firm Serum every AM. The BHA will help keep pores clear of blackheads and breakouts and help the Vitamin C penetrate better. 
I also love pairing PSA's LIQUID PANACEA Centella & Kombucha Booster with Allies of Skin's Mandelic Pigmentation Corrector Night Serum. The 5% Centella Extracts and 6% Kombucha and White Tea will help provide nourishment as well as firm the skin while you sleep.
What has been your favourite and most memorable achievement with PSA and Allies of Skin?
NT: Being the first Singaporean beauty brand to be stocked in the best beauty stores all around the world like Boots, Cult Beauty, Harrods, Liberty and Asos. 
View this post on Instagram
What product would you recommend to a first time user of both brands?
NT: Definitely Allies of Skin's Peptides & Antioxidants Firming Daily Treatment – it is like a Swiss army knife; it treats every skin concern. Also, PSA's GOALS Multi Acids & Probiotics Night Serum that gets to the root cause of breakouts and blemish marks while helping skin become more resilient and brighter. 
Are there any exciting new launches we can look forward to towards the end of the year?
NT: Yes, Allies of Skin has its first oil that we've been working on for the last 5 years. It is the world's most biologically active face oil and I can't wait to share it with everyone.