Discussing the likes of fillers and face treatments can be a bit daunting and nerve-racking. Taking a more comfy and laid back approach to the conversation, we have actress, Jasmine Suraya Chin guiding her friends, Anna Jobling and Natasha Ozeir through an insightful and intimate Q&A on current face filler trends. With fears of losing their triangle of youth, less collagen production and sagging skin on their minds—its Juvéderm® technology that possess the ability to address these concerns in a non-surgical way. 
In the realms of clinical aesthetics, a youthful face has 3 unique features: high cheekbones, full cheek volume, and a well-defined jawline, also coined as the triangle of youth. As we age, we more often than not see this youthful triangle invert. The face becomes more long, cheeks flatten and jowls appear due to decreased facial fat and normal degenerative changes1. Thankfully, preserving our triangle of youth has gotten much more easier and less-invasive.
As we get older, a number of factors are responsible for how our lower face ages. A combination of genetics, bone loss, collagen breakdown and repetitive facial expressions all play a part in the aging process2. The first typical facial feature that usually succumbs to the effects of gravity and volume loss is the jawline and chin area2. Being that the jawline is a key point of the triangle of youth, we can now turn to the innovations of injectable treatments to restore our youthful structure. 
The Juvéderm® Volux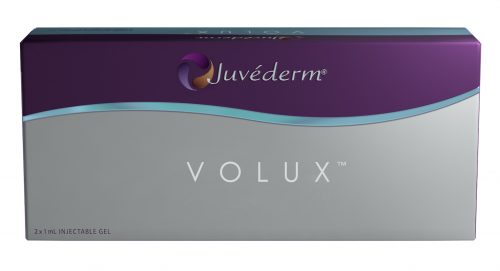 Specifically designed for the lower face, the Juvéderm® Volux treatment pays attention to the areas of the face that most show age, like the jawline. With a high concentration of hyaluronic acid, this innovative gel provides more contouring for the jaw and chin area, than any other treatment4-5.
With hyaluronic acid as it's base, a true essential for firmer, younger-looking skin3 and for boosting collagen production, Juvéderm®'s range of dermal fillers won't just help to lift the skin but will also restore facial volume, while hydrating and improving the texture of the skin4-5.
This latest injectable, the Juvéderm® Volux offers a non-surgical alternative for designing a defined, sculpted jawline with minimal downtime and discomfort, with results that are as natural as ever. And what makes it so unique is that the Juvéderm® Volux contours and creates volume in the chin and jaw area for 18-24* months and it blends with tissue under the skin**, giving a natural looking result. 
To find out how to maintain your youthful complexion and continue watching the second part of our Juvéderm® series with Jasmine Suraya Chin, Anna Jobling and Natasha Ozeir, click here!
Also, to learn more about what dermal filler options are best for you, do check out the Juvéderm® website https://www.juvederm.com.my/
*Based on comparative pre-clinical in vitro testing and results from repeat clinical studies of Juvéderm® Volux
and Juvéderm® Voluma.
**Tissue integration was demonstrated by Juvéderm® Volux at 4 weeks in in vivo studies.
References:
1. Rodan, K., Fields, K., Majewski, G. and Falla, T., 2016. Skincare Bootcamp. Plastic and Reconstructive
Surgery – Global Open, 4, p.e1152. 2. Mohiuddin, A., 2019. Skin Aging & Modern Age Anti-aging
Strategies. Global Journal of Medical Research, pp.15-60. 3. Bukhari, S., Roswandi, N., Waqas, M., Habib, H.,
Hussain, F., Khan, S., Sohail, M., Ramli, N., Thu, H. and Hussain, Z., 2018. Hyaluronic acid, a promising skin
rejuvenating biomedicine: A review of recent updates and pre-clinical and clinical investigations on cosmetic and
nutricosmetic effects. International Journal of Biological Macromolecules, 120, pp.1682-1695. 4. Juvederm Volux
– DFU 5. Juvederm Volite – DFU. MY-JUV-2150010 Date of preparation: Feb 2021