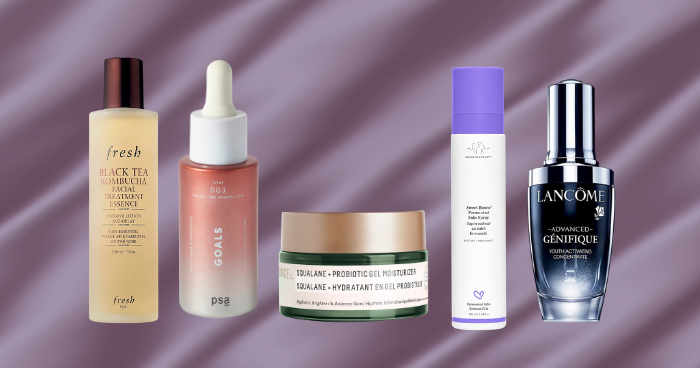 Time to feed the good bacteria in our system—here are some of our top picks of powerful probiotic products that'll nurture the skin's microbiome and make sure that it remains hydrated, supple, clear, and resilient.
Lancome Advanced Génifique Microbiome Serum
The iconic Génifique formula gets a microbiome focused upgrade. Enriched with a new complex of 7 prebiotics and probiotic fractions, it delivers essential nutrients to the skin that helps strengthen its fundamental youthful function in just seven days.
View this post on Instagram
Drunk Elephant Sweet Biome™ Fermented Sake Spray
With each spritz working to support and replenish our skin microbiome—this facial spray is a mix of fermented sake extract, kombucha, and hops supplies skin with nutrient-dense substances to restore, soothe, and keep skin balanced and healthy. 
View this post on Instagram
Purposeful Skincare By Allies (PSA) Goals Multi Acids & Probiotics Perfecting Night Serum
A skincare night cap—this night serum is a cocktail of 12% Glycolic Lactic, Pyruvic, BHA & PHA  that gently exfoliates and strengthens the skin's barrier as you sleep. 
View this post on Instagram
Biossance Squalane + Probiotic Gel Moisturiser
Combined with Biossance's signature Squalane, this ultra-hydrating moisturiser works to limit the effects of daytime stressors, leaving skin visibly brighter and more balanced. 
View this post on Instagram
Fresh Kombucha Facial Treatment Essence
Powered by potent kombucha, this treatment essence provides protection from most forms of pollution, whilst fighting to increase smoothness, suppleness, and luminosity. 
View this post on Instagram