BAZAAR reveals the 75 exclusive winners of Spa Awards 2018. Indulge, relax, and find peace with high-tech treatments and all-natural rituals— only at these picture-perfect spas.
BEST LASER FACIAL
VOW LASER & AESTHETIC
Signature Sparkle Hydralaser Facial, RM526 for 30 minutes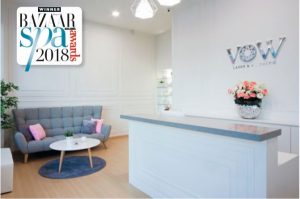 All The Right Moves
As we age, the skin's natural exfoliating process may lag or even stop altogether. To reveal an all-natural bright glow, Vow first employs a cocktail of AHA and BHA serums to remove debris from pores and skin, before pairing it with laser treatments and hyaluronic acid for a tighter and rejuvenated face.
In A Hot Second 
Vow's four-step-only laser facial treatment is not only effective, it's so immediate and fuss-free it can be done over your lunch break. Whether you're a jet-setting power woman who's always on the move, or a supermum tackling day-to-day errands with swift convictions, the Signature Sparkle Hydralaser Facial will fit quite nicely in your schedule.
Time To Shine
Non-invasive, no discomfort, and no downtime—walk out after 30 minutes with the desired effects that you have been dreaming for your skin. Behind this high-tech treatment is also a team of professional therapists whose extensive knowledge and friendly demeanour will help put you at ease the moment you step into the aesthetic centre.
P-1-13A, Tropicana Avenue, Persiaran Tropicana, Petaling Jaya. Tel: 011-2602 7077.  www.facebook.com/vowloveyourskin