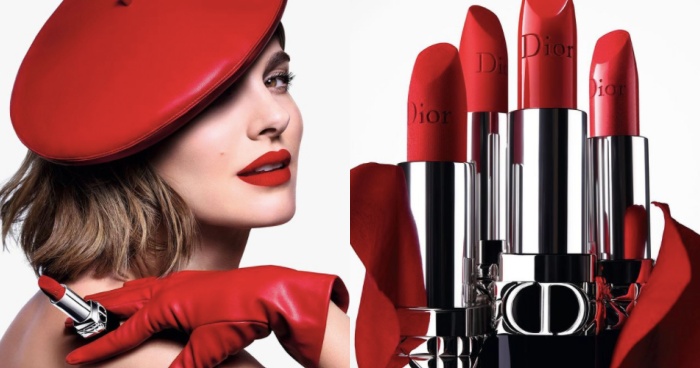 Dior Makeup presents the reinvention of their emblematic Rouge Dior lipstick. Now with a new wardrobe of couture finishes, it grants Christian Dior's wish to "dress women's smiles". Their iconic vibrant satin and highly-pigmented matt finishes are now accompanied by two new finishes: an extreme matt Velvet with long-lasting comfort and a bright, bold, extreme satin Metal. Each lipstick features a texture specific to one of the 4 fabric-inspired finishes inherited from Dior's history.
The Rouge Dior vision is brought to life by actress, Natalie Portman—her enigmatic, audacious and charming self embodies Dior. Transmitting a new definition of Parisian Chic, she reveals a smile that brings the signature Dior 999 colour to life. "You can never be too much of a woman, so enjoy it," says Portman. Whether you prefer a more mattified look versus a sparkly sheen, trust that Rouge Dior has a finish that will let you embody your true, radiant self. 
Two Extremes
The new Rouge Dior Extreme Matte Velvet combines passion for couture, colour and fabrics with cosmetic innovation. Pushing the boundaries of matt-ness, it delivers an extreme matt finish that doesn't compromise on lip care with 16 hours of comfort, without feathering or drying out the lips.
For the daring and bold, the Rouge Dior Extreme Satin Metallic is strikingly seductive, and exudes Dior elegance. Without trading-off long-lasting comfort, it allows your lips to steal the show without worries of creasing or smudging. Another exciting note is that the Rouge Dior is now refillable as well, which ties in to the House's sustainable initiatives. 
The Perfect Red 
View this post on Instagram
"If you wear a red lipstick with confidence, anybody can wear it," said Peter Philips, creative and image director of Dior Makeup. In full belief of this statement, follow his quick tutorial on how to impeccably wear the signature Dior 999 shade with complete confidence. We love the additional use of a brush for application to really get a precise and defined line to shape the lips.
Discover this exciting new collection by visiting our special BAZAAR x ROUGE DIOR campaign page to find out which lip colour makes for your perfect match.