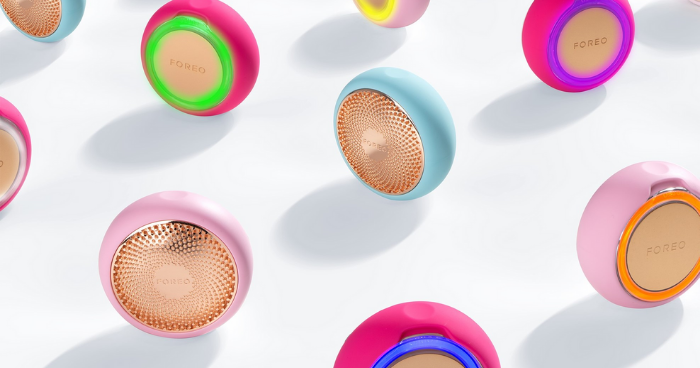 Having been a major fan of the original FOREO UFO, I was beyond delighted to hear of an updated version of this extremely smart device. The new UFO 2 features all the bells and whistles of the first, but with a ton of upgrades. Spa luxury at your fingertips it has built in sonic pulsations, LED light therapy, onboard heating and cooling and various app guided treatments. Our favourite update? You can now use the UFO 2 with just about any sheet mask, and not just those created by Foreo.
View this post on Instagram
The new UFO 2 levels up from three LED light wavelengths to eight: red, blue, green, white, purple, orange, yellow and cyan. Covering the full LED light spectrum, it aids just about any skin concern. My favourite treatment lights include the cyan and green light as it target inflammation, evens out the skin tone and brightens the complexion.
Upgraded thermotherapy and the introduction of cryotherapy to the UFO 2 truly elevate the at-home masking experience. The thermotherapy works to soften the skin and open up the pores to allow efficient absorption of all the nutrients in your mask, whilst the cryotherapy magically aids to reduce puffiness and lifts and firms skin.
View this post on Instagram
Spa-grade treatments have never been easier—what would usually be a 30-minute treatment, is now condensed into 90 seconds! Powered by the Foreo app, simply navigate through the various customisable functions, clip in your mask, and let the soothing voice guide you through your treatment. A quick treatment with instant results, I sometimes catch myself using the device almost everyday of the week. Pairing it both with the dedicated Foreo face masks as well as using it to boost the efficacy of my face serums, it's a gadget that definitely has a seat at my skincare routine table.