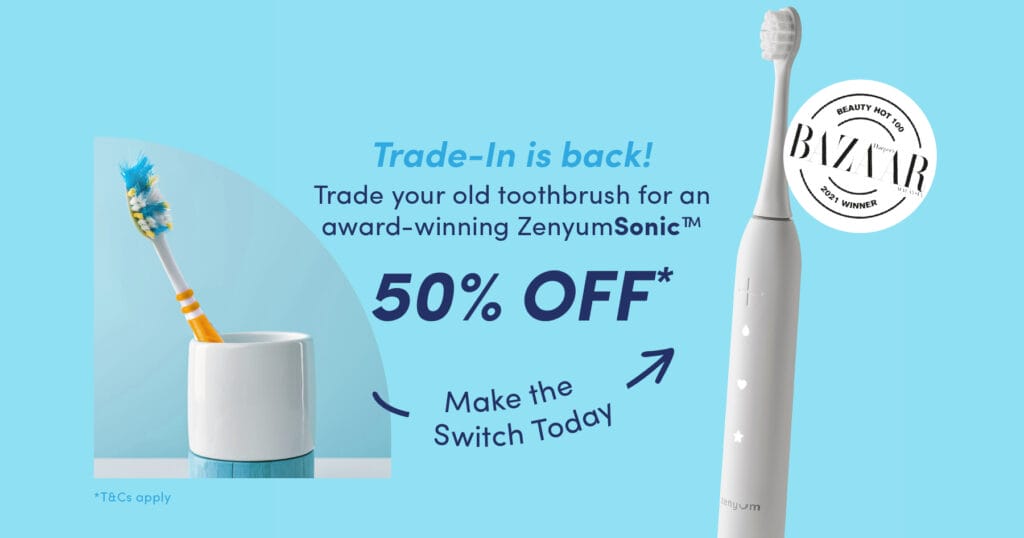 Ever wanted to make the switch from your basic toothbrush, to a powerful, smart and electric one like the ZenyumSonic™? Well, this holiday season may be the perfect time to consider it. With Zenyum bringing back their customer-favourite toothbrush trade-in program, you can now trade-in your current toothbrushes (regardless if it's manual or electric), for an award-winning ZenyumSonic™. 
By simply snapping a photo of your old toothbrush, you'll be entitled to a 50% off ZenyumSonic™. *This brings the price down to RM139.50, with the promotion running from now to 31 December
*(more details will be shared later)
With the holiday season upon us, and the new year just around the corner, why not welcome 2022 with your best smile yet. Investing in good oral care is always encouraged and with this trade-in program, Zenyum has made it all the more easier for you to achieve a dentist-clean feeling at the comfort of your own homes.
Winner of the Best Dental Gadget award in our 2021 Harper's BAZAAR Beauty Awards, our esteemed panel of judges instantly fell in love with its quick, autonomous brushing feel. See why our judge, Dr. Lay Ching Chai chose it as one of her top five products of the entire Awards in the video here!
View this post on Instagram
Available in five sleek colours, the ZenyumSonic™ is our choice of toothbrush that allows for more effective brushing and overall cleaner teeth! With bristles vibrating at 33,000 times a minute, expect a deeper, more efficient way to brush. 
Delivering more than just your average electric toothbrush, you can even switch through three different modes: Clean is for your every day to diminish tartar and plaque build-up, Gentle is for teeth that are on the sensitive side, and White for when you need to polish off any stubborn stains.
Read why ZenyumSonic™ is our Best Dental Gadget of 2021 here!
There's never a wrong time to indulge in dental care. And this trade-in program comes just at the right time as we start to think of how we can better ourselves come the new year. Whether you're gifting to yourself or treating a loved one, Zenyum's trade-in program is the perfect chance to upgrade your oral routine—but for half the price! 
Interested? Here's how to get started: 
Head over to

this page

and fill up the form.

Once you've filled up, you'll receive a special promo code for 50% off.

Head over to the

ZenyumSonic™ product page

to purchase with the promo code.

Wait for your ZenyumSonic™ toothbrush and FREE mystery gift to arrive and brush away! You will also stand a chance to win a big prize in 

Zenyum

's lucky draw giveaway!
For more information on the Trade-In program, click here!