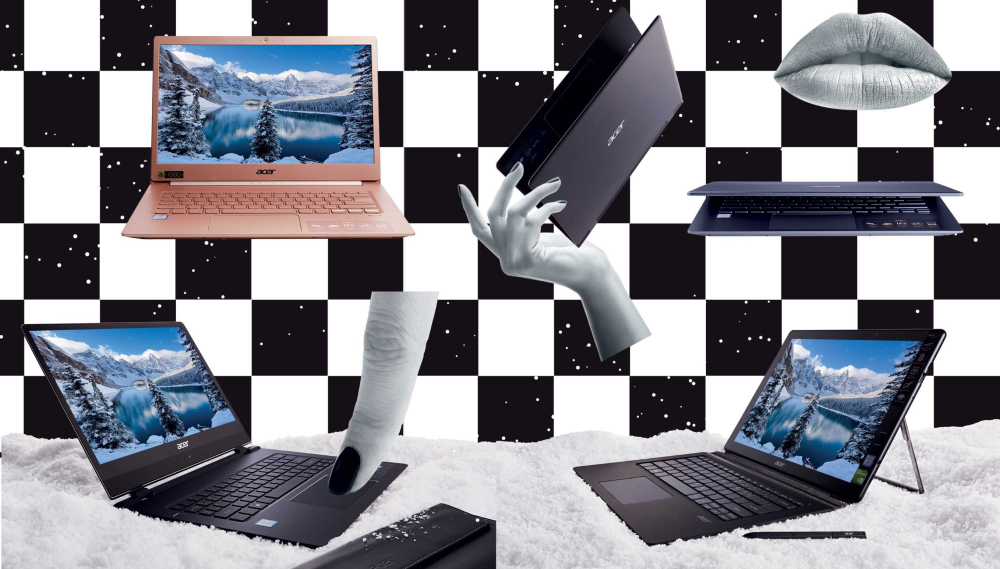 Slimmer, faster, lighter … When it comes to pushing technological limits, Acer is at the forefront with its stylish new line-up of portable work machines. Housed in an undeniably sexy case of sleek all-black aluminum and protected by Gorilla Glass, the Acer Swift 7 is currently the world's thinnest 4G LTE laptop, at only 8.98mm. With up to 10 hours of battery life, this perfect travel companion fits effortlessly in any hand carry. Staying connected wirelessly at all times is as easy as it gets.
Optical Illusions … Whether you're scrolling through social channels, online shopping, or simply Netflixing, the Acer Color Intelligence technology on the Swift 5 guarantees an unparalleled visual experience. A recipient of the Taiwan Excellence Award 2018, the ultra-slim, uber-light 0.97kg Swift 5 comes in stunning Honey Gold and Charcoal Blue—stylish conversation starters in their own right.
Dual reality … A cool addition to the fashionable line-up is the Acer Switch 7 Black Edition, the world's first fanless two-in-one laptop that comes with discrete graphics. Powered by an 8th Generation Intel Core i7 Processor, the Switch 7 Black Edition is ideal for intensive tasks, making it a breeze to edit travel videos and stream quality content. And with its detachable keyboard, this versatile powerhouse can go from a Windows 10 laptop to a tablet with full PC functionality, in mere seconds. The best technology has to offer, at your fingertips.