For many of us it's not uncommon to find our wardrobe is suddenly a combination of varying shades of black, grey, navy and white: a somewhat sad selection of neutrals that are lacking a bit of life. We get it, it's very easy to shy away from the bright yellow dress in favour of a quieter navy, and this can easily become the default.
But if you're a woman who loves the flare of fashion, art and travel, why not add some pieces into your wardrobe that match the bold, bright elements of your personality? It's time to take on colour, and if you're not yet ready to embrace the rainbow through your clothes, look to your jewellery and accessories instead.
Piaget has embraced the beauty of colour – its symbolism as well as its style – with the new Possession collection, and so should you. Here we tell you how…
If you don't have the confidence for bold colour blocking, adding some arm candy with a colour-pop timepiece and a delicate matching bracelet will give you that feel-good feeling from looking at colour. In colour therapy, yellow is said to brighten your mood and give you energy, while blue is a calming colour to help you focus.
"I love Piaget's turquoise blue timepiece. It's so elegant, and I know that every time I look at it I'd think of Mediterranean seas and blue skies," says Davey.
18K rose gold bracelet, Piaget, approx. RM5790.66; diamond turquoise watch, Piaget, approx. RM87,642.37; shiny croc, Whistles, approx. RM360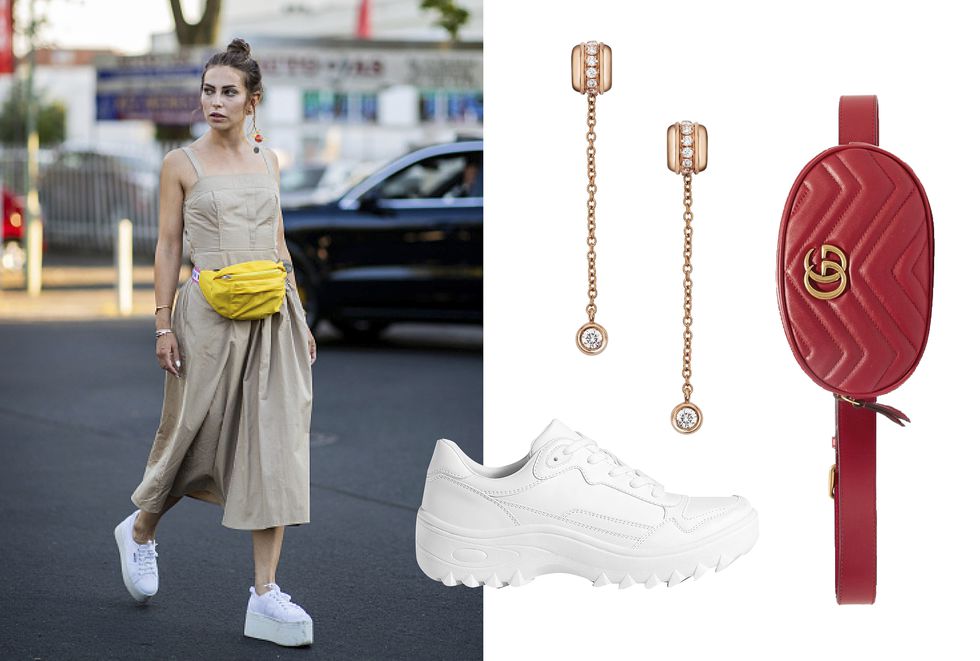 A coloured clutch or a cross-body will always pop against an outfit, but for an ultra on-trend look, opt for the reincarnation of the once maligned 'bum-bag' and choose a high-fashion belt bag.
"For an even fresher look, pick a colour that clashes with your softer outfit style. Bright red looks great with pink for instance, or purple with a pale green," says Charlotte Davey, Bazaar's junior fashion editor.
Rose gold diamond earrings, Piaget, approx. RM13,511.90; Gucci belt bag, Net-A-Porter, approx. RM4,147; white platform sneakers, Bershka, approx. RM239.90.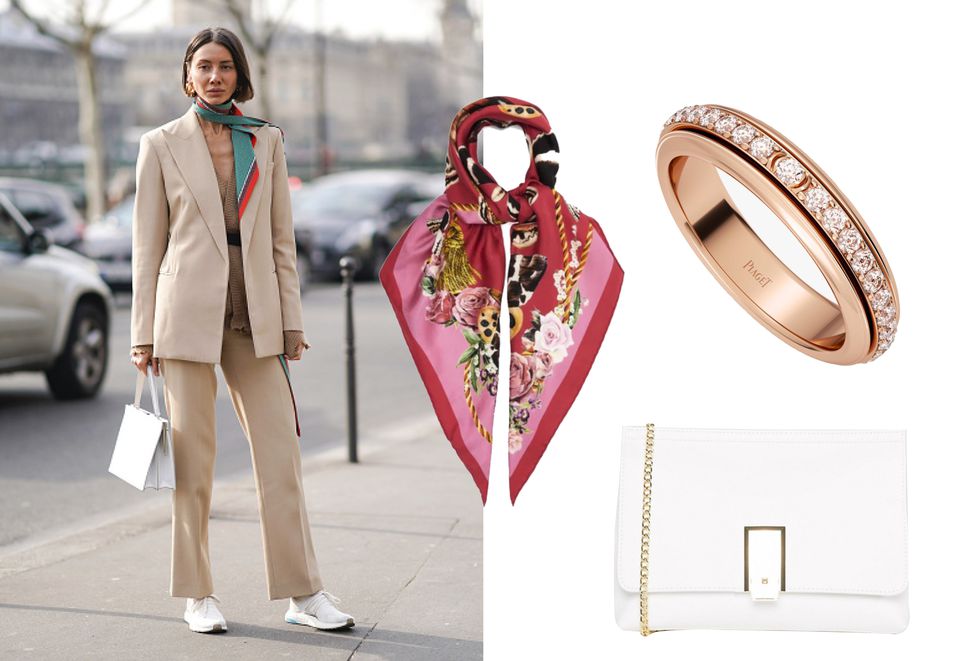 A scarf will always add an element of personality to an outfit, and in terms of how you style it the options are endless.
"From an oversized wool scarf draped over a shoulder in winter months, to a smaller silk scarf tied around the neck, a wrist or a handbag, or even a classic headscarf – however you work it, it's a simple way to add a splash of colour, and print too if you feel so inclined," says Davey.
18k rose gold Possession ring, Piaget, approx. RM19,040; Dolce & Gabbana scarf, Matches Fashion, approx. RM1,539; white & gold clutch bag, ASOS, approx. RM94.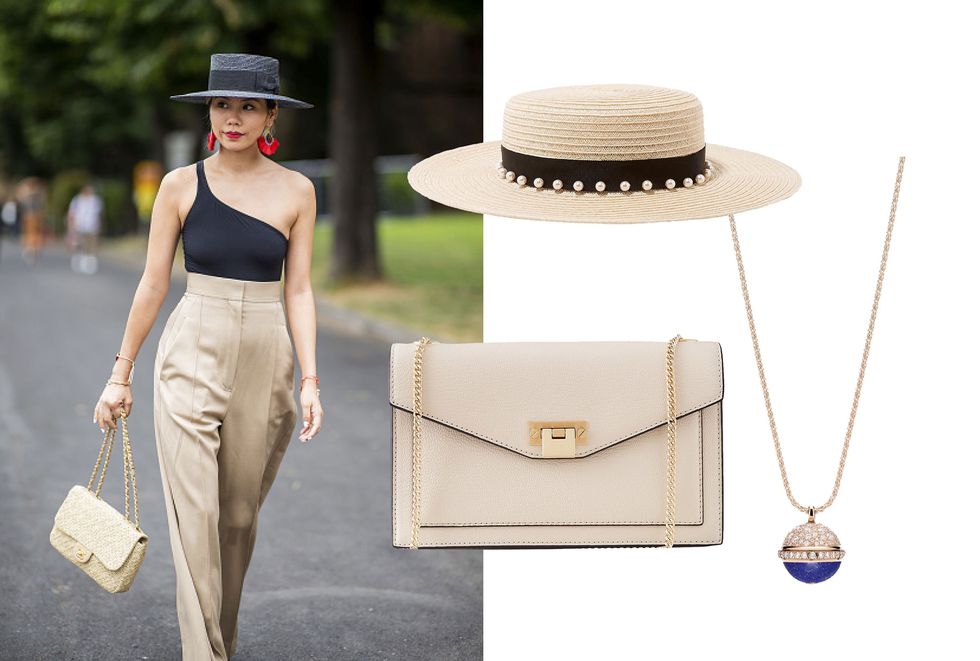 While it can be easy to think you'll tire of that green dress, or that the colour will date, choose a piece of coloured jewellery you love with your heart, whether colour-pop earrings or an elegant diamond pendant, and it will stand the test of time.
"There is more colour in jewellery than ever before, from jaunty earrings to bold necklaces and bangles. It's a subtle touch but it will often lift your outfit to another level," says Davey.
Diamond blue pendant, Piaget, approx. RM59,473; Eugenia Kim hat, Net-A-Porter, approx. RM1,539; leather cross body bag, Reiss, approx. RM913.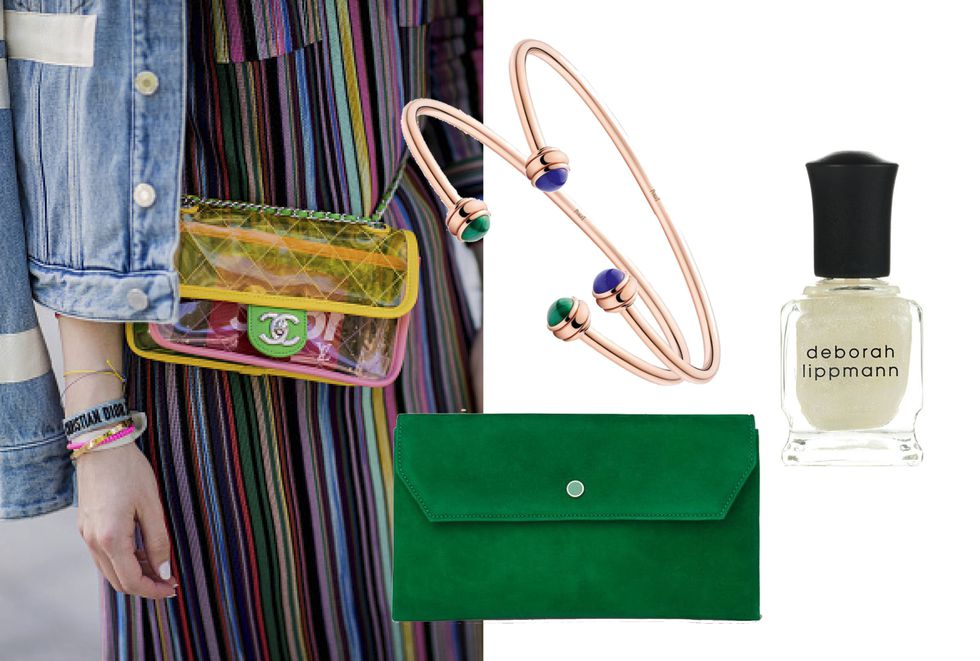 A little colour goes a long way, so consider adding small details – a red lip, a coloured bracelet – and layering up.
"I'm all for stacking my bracelets this summer. Consider combining Piaget's Possession bangles, each has different coloured gems, from turquoise to carnelian to malachite which would look stunning in combination," says Davey.
18k rose gold bangle bracelet with turquoise cabochons, Piaget, approx. RM10,172; 18k rose gold bangle bracelet with lapis lazuli cabochons, Piaget, from RM10,433; suede clutch bag, L.K.Bennett, approx. RM913; Deborah Lippmann nail polish, Net-A-Porter, approx. RM94. 
From: Harper's BAZAAR UK