A discerning woman can never have enough handbags and here's one good reason why -- the Louis Vuitton Exotic Skins collection. From crocodilian leather to python and ostrich, these materials are rare and skillfully crafted into the most luxurious bags by artisans in their Maison in Asnieres making them precious like fine jewellery; visually distinctive and the ultimate object of great desire.
This season, the collection features an attractive selection of their new bestselling iconic bags, ranging from the versatile Twist and the elegant Capucines to the structured ladylike City Steamer and classic Alma BB, in metallic python and crocodilian leather in rich jewel tones of emerald green, amethyst, red garnet and sapphire blue.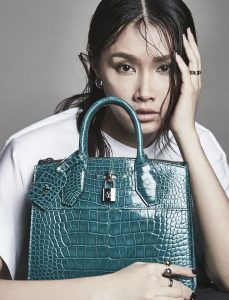 Fun fact: These exotic skins, particularly those from gators and crocodiles, are highly expensive and will increase a bag's worth by more than 30 times in comparison to those made from cow leather.
Here are some things to know about the collection:
2.
Exotic skins are relatively softer than calfskin and also can absorb colour dye more intensely, making the bag vibrant and spotlighting the scales of the crocodilian leather or polka-dot follicles of ostrich skin.