This day-to-night hybrid style is greater than the sum of its parts.
Words by Aemilia Madden
In the 2001 song Short Skirt/Long Jacket, Cake front man John McCrea sang, "I want a girl with a short skirt and a long jacket." But what about a girl in a blazer dress? If McCrea was more tuned into fashion, it's no doubt the anthem would have featured slightly different lyrics.
The hybrid style borrows its shape from classic outerwear and is the type of staple that fits the needs of do-it-all women. "[The blazer dress] deftly blends sharpness with sensuality in a way that always feels modern and unfussy," Andrea Lieberman, the founder of A.L.C., says. The brand's goal, she says, is to reimagine wardrobe essentials through "the lens of power and confidence." And indeed, the best blazer dresses are those that are simultaneously sharp, and seriously sexy.
The effortlessness of the blazer dress is what Lieberman loves most. For work, that could mean styling it with trousers or a silk midi skirt. For night, Lieberman says, "it's all about the plunging neckline, a smudge of liner, and a lofty heel—simple and striking." The only downside to a blazer dress is that you're dealing with a V-neck and short hemline. So you may want to move around a bit in yours before removing the tag, just to confirm you won't be dealing with any wardrobe malfunctions down the line.
If you're not sure where to look first, find 22 of our current favorites below—all of which will definitely make a band front man somewhere want to write a song about you. The girl with a short skirt and long jacket, who? In 2022, it's clearly all about the girl in the blazer dress.
| NO BUTTONS NECESSARY |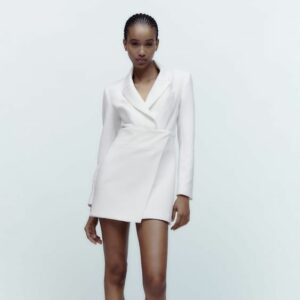 Zara
Blazer Dress
It's not quite a wrap dress, and it's not quite a blazer. This in-between iteration is the best of both worlds.
| HARVARD LAW GRAD APPROVED | 
Rotate Birger Christensen
Double-Breasted Bouclé Dress
Calling all Elle Woods enthusiasts! We absolutely need another Legally Blonde movie just to see Reese Witherspoon's character in this playful pink bouclé blazer dress, no?
| KEEP IT FORMAL |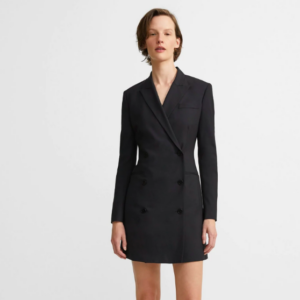 Theory
Blazer Dress in Good Wool
Sometimes, the best option is simple, sleek, and black. But don't write the combination off as boring. This tailored, double-breasted style demands a look at the details.
| VELVET CRUSH |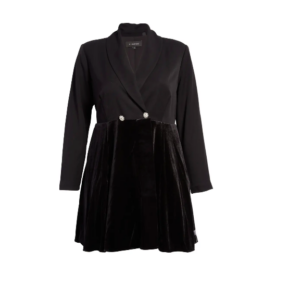 11 Honoré
Laura Blazer Dress
There's something mildly equestrian about this double-breasted velvet style, but it's not just for horse girls. You can easily wear this to the races—or not.
| FOR THE LAID-BACK DRESSER |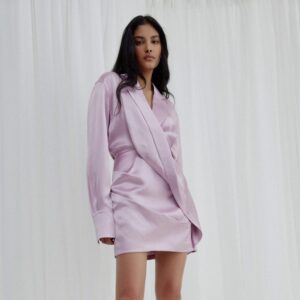 Acler
Woodbine Draped Satin Mini Wrap Dress
Sharp tailoring not for you? The draped cut of this pale-hued blazer dress has a laid-back but luxe feel.
| IS IT A BLAZER? IS IT A DRESS? |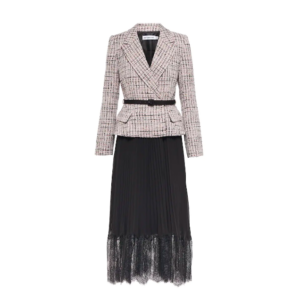 Self-Portrait
Hybrid Blazer Dress
Break out of your blazer dress box and try this take from Self-Portrait that feels like an optical illusion. It may look like a silky skirt and a jacket styled together at first glance, but it's actually one piece! This blazer dress is essentially made for double takes.
| SHIMMER ON |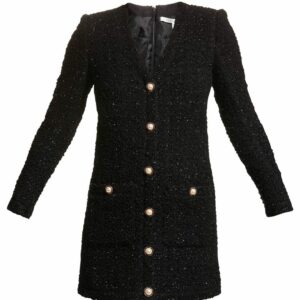 Veronica Beard
Kenai Sparkly Button-Front Blazer Dress
Don't feel the need to take formalwear all too seriously. This sparkly button-down dress is made for celebratory occasions. Easy as that.
| SKIP THE COLLAR |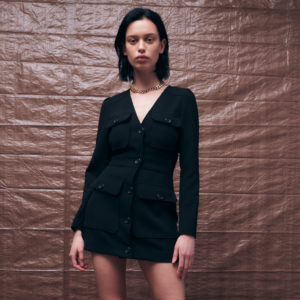 A.L.C.
Iris Tailored Mini Dress
"The allure of the blazer dress lies in its effortlessness," Lieberman says. This black dress is simple in all the right ways, but a little more exciting than your standard LBD.
| NEED FOR TWEED |
Maje
Contrasting Tweed Dress
Can't seem to stumble across the right tweed set at the consignment shop? This textured tweed blazer dress feels elevated but just as retro as vintage.
| FOR THE FUTURE BRIDE |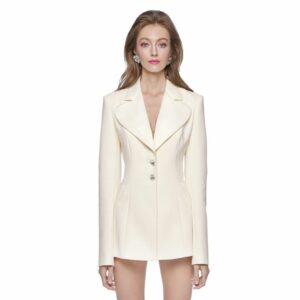 Nana Jacqueline
Quin Blazer Dress
If you're looking for a new night-out staple or even a flirty rehearsal dinner dress, this style has the power to be as polished as you want it to be.
| PUT A BELT ON IT |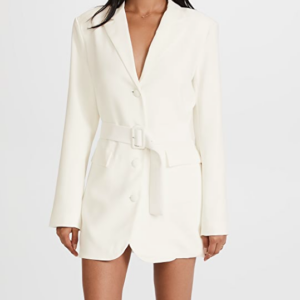 Amanda Uprichard
Meritt Blazer
Oversized, boxy blazers may be the style du jour, but if you prefer a more defined waist, try something with a built-in belt like this cream-hued option.
| FRENCH-GIRL FAVORITE |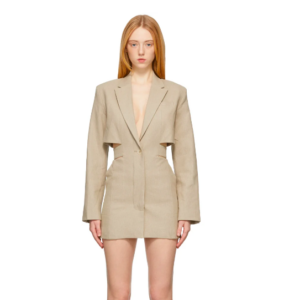 Jacquemus
Bari Blazer Dress
Parisian label Jacquemus is beloved for its playful, sexy takes on more classic wardrobe staples. And this deep-V taupe blazer fits the je ne sais quoi bill.
| ISN'T SHE SWEET | 
Staud
Hue Blazer
Who doesn't love candy? This lollipop-hued blazer dress is saccharine in all the right ways.
| BOSS BEHAVIOR |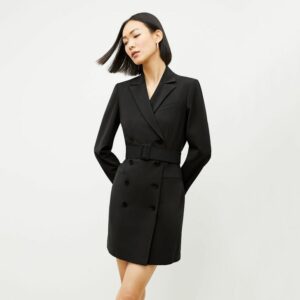 M.M.Lafleur
The Gwynne Dress
Not all blazer dresses may feel well suited to your office — especially if you're somewhere that leans more formal. The mid-thigh hemline and streamlined look of this blazer dress, though, certainly feels more reasonable for on the clock.
| AN OPTICAL ILLUSION |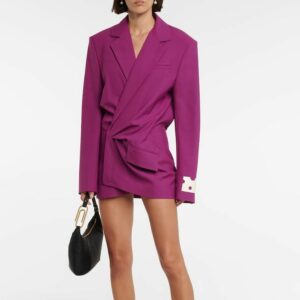 Off-White
Blazer Wool-Blend Minidress
If anyone asks, no, you didn't miss a button. Off-White's blazer dress is purposefully meant to be a bit off-kilter.
| A LITTLE BIT NAUTICAL |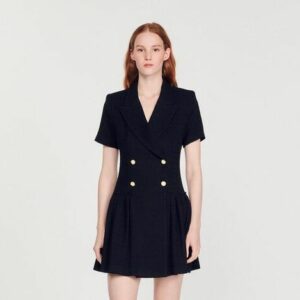 Sandro
Short Tweed  | Coat Dress
There's something about this blazer dress that just screams "wear me on a boat." So do it! All you really need to finish the look is a little sailor hat.
| CUT THAT OUT |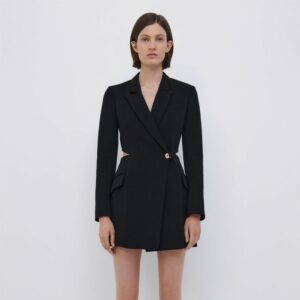 Jonathan Simkhai
Jayda Structured Blazer Dress
Cutouts are a feature that can instantly transform a blazer dress from day to night. Style this Jonathan Simkhai number with a turtleneck for work, and then with a pair of your go-to heels for happy hour after.
| POWER SHOULDERS |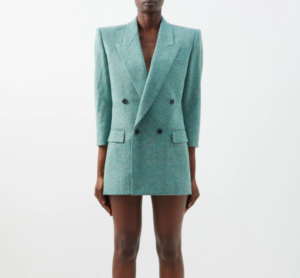 Saint Laurent
Blazer Dress
Mini hemline? Check. Sharp shoulders? Check. Wide lapels? Check. Leave it to Saint Laurent to create a dress with daring (and dare we say perfect) proportions.
| WOOL FOR THE WIN |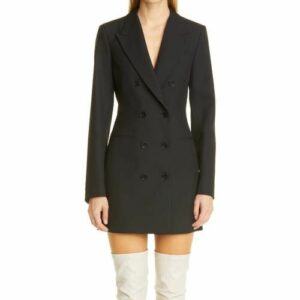 Stella McCartney
Double Breasted Wool Blazer Dress
As the air gets crisper, don't entirely retire all your short hemlines. A wool blazer dress styled with over-the-knee boots will serve as body armor when you have to step outside.
| BLACK TIE, WHITE DRESS |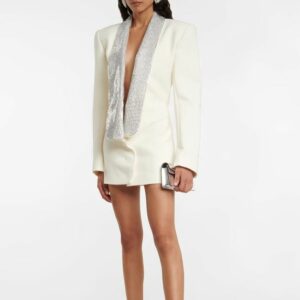 Area
Embellished Tuxedo Mini Dress
A black-tie wedding dress code often requires a tuxedo, but a tuxedo-inspired dress fits the dress code too.
| SKIN IS IN |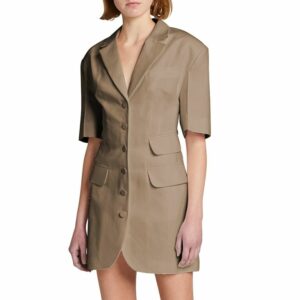 Materiel
Open-Lace-Back Linen Blazer Dress
Georgian label Materiel's strength is in its ability to put a cool twist on minimalist staples. This dress, with short sleeves and a cutout back is not your average take on the blazer.
| COLD SHOULDERS |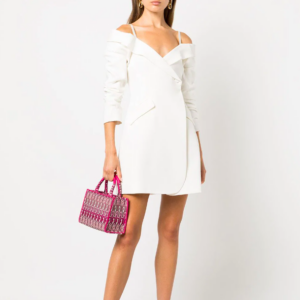 Cinq a Sept
Off-the-Shoulder Blazer Dress
On occasions when you want the look to be more dressy and less corporate, search for a style that offers something unexpected. Of course, the off-the-shoulder detail on this Cinq a Sept number does just that.
– – – – – –
This story originally appeared in harpersbazaar.com