Versace will stop using real fur in its products, after creative director Donatella Versace said that it no longer "feels right".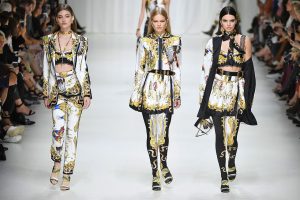 In an interview for The Economist's 1843 magazine, which will be printed on Friday, Versace said: "Fur? I am out of that. I don't want to kill animals to make fashion. It doesn't feel right."
Dan Matthews, senior vice president of PETA US, released a statement in support of the announcement: "PETA led runway disruptions, protests, and a 2006 ad blitz at a time when Versace was synonymous with fur, so this news is most welcome.
"Donatella's realisation that it's wrong to bludgeon and electrocute animals for fur is a major turning point in the campaign for compassionate fashion, and PETA looks forward to seeing a leather-free Versace next."
The label has until now resisted pressure to follow the growing number of fashion brands going fur-free such as Gucci, Tom Ford, Tommy Hilfiger, Michael Kors, Stella McCartney, Ralph Lauren, Giorgio Armani and Calvin Klein. Donatella is clearly an animal lover, having recently cast her beloved dog Audrey in her Chinese New Year collection campaign.
According to the Humane Society International (HSI), Versace has historically included a variety of furs in its designs such as mink and racoon dog, most recently in its autumn/winter 2017 collection which included mink and fox coats.
Claire Bass, executive director of HSI UK, addressed how animal welfare is becoming more apparent in the fashion industry: "Versace is a massively influential luxury brand that symbolises excess and glamour, and so its decision to stop using fur shows that compassionate fashion has never been more on trend."
In contrast, the International Fur Federation was "disappointed" by the decision, as CEO Mark Owen said: "The majority of top designers will continue to work with fur as they know it is a natural product that is produced responsibly."
He continued: "With growing concern about the environment and plastics in fashion, I truly believe fur is the nature and responsible choice for designers and consumers."
From: Harper's BAZAAR UK