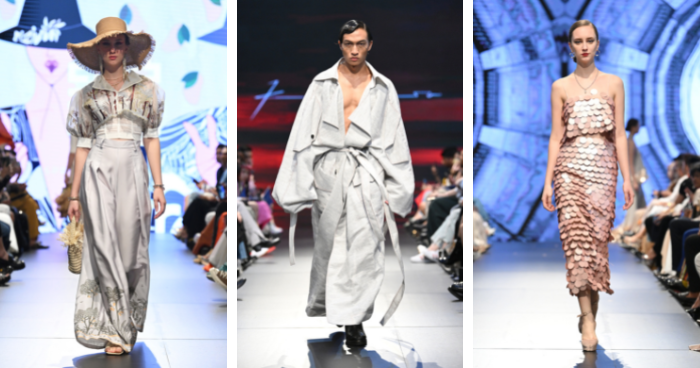 Kuala Lumpur Fashion Week was back in full force, and there was a lot to see. Blink and you'll miss the details: structured blazers, bohemian maxi dresses and denim delights. KLFW22 Day 2 delighted us with outstanding fashion looks from notable local designers.
If you missed Day 1, be sure to check it out here.
Scroll below to see some of our favourite looks from KLFW22 Day 2.
Kit Woo
No doubt one of the hardest working pieces in a woman's or men's wardrobe are structured pieces such as blazers and pants. It's rare to find a designer who doesn't have an iteration of the versatile tailoring in their collections. However, Kit Woo's bold yet timeless collection shows the perfect balance of sharp and subversive. From structured pants to tailored singled-breasted blazers and dramatic long trench coats, rest assured there's shape, style, and colour in Woo's KLFW22 looks.
Atelier Fitton
Serving us muted colours and sharped looks, Atelier Fitton's collection featured elevated, easy-going coordinated sets, military-style jackets and casual denim that rank as a wardrobe's greatest asset. Showing strong styling essentials, the collection served as a reminder that the basic jacket has the power to take on any form and work effortlessly into almost every occasion.
Phyn Studio
Unlike the other designers who preferred minimalism this season, Phyn Studio hit the runway with looks spotlighting dramatic layers and a play on dimensions. Featuring holographic colours, mixed prints and eye-popping windbreakers – the collection is revealed a dynamic display of futurism and eclecticism in their fits.
Afiq M
Afiq M spotlighted solid, elegant silhouettes and neutral-wear everywhere pieces in his collection that even the most minimal of minimalists wouldn't be able to pass. All of his pieces are a great start to laying the foundation for a no-fail, no-fuss wardrobe. From a stunning black square neck maxi dress to a tailored cropped jacket and a glam, sequinned dress – there's nothing you wouldn't like in his collection.
Maglifestyle
Stripping the palette down to a couple of hues; Valentino pink, white and yellow, Maglifestyle quirky, fun and flirty styles stole our hearts. Among our favourites were corset-shape playsuits, coordinated sets, and extravagant blouses.
Dissyco
Dissyco rolled out with co-ord sets and relaxed pieces that are perfect for everyday wear. Punctuating the runway with pastel and neutral hues, the runway is full of amplified and transcended outfits that are easy to match.
Raw Denim
Raw Denim delivered a sort of ode to the classic denim-on-denim look made famous – or infamous – by Britney Spears and Justin Timberlake. The collection highlighted matching head-to-toe sets and denim washes pairing as you've never seen before. From dark indigo patchwork denim pants to an indigo-washed hooded jacket, the collection revealed classic street style wear that's functional and cool.
Romyda KL
Bringing back the Noughties trend, Romyda KL's runway show was awash with blasts from the past. Making boho the heart of the collection, the showcased featured feathered fringes, embellished belts slung low on the hip, and patterned dresses. If you're nostalgic for boho, then look no further.
Fiziwoo
Nothing signals carefree vibes quite like Mediterranean prints and elevated boho iteration. Fiziwoo takes us on a summer holiday with a collection of fluid silhouettes, earthy colour palette, and whimsical staples. With nature-inspired prints plastered all over their see-through collared shirts, maxi dresses, and blouses, Fiziwoo made a case for a bohemian fashion resurgence.