With Paris being taken over by Couture Week, breathtaking sets for fashion shows have had us relentlessly gawking at our phone screens. The one that had us mesmerized was The Christian Dior Exhibition Couturier Du Rêve at The Musée des Arts Décoratifs in Paris as the house celebrated its 70th anniversary on July 3rd.
The House of Dior brought together a lavish exhibition filled with jaw-dropping scenography that took the visitors on a journey of discovery through the works of history of the creative directors. From Christian Dior to Maria Grazia Chiuri, Yves Saint Laurent, Marc Bohan, Gianfranco Ferré, John Galliano and Raf Simons. Not to mention, the enigmatic fragrances such as Miss Dior and J'adore.
Who were the stars decked out in Dior? Check it out for yourself. 
Bella Hadid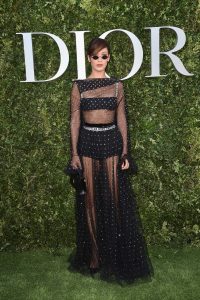 Bella Hadid is wearing a Dior embroidered black tulle, a Dior black knit lingerie and a Dior black patent calfskin bag.