Words by Kim Parker
Truly out-of-this-world designs to accessorise with from Chanel, Chopard and more
When it can take several years to design and craft a beautiful wristwatch, they can't exactly be said to follow trends. Despite this, there are a few themes (like flora or fauna) that are an eternal source of inspiration for watchmakers and can appear time and time again, as they would on a canvas or in a sculpture.
The wonder of the heavens is one such recurring theme, and many of this year's most beautiful timepieces – which recently made their debut at the annual Watches and Wonders trade fair in Geneva – are artistic explorations of the cosmos, with its planets, moons and stars rendered in perfect miniature for the wrist.
Perhaps it's about humanity's perpetual curiosity with the universe. Perhaps, during those long years of pandemic confinement, watchmakers were determined to reach out to infinity and beyond when designing their latest masterpieces. Perhaps it just looks pretty. Whatever the reason, there were so many celestial timekeepers on show this season, we couldn't help but think it might be a (whisper it) trend.
Below, we present our edit of the very finest celestial-inspired watches to invest in right now. All prices are available on request.
Hermès
Conceived in 1978 and inspired by the movement of a galloping horse, Hermès Arceau watches always strike a careful balance between playfulness and refined detailing. This year's iteration features a snapshot of the solar system as if viewed by Antoine de Saint-Exupéry's Petit Prince, rendered with an aventurine sky and three planets crafted from aragonite, mother-of-pearl and luminous opal, all framed within a white diamond bezel.
Van Cleef & Arpels
The fairy motif has shimmered across Van Cleef & Arpels' watch and jewellery creations since the 1940s. This year, she appears on the enamelled dial of the house's latest 'poetic complications' watch, perched atop rolling mother-of-pearl clouds beneath a starry sky. Instead of the usual hour and minute hands, hours are indicated in a round window at the fairy's feet, while her diamond-tipped magic wand points at the minutes on the right of the dial.
Chanel
Gabrielle Chanel was an avid follower of astrology. Born under the zodiac sign of Leo, she took on the lion as her personal mascot (even filling her apartment in Rue Cambon with a veritable pride of lion statues) and incorporated star-shaped motifs into her work throughout her career. With its new Interstellar watch collection, Chanel honours its founder's love of the stars, as encapsulated in the new limited-edition Première Hyper Lucky Star, which has a diamond-studded star charm attached to its white gold case.
Gucci
Gucci's universe is a kaleidoscopic one, filled with dancing planets conjured from precious gemstones. At the heart of the new Planetarium watches lies a unique Flying Tourbillon movement called the GGC.1976.DS (named after one of our galaxy's brightest nebulas) which, when activated by pushing the crown, sends 12 colourful gems spinning into orbit in a colourful display of ingenuity.
Dior
Christian Dior was also a big believer in lucky stars. It's said that in 1946 the designer almost tripped over a metallic star that lay on the pavement of the Rue du Faubourg Saint-Honoré, which he took as an auspicious sign to found his own Maison. It's this lucky star, crafted in yellow gold, plus another in white gold, that can be seen shooting across the deep blue mother-of-pearl dial of Dior's new 38mm Grand Soir watch, which features an image of the night sky above his beloved flagship at 30 Avenue Montaigne. Only 28 pieces will be made.
Vacheron Constantin
For the first time, Vacheron Constantin's sporty Overseas collection gets its own romantic lunar phase window (which tells you exactly where the moon is in its cycle) as well as its iconic retrograde date display – a feat which took three years to achieve. Made from satin-brushed steel with a blue lacquered 'starburst' dial, this dressy unisex watch blends the house's legendary accuracy with a touch of star-gazing poeticism.
Patek Philippe
Yes, it has a complicated name. But the new self-winding Aquanaut Luce, in elegant blue-grey, is a sleek and refined all-day, all-year watch with an easy-to-read dial that gives you the day, date and time at a glance. Alongside this annual calendar function, there's a moon phase window at the 12 o'clock position that's so accurate it only differs from the true lunar cycle by one day every 122 years.
Piaget
Using precious ornamental stones with gold is a house signature at Piaget, as exemplified by the new Polo Perpetual Calendar. In place of a dial, it has polished obsidian, which resembles a physical slice of the night sky, with three smart midnight-blue windows to display the day, month and date. A fourth window, at the 6 o'clock position, reveals the phase of the moon.
Chopard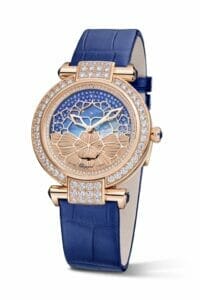 Charting the way the dawn sky eventually gives way to dusk was the complex task set for Chopard's artisans this year. They delivered the Imperiale – an eye-catching 18k rose-gold watch with a mother-of-pearl dial set on a gently rotating disc that changes with every passing hour, thanks to a unique self-winding mechanism. Pale snow-set diamonds, indicating the day and time, evolve into a blue sapphire 'night' sparkling with tiny gold stars.
This article originally appeared in harpersbazaar.com