It's a spring fling
Expressing the awakening of nature, Van Cleef & Arpels' Lucky Spring collection celebrates the arrival of spring. Nature-infused, the new jewellery collection is brimming with floral and animal motifs complemented with ornamental stones.
Introduced in 2021, the Lucky Spring collection embodies the Maison's poetic world and its positive vision of life. This year, the Maison introduced four new pieces including two pendants, a ring, and a bracelet. These four new additions expand the Lucky Spring offering, which also includes a long necklace, three bracelets, a clip, and a pair of earrings. Full of vibrant colours, the 2023 Lucky Spring collection represents the themes of nature and luck.
Take a look at Van Cleef & Arpels' Lucky Spring Collection:
A key figure in the Maison's animal world, the ladybug takes on a new role in the Lucky Spring collection. The Maison's benevolent companion – a herald of spring – is considered a symbol of good luck. More recently, the ladybug has also been a figure of choice for exceptional pieces, from high jewellery to watchmaking such as the majestic Mystery Set Ruby clip in the Palais de la chance Collection in 2012 and the Secret de Coccinelle watch, which won the Grand Prix d'Horlogerie de Genève in 2018. So, it's no surprise that the Maison used the iconic animal in their Lucky Spring collection.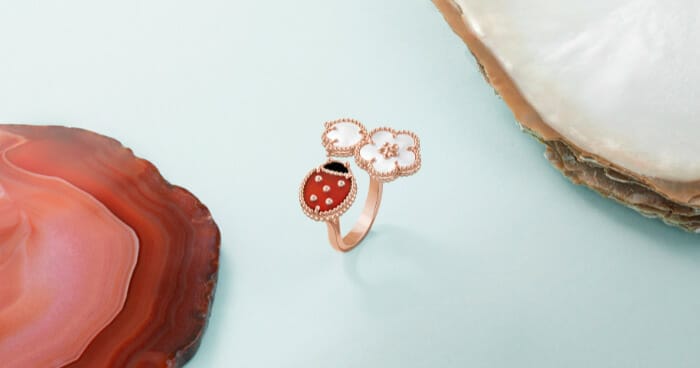 Since its beginnings, the Maison has drawn its inspiration from the vitality of nature. On a Between the Finger ring, the charming creature lives in harmony with a plum blossom and a lily of the valley bud. Known to go hand in hand with florals, the lad bug also adorns a pendant. With its wings spread and ready to fly, the ladybug reveals a slightly rounded body in mirror-polished rose gold. Most of the pieces feature delicate motifs that create shimmering bucolic scenes that interpret a beautiful kind of poetry.
Through lilies of valley buds, ladybugs, and plum blossoms, this jewellery collection offers a picture of spring that is both pure and elegant. Whether you're a seasoned collector or a fashion darling, the newest additions will truly be an iconic investment to any outfit or style and your life.
Discover more at Vancleefarpels.com