What a difference a day makes. In early March, American actress and singer Vanessa Hudgens posted a selfie of herself dressed in a risqué metallic Saint Laurent bustier, paired with barely-there hot pants, big curls, and red haute lips. With a caption that read "That good good. No, it's not Thursday", one can only assume that she was referring to her weekly #ThirstyThursdays fee-good posts, a series of stylishly curated body-positive pin-ups that had become her personal "revenge-bod" indulgence since her high-profile break-up with actor, Austin Butler. It certainly didn't take long for the picture to attract more than a million likes, breaking the Internet with hundreds of web articles from the likes of E! Online to The Daily Mail. Thank you for blessing us with this," commented Netflix's Chilling Adventures of Sabrina actress Kiernan Shipka, while Pretty Little Liars actress Ashley Benson declared her love to her fellow Spring Breakers co-star. Little did anyone realize, that the selfie was in fact a behind-the-scene outtake from this exclusive Harper's BAZAAR Malaysia cover shoot in sunny Los Angeles, shot on location amid lush palm trees and clear blue skies. It was indeed a much simpler time then: malls were packed with countless shoppers, yoga centres were running at full capacity, and rush hour traffic in major cities would last for hours on end. But in a blink of an eye, the world changed overnight, and nothing else was ever the same. 
Suddenly, social distancing became the new norm, and in a matter of days, we started to question ou own health safety and sanity. Oddly enough, this conscious approach juxtaposed the resulting series of TikTok dance videos and Insta Live workouts as millions of subscribers were given carte blanche to become their own Insta celebrities.
For Vanessa, this translated into an IG Live video which saw the Disney actress voice her opinions on the worldwide pandemic, culminating in a social media frenzy which incited many to lash out against the The Princess Switch star. Of course, just as soon as she had realized her mistake, Vanessa released a statement on Twitter, apologising for her misstep of judgement. "I'm so sorry for the way I have offended anyone and everyone who has seen the clip from my Instagtam Live yesterday," she confessed. "I realise my words were insensitive and not at all appropriate for the situation our country and the world are in right now."
"I think it's important to remember that no one's perfect," Vanessa responded in our interview, barely days after her bold comment on the 'gram. "All we can do is learn from our mistakes .. so I keep charging on." A testament to her unrelentless spirit, one which she had undoubtedly molded since her High School Musical era.
Indeed, the half-American and half-Filipina actress was 17 when she was cast as Gabriella Montez in the now-iconic Disney film. Within a year, her music recordings for the movie's soundtrack went on to dominate the charts internationally, with "Breaking Free", a duet with former on-screen/off-screen love interest Zac Efron, hitting #4 on the US Billboard Hot 100 and #9 in the United Kingdom. Through the years, the multi-talented actress released a number of solo albums, from V in 2006, and Identified in 2008, while also being inducted into Forbes' "High Earners Under 30" list in 2008.
It isn't just chick flicks and family specials that propelled her into superstardom. There's another part of Vanessa that's altogether bad-ass and empowering, which shone through in slightly less commercial yet thought-provoking projects, like the cult coming-of-age drama Thirteen by Catherine Hardwicke, and of course, Harmony Korine's 2012 Spring Breakers, starring James Franco and Selena Gomez. Here, her seamless ability to go from fresh-faced-girl-next-door, to a gun-wielding temptress stood out the most. Naturally, this chameleonic prowess to switch from one polarized character to another, has certainly helped in paving the way for her latest endeavor in Broadway and latest film Bad Boys for Life, let alone her rise as not just a feminist symbol, but as a role model to young girls everywhere.
Surely, in a post #MeToo world and today's current state of panic, sisterhood, compassion, and humanity are needed, now more than ever. And with celebrity culture being blown out of proportion, perhaps, it is a time to reflect, and be present. After all, to quote Vanessa's 2006 High School Musical hit, "We're All In This Together".
You've come a long way since High School Musical. How do you think that experience and growing up with fame, has shaped you personally and professionally? 
It's made me stronger. Growing up in the spotlight is difficult. But going through things publicly gave me thick skin. The industry is tough and I'm grateful for my strength.
Since then, some of the films you've starred in, like Spring Breakers and Thirteen, highlight some controversial issues facing women today. How do you think such films reflect back on our current state of society at large? 
It's important to see films where things are taken too far and observe how it plays out. It's really crucial to be faced with the question "Where do I stand on that?" That's how you build your own character and understanding about yourself.
How much of these kick-ass slash empowering narratives appeal to you as actress, especially now that you've taken on the role of a cop in Bad Boys for Life?
I've always dreamt of being a bad ass action babe. I remember seeing Angelina Jolie in Tomb Raider and thinking to myself, I want to do that. It's important for girls to see woman kicking ass and being empowered.
What was it like working with iconic actors like Will Smith and Martin Lawrence? 
It's so fun being on a set when there is already such an established relationship between the main cast. This time, it was Will and Martin. Both are such kind individuals and they're so collaborative. Will was always cracking jokes on set and always made sure everyone was looked after and having a good time.
Has it been hard transitioning from a Disney icon, to a bad-ass female actress? 
The beginning was the toughest time, because all people knew of me was from High School Musical. I really had to put in the work to expand my resumé and be seen in a different light. But I enjoy the process. I'm playing all different types of characters and constantly challenging myself to take on something new.
In February, the photographer Claire Rothstein released a video featuring yourself and other prolific women on female empowerment. What is your take on feminism? 
To me it's about seeing yourself as someone you respect and being treated that way. There's so many different opinions about how a woman should be, and I think the only opinion that matters is your own. There's obviously still so much work to do when it comes to equality and equal pay, but the conversation is loud and I think with continuing in that direction we will make a difference!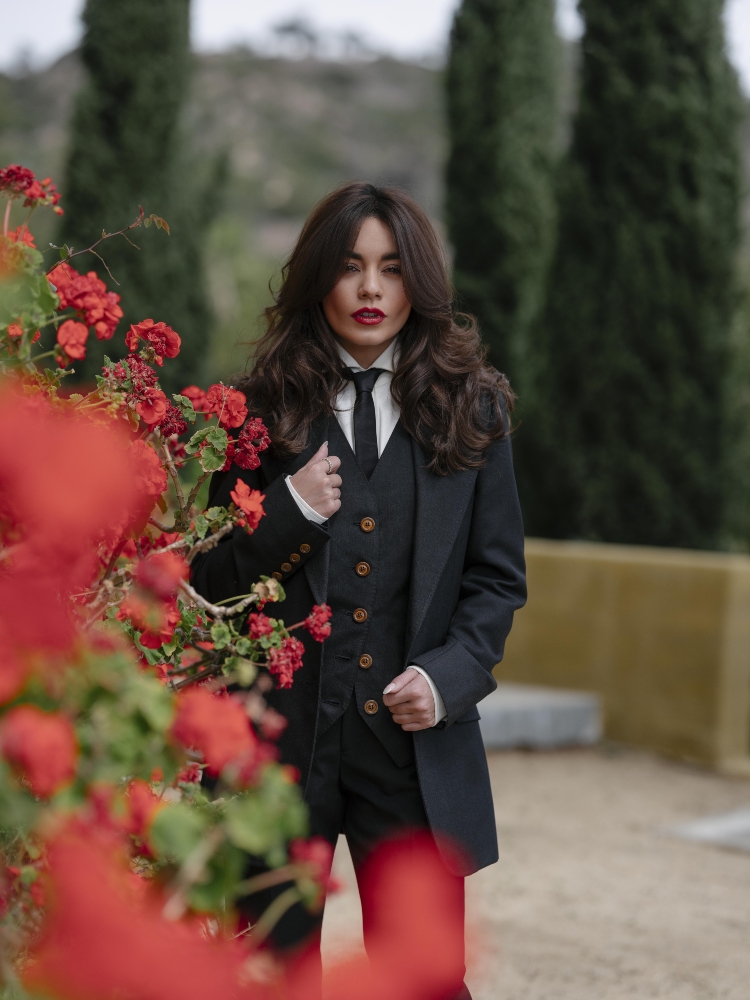 As a proud half-American half-Filipina, how much of your multi-cultural background informs the person you are today? 
I'm sad to say I still haven't been to the Philippines and I feel like a piece of me is missing because I'm not as connected to my heritage as I'd like. But I am very much my mother's child and she was born and raised in the Philippines with not a lot to her name. Hearing her struggles and her instilling her faith and spirit into me is one of my grounding pillars. But I was born in the States and raised as an American. It's nice to have a piece of both.
If you were to choose between acting and singing, which one would it be?
That's so hard for me. I grew up doing musical theatre so to me they go hand in hand but if I HAD to choose I'd say acting. Telling stories and stepping into someone else's shoes is my real passion.
Going into Broadway–which seems to be the right juggle between the two–what has been the hardest about going live? How do you mentally prepare yourself with such feats? 
Being on stage is like being at home to me. You do all the preparation in a safe space and then finally have that moment where you tell the story and have the audience right there to react to it. You can feel if they are into it or not. It's such an intimate special connection you have to the audience when you're on stage. I get such a thrill from it.
With so much going on right now, how do you take the time to just #SelfLove? 
I've been meditating a bit more recently. I think with all the noise it's so important to take time to drop in to yourself and release all the baggage we carry. I'm also such a fan of a good face mask, a glass of wine and watching a comedy in bed. Also, a good meal. Taking time with it and really experiencing all your senses with each bite.
Without a doubt, it's been quite an emotional rollercoaster for you these past few years. How do you keep yourself charging on despite all that's happened in th
I think it's important to remember no one's perfect. We all make mistakes and probably will keep making mistakes. All we can do is learn from them and try to not make the same mistake twice. I'm so passionate about what I do and living my best life because we only have one. I don't want to look back and say what if, so I keep charging on.
One of the greatest things about you is your ability to keep it real. How do you manage to do that, especially in Hollywood? 
I try to make it a point to actively keep my life real. I've been through a lot but still have so much more life to live. I always try to take a step back and see the journey and feel deep gratitude for it. I think when you lead with gratitude it's hard to become jaded.
Speaking of keeping it real, what's your take on being sexy and confident in this day and age?
For me, when I feel confident and empowered by my femininity I feel like I can conquer whatever I set my mind to. There's power in that. If you believe it, you can do it.
Photographed: Kat Irlin 
Interview: Amy Yasmine
Stylist: Anna Katsanis/ Art Department 
Styling assistants: Tara Buenaventura, Paulina Castro Ogando
Hair: Mara Roszak using Leonor Greyl/ SWA Agency 
Make-up: Allan Avendano/ SWA Agency