As if her success as a singer and a choreographer weren't enough, she's now getting Oscar buzz for her film
A Thousand and One
As told to Bianca Betancourt; Photographed by Mario Sorrenti; Styled by Beat Bolliger and Edward Bowleg III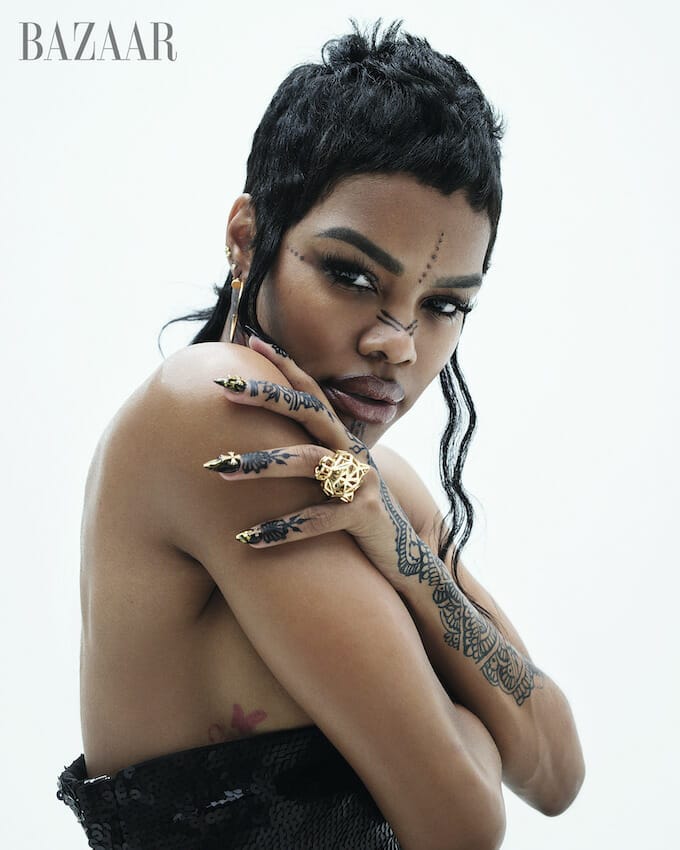 Teyana Taylor has already had multiple careers. When she was 15, Pharrell Williams signed her to a record deal, and she choreographed the video for Beyoncé's "Ring the Alarm." By the time she was in her early 20s, she'd appeared in a Tyler Perry movie, dropped her debut album, and collaborated with Ye.
But Taylor's transfixing performance in A.V. Rockwell's latest film, A Thousand and One—a period piece set in mid-1990s and early-2000s New York about one woman's fight to raise her son against the shifting backdrop of the city—is her new calling card. For the 32-year-old Harper's Bazaar 2023 Icon, it's the culmination of a starry professional journey and the beginning of an exciting new one. (For the complete coverage of Bazaar's Icons 2023, including cover stars Kendall Jenner, Paul Mescal, and Doja Cat, click here.)
I've really learned about my strength and my influence on others at this point in my career. When I say that, I don't mean in a way of people copying me and all that; I mean that you never know whose day you're making. You never know who you are inspiring. I get joy in uplifting others. I've leaned into the power of my strength, my words, my actions.
I've been in the game so long that I've been able to compare and contrast the rights from wrongs, the mistakes that have helped me grow. I don't regret anything in life. I've learned to take your Ls not as a loss but as a lesson. The weight is not punishment, it's preparation. I feel like I'm still learning and growing and navigating this thing that we call life, but I want to do it in a way where I'm touchable. A lot of the people that we see want to act untouchable. I don't want that. I want you to feel like if I can do it, then you can do it too.
Rick Owens

top, briefs, and platform boots. Cartier Juste Un Clou earrings and Panthère de Cartier ring.
PHOTO: MARIO SORRENTI
Being from Harlem definitely plays a big part in my swag. Real talk, I think that's what gives me my touchable spirit and soul. I've seen a lot. I've been through a lot!
A Thousand and One was a real yes for me. I knew that I had a job to do on that film. I was very intentional and knew what my goal was: to be able to get this acknowledgment from the masses to be able to go on and do other things that I love. I went from people second-guessing when they heard my name to getting Oscar buzz. That's good enough for me.
"I don't regret anything in life. I've learned to take your Ls not as a loss but as a lesson."
One of my biggest goals right now is to pour energy into these artists like Latto and Summer Walker and really be able to provide them with something that I didn't have. Even though I come from the era of people having artist development, I was left in positions where I had to do everything myself, even at some points where I had to do my own hair and makeup. I've always been my own stylist. I choreographed my own stuff, produced my own stuff, did my own lights—that's all that I know.
That's my sense of urgency—to be able to be selfless and to continue to balance both being there for myself and for others. I'm so big on balance: how I balance being a mother, a wife, a creative director, an entrepreneur, an artist myself. It's my world, and I'm just living in it. The sky is not the limit. I'm breaking through the clouds and realizing I can keep going.
This interview and photo shoot were conducted before the SAG-AFTRA strike.
Hair: Tomo Jidai for Oribe; makeup: Frank B for LoveSeen; manicures: Honey for UN/DN Laqr; production: Katie Fash and Layla Néméjanski; set design: Philipp Haemmerle