Summer weddings, while by far the most popular on the social calendar, come with major pros–beach weather, flowers in bloom, guests in holiday mode, the list goes on–but aren't without dressing cons. What's a bride to wear when the temperatures are sky-high, outdoor ceremonies are a given and sundresses, shorts, swimwear and blousy tops are all you'd pack if you weren't walking down the aisle? Here, the season's chicest trends (and solutions) to bridal dressing for the warmest season of the year.
Tropic Thunder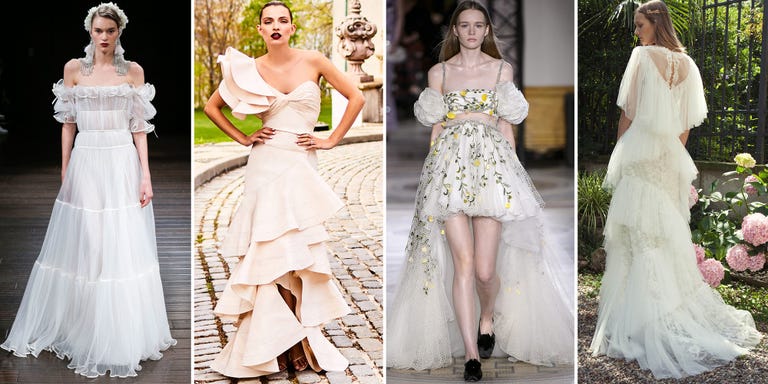 Turn to the warmest climates in the world–and the fashion motifs they inspire–to decipher the coolest ways to give your look a vibrance and a seasonally-appropriate feel. Design elements like ruffles, florals, tiers and flounces have an inherently playful vibe that suits the summertime. Flamenco-style skirts, bare shoulders and peek-a-boo cutouts that highlight your enviable frame will infuse a subtle sex appeal that feels right for high temperatures.
From left: Naeem Khan Bridal Fall 2018, Johanna Ortiz Bridal, Giambattista Valli Haute Couture Spring 2018, Alberta Ferretti Bridal.
Textural Laces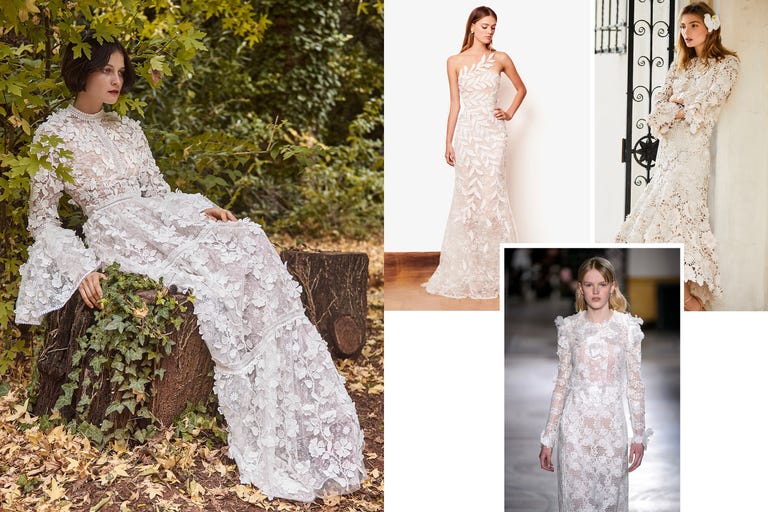 Chantilly and Alençon laces are fitting year-round, but a more tactile option like corded lace, Guipure or Macrame feels appropos when dressing for summertime. These laces are lighter, whiter and natural in feel, giving them a crisp look that complements beach destinations, garden parties and a vineyard's leafy surroundings more than any other setting. The tones of these options are anything but soft ivory, which tends to suit in the colder months or during a romantic spring ceremony. Accent these textures with a bouquet of blooms that speaks to their bold shapes and movement–like a clutch of wildflowers, lily of the valley or frothy peonies and dahlias.
From left: Costarellos Bridal Fall 2018; Oscar de la Renta Bridal Fall 2018; Johanna Ortiz Bridal; Giambattista Valli Haute Couture Spring 2018.
Slouchy Fits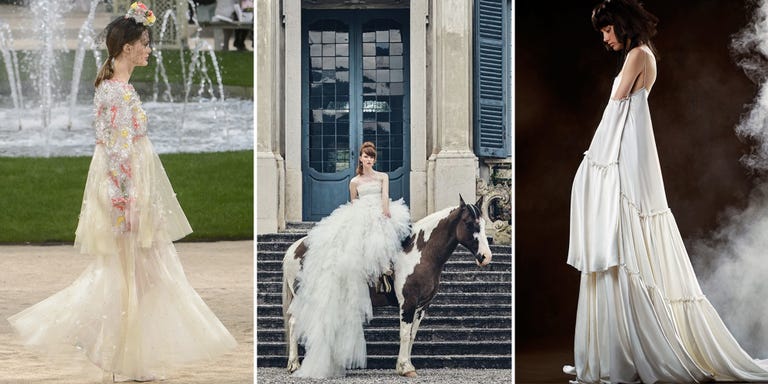 Imaxtree; Christian Oth; Courtesy
When temperatures rise, the need for fitted gowns falls. Skip a sexy silhouette and opt for anything blouson, empire-waisted and oversized–designed with a deft hand for shape and drape to flatter your figure without being form-fitting. For the girl that's anything but girly, this is the gown style to go for–and it works best in warm weather, where comfort is key. Expert tip: surprise your guests by sporting this look for the rehearsal dinner or reception, then shock the crowd with a more glamorous look afterward.
From left: Chanel Haute Couture Spring 2018; Oscar de la RentaSpring 2018 Bridal; Vera Wang Bride Spring 2018.
Beach Redux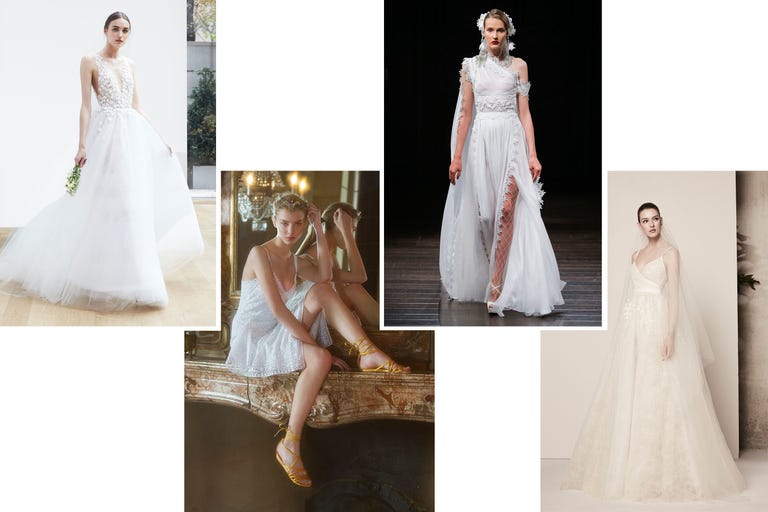 The beach bride is an archetype long associated with gauzy fabrics, easy silhouettes and effortlessness–but this season's ceremony on the shore seems more aligned with delicate appliqués, intricate details, fine laces and chic minis. Opt for something out of the box when you consider how to infuse bohemia into your bridal wardrobe–your guests will expect a low-key slip in draped chiffon…surprise them.
From left: Oscar de la Renta Bridal Spring 2018; Alberta FerrettiBridal; Naeem KhanFall 2018 Bridal; Elie Saab Spring 2018 Bridal.
Color Theory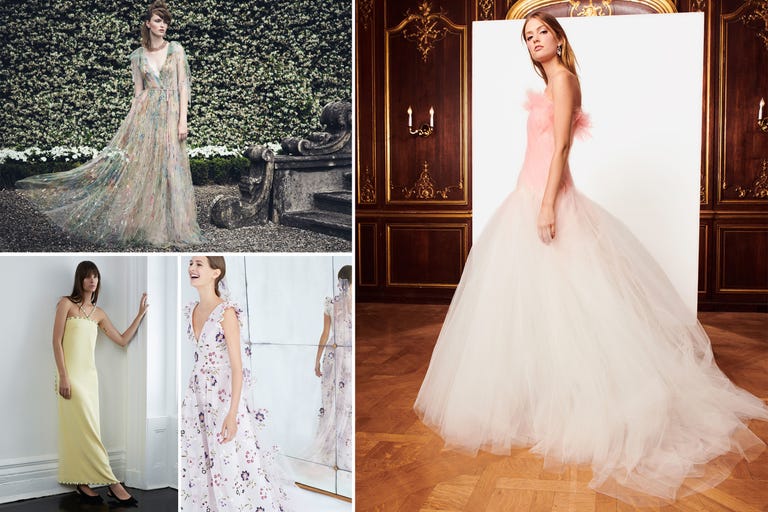 In bridal, ivory, white and alabaster reign supreme–but of all seasons, this is the time to take a risk on color. Choose soft pinks, pastel floral prints, butter yellow, something soft blue and pistachio greens for a look that feels fresh in the months where everything is in bloom.
From left: Monique Lhuillier Resort 2018; Lein Bridal Fall 2018; Carolina HerreraBridal Fall 2018; Oscar de la Renta Bridal Fall 2018.
Cold Shoulder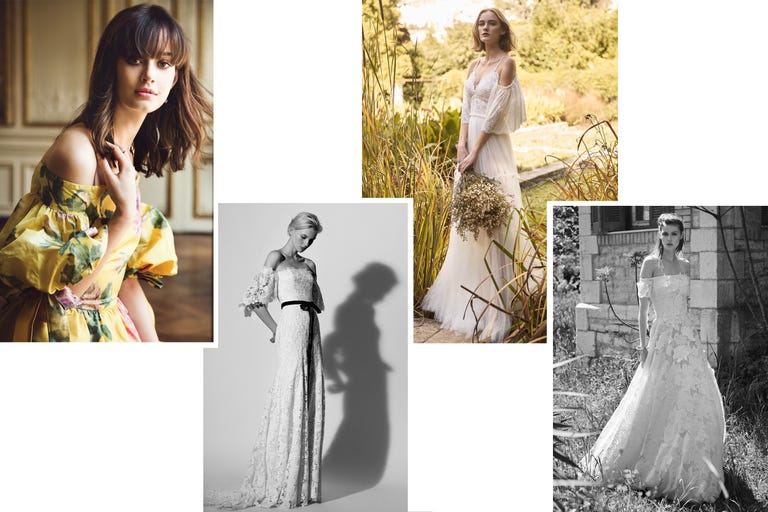 Ann Street Studio; Courtesy
Strapless used to reign supreme, and then off-the-shoulder made its debut; but now this neckline has proved it's going nowhere anytime soon. Add interest to a classic shoulder-bearer with ruffled, off-shoulder sleeves or a cut-out version that still feels fresh. During the months where you want to feel anything but covered-up, this is the happy medium between a basic strapless gown and anything with sleeves.
From left: Marchesa Resort 2018; Carolina Herrera Bridal Spring 2018; CostarellosBridal Fall 2018; Costarellos Bridal Spring 2018.
Go Grecian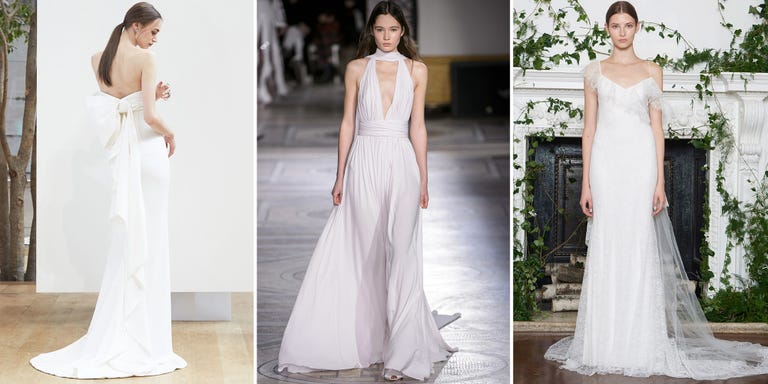 For the minimalist, summer's affinity for laces and prints can feel overwrought and far too fussy. Rather than sleek and sharp shapes, choose delicate draping, petite pleats and hand-crafted swags that feel both artful and easy.
From left: Oscar de la Renta Spring 2018; Giambattista Valli Haute Couture Spring 2018; Monique Lhuillier Bridal Fall 2018.
Playsuits Please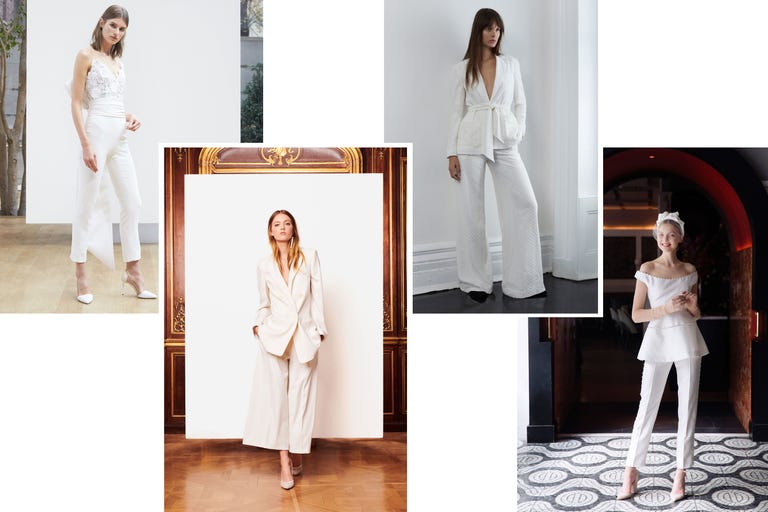 In months where easygoing minis, blouson gowns and effortless A-lines are the best bets, try for something even more easygoing–a jumpsuit, palazzo panted set or a twin set that feels as special as any bridal gown could.
From left: Oscar de la Renta Spring 2018 and Fall 2018 Bridal; LeinBridal Fall 2018; Lela Rose Spring 2018 Bridal.
From: Harper's BAZAAR US