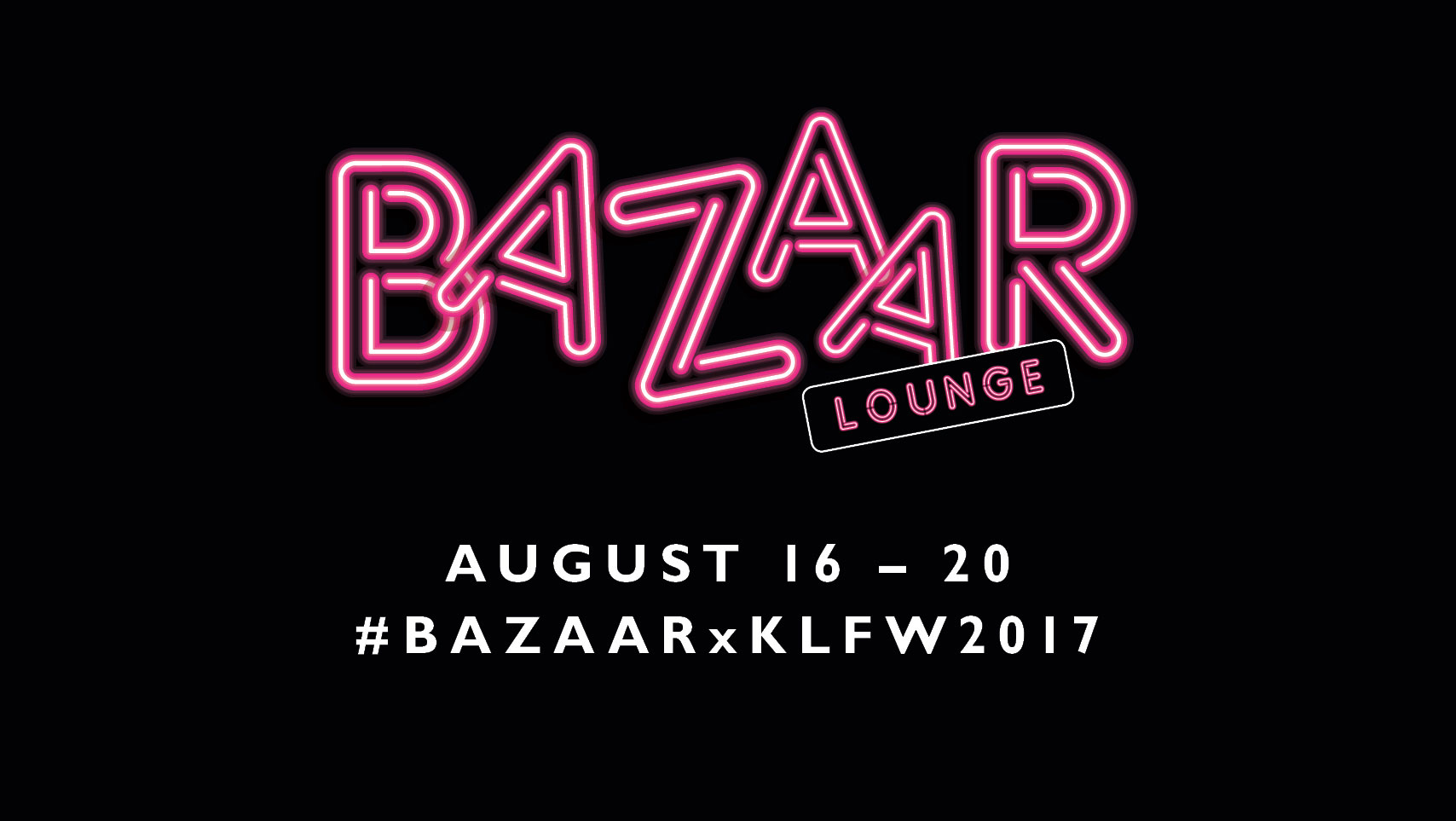 For the first time ever, Harper's BAZAAR will be hosting a pop-up lounge at the annual Kuala Lumpur Fashion Week held at Pavilion KL. The BAZAAR Lounge will be centre point for exclusive interviews, styling workshops and trend talks with the movers, shakers, and designers of Kuala Lumpur Fashion Week RTW 2017.  
With 48 speakers set up over the five-day event from 10am to 10pm, the BAZAAR lounge is set to be the largest live coverage of what happens before and after the KLFW runway shows take off.  The list of notable names include Izrin Ismail, Rizman Ruzaini, Melinda Looi, Kavita Sidhu, and Alia Bastamam.
Each day covers a wide range of topic and all will be reported live on social media. The limited-edition cult BAZAAR tee will also be sold exclusively at the BAZAAR Lounge.
Check below for the full programme and we'll see you on Instagram! If you'd like to attend some of the workshops, find out how here: Exclusive Pass to BAZAAR Lounge Workshops @ KLFW RTW 2017.
August 16-20, 2017, Wednesday - Sunday, 10am - 10pm
Level 3 (near Rolex & Prada), Pavilion KL
Day 5, Aug 20
Breakfast with BAZAAR
at 10.30am
Live on Instagram
Deputy Fashion News Editor, Amy Yasmine, and Fashion Stylist, Mughni Che Din, give a rundown of what to expect for the day.
Designer Interview
at 11am
Live on Instagram
Amy Yasmine interviews founders of PU3, Putri Azalea Ashram and Putri Yasmin Ashram.
Fashionable Friends
at 12pm
Live on Instagram
Mughni Che Din talks to fashion designers Sean and Sheila.
Backstage with BAZAAR
At 1pm
Live on Instagram
Elyza Khamil, Digital Content Producer, takes us backstage with fashion designers Adila Long and Debbie Chung of D.D Collective.
Backstage with BAZAAR
At 2pm
Live on Instagram
Elyza Khamil gets to know Juyoung Lee, fashion designer and founder of Korean fashion label, Resurrection.
Backstage with BAZAAR
at 3pm
Live on Instagram
Elyza Khamil talks to founder and fashion designer of My Apparel Zoo, Ellie Norman, and artist, YM Sharifah Bahiyah Jamalullail.
Bar BAZAAR
at 7.30pm
Amy Yasmine sits down with Kavita Sidhu, Alia Bastamam, and their VIP guests.