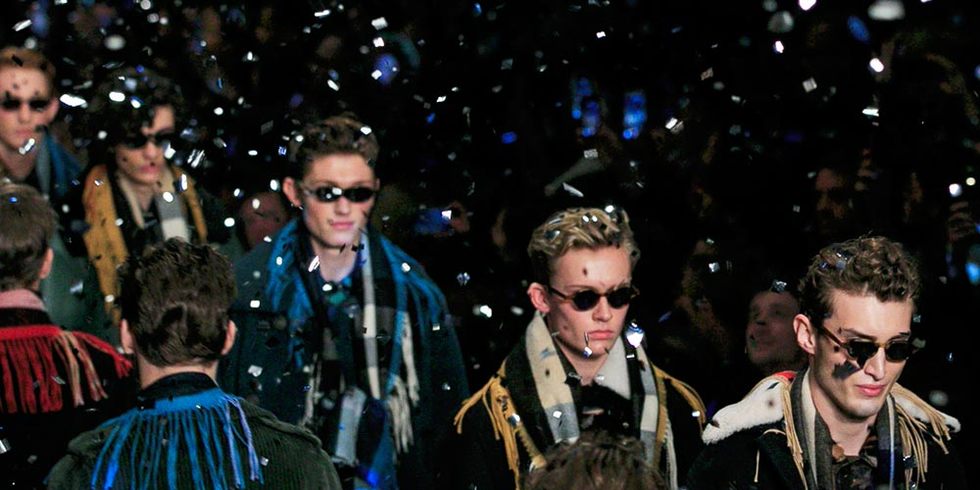 In anticipation of the Menswear Spring 2017 collection, BAZAAR looks back at the commandments of dressing and styling as seen on the runways and shows of Autumn/Winter 2016. Here are five style lessons the man in your life can take from the scintillating town of London

#1. If you're going to wear a scarf, make a point of it
The statement scarf was ubiquitous at this season's LC:M. At Burberry Prorsum they were heavily patterned, draped loosely around models' necks and tied nonchalantly at the chest. At Margaret Howell they were made of a ribbed jersey and wrapped tightly around the necks of their models. At Topman a solitary but brightly badged check scarf was knotted with careful precision. Point is, investing in a big, bold scarf would be prudent.
#2. Wearing a suit doesn't mean you have to actually wear a suit
Menswear in general is becoming increasingly casual, or at least feeling the influence of casual wear brands such as Acne and APC. Subsequently, designers are looking for alternatives to the traditional suit. In its place, you get something akin to a twinset – a matching casual jacket and trousers. Both Oliver Spencer and Margaret Howell presented extremely accessible versions of this look. In short, invest in a smart, but not formal jacket, and wear it with matching trousers.
#3. Embrace Fifty Shades of Grey
Far be it from me to suggest that the upcoming release of a certain film has in any way influenced the designers of London, but away from the bright colours at Topman, Burberry Prorsum and Richard James, there was an awful lot of grey on show this week, too. At Dunhill, trousers were loose and dark, matched with comfy-looking jumpers and ties. McQueen was a little more anarchic, with dark pinstripe suits and heavily patterned overcoats; and Kilgour produced a brilliantly architectural collection that spanned the grey spectrum. If this week has taught us anything, it's that grey does not equal boring.
#4. It's okay to wear red
There was a lot of red on show this week. Some bright, some bold, some muted. At the Savile Row tailors Gieves & Hawkes, creative director Jason Basmajian presented a particularly strong collection full of deep maroons – used particularly well in a double-breasted overcoat. Burberry Prorsum was a little punchier with a bright-red topcoat; and Richard James came over all Peruvian with a patterned red rollneck, worn with shawl and cowboy hat. However it was done, red was the colour used to liven things up a bit. It follows, then, that even if it's a pair of socks or a silk tie, something red is a good investment.
#5. Wide-leg trousers may finally be back
Let's not get too excited here but, after a few seasons of attempted trouser loosening from designers including Patrick Grant at E Tautz, we may finally be getting somewhere. Now, this is not an excuse to run out and buy ill-fitting trousers, but a case can certainly be made for a wider leg. See Dunhill for a good example of how it's done. Put simply: buy wide trousers, but make sure they still finish just on your shoes, and that the rest of your attire fits correctly. Too much bagginess in one go and you'll look as if you've shrunk in the bath.