Barnaba Fornasetti takes BAZAAR through Casa Fornasetti in Milan, where the family's wild, artistic madness first began, and lives on. Photographed by Mattia Zoppellaro.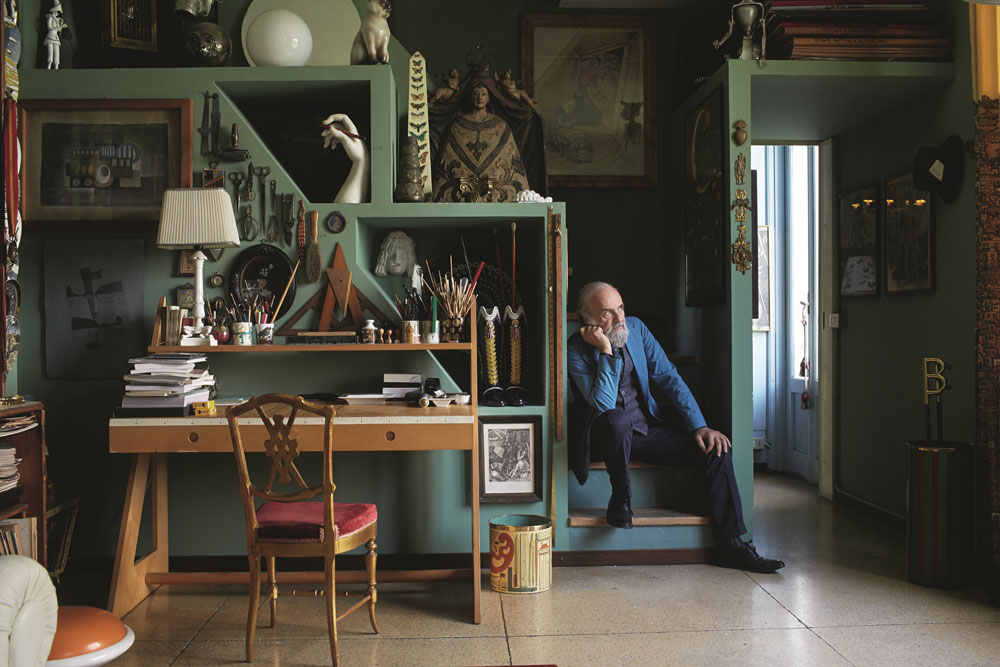 One of Italy's most fascinating artists, Piero Fornasetti, found operatic soprano Lina Cavalieri's inexpressive stare so captivating that he created a rendition of her gaze, and turned it into a brand and business. Thousands of home accessories, hundreds of plates, and over 60 years later, Piero's son, Barnaba, heir and keeper of the Fornasetti dream, continues to uphold the Italian brand's identity while reshaping his father's legacy.
Opening the doors to Casa Fornasetti in Milan's Città Studi district, Barnaba shares that the house is three-generational, where his father and him had both spent their childhood. Constructed by his grandfather, Pietro, in the late 19th century, this was where Piero first created decorative art and furniture. "It was when my father started working together with Gio Ponti that they realised the potential of venturing into the design industry with impeccable artisanship and art," explains Barnaba. "This is one of the first items ever created back in 1941," he says, pointing at a trumeau, one of Fornasetti's most coveted originals. "The technique is called trompe-l'œil and the decorations were purely painted by hand, down to the smallest details like the typographic characters. Trompe-l'œil means deceiving the eye in French, and is a smart way of giving the optical illusion that the object is three-dimensional."
The house has come a long way since its early days, with Barnaba injecting doses of his personality into the décor. "When my father lived here, we had more antique pieces and less decorative accessories. I've decided to enrich the place with more Fornasetti pieces and contemporary objects. I wanted the house to mirror the vision that I am devoted to. It is my canvas and I am free to transform it."
Like an ancient castle that keeps its secrets within the walls, Casa Fornasetti guards Piero's most delicate treasures and wildest ideas. Rumour has it that he created some 13,000 individual pieces. Is there even a remote possibility that all these items can be found in the townhouse? "You'll have to start with the archives first!" Barnaba muses. Stacks of wooden drawers with bundles of sketches and records are sprawled all over the studio. "This is the best place to be inspired in all of Milan. It's mine for the taking and I love losing myself in these pages. I often use themes taken from the archive, develop the idea further and adapt them into what I would call reinventions. So far, I have not been disappointed. It really is a pool of ideas."
So, where does a Fornasetti go to brainstorm? For Barnaba, it is the music room next to his studio. The first thing to notice is his vast collection of vinyl records, meticulously arranged in a vintage custom-made cupboard. To go with the beautiful music is an elaborate sound system. "Music has always been one of my biggest passions for as long as I can remember. Rock is my absolute favourite but I listen to a wide genre; classical to jazz, pop to blues, I've got it covered," Barnaba says. It comes as no surprise then, that Barnaba was heavily involved in the production and scenography for the revived production of Don Giovanni, and even replicated the original 1782 fortepiano and decorated it with his own designs. This opera played in Milan's Teatro dell'Arte last December and Florence's Teatro della Pergola in January. Having reinterpreted the classic Wolfgang Amadeus Mozart masterpiece with modern surrealistic elements, Barnaba confesses that cultural performance is the one thing he holds close to his heart. "I took a leap of faith and I've never felt more satisfied. We might make a second opera. Perhaps, with the story of Lina Cavalieri," he hints. "Who knows?" A lover of all things fun, Barnaba reveals that come sundown, he brings out the disco lights hidden behind the bookcase. "I throw parties here sometimes. My friends are mostly musicians, so we love to dance the night away!"
Barnaba then journeys to a different room that one could say is truly one of the more exotic spaces in Casa Fornasetti. There is nothing close to the ordinary, except maybe, the luscious green velvet sofa, a calming prop amid the sea of mirrors on the walls. A rather unusual design principle, Barnaba imparts the story behind his choice: "This is an ancient North European tradition. The common practice was to attach mirrors at the entrance of a house, to help keep away the witches." Old-time myth or latter-day belief? "I don't believe such evil presences get close, but I figured they gave the room character and a different style compared to other parts of the house," Barnaba conveys.
As a brand, Fornasetti focuses on all things whimsical, but being practical is also part of Barnaba's great spirit of living. His recent addition to Casa Fornasetti was the kitchen, where the morning sun streams in effortlessly, bathing the room in a soft glow. The glass doors open up to the lush garden in the backyard, where he takes a breather in between meetings while enjoying the breeze. Back in the kitchen, there is a large Murano chandelier that takes centre stage, suspended over the round dining table printed with butterflies and newspaper clippings. Named "Ultime Notizie", which means breaking news, the same print adorns the kitchen floors and is a bestseller at Fornasetti.
With the label's latest expansion into home fragrance, Barnaba has made a conscious business decision to prioritise his latest project, encasing these scents within decorative objects. The candles have wax blends by Cire Trudon and the incense sticks are made by Nippon Kodo. "It's from the new collection of Fornasetti Profumi per La Casa, a selection of iconic home fragrance devices designed to celebrate the Fornasetti ceramic heritage," Barnaba elaborates. The scent is bold, with notes of thyme and lavender, and Olivier Polge, house perfumer of Chanel, is the mastermind behind this particular formula. "I called upon Olivier's artistry to draw on ingredients that are of personal significance to me. We worked on the woods that are used in Fornasetti furniture and the Mediterranean herbs that surround me," he explains. "Besides, incense conjures a latent spitiruality and creates a dreamscape. The smell is timeless, suiting a range of homes, much like a well-made piece of mid-century modern furniture."
How does it feel to live in one of the least conventional houses known to mankind? "Believe it or not, it's rather easy if you don't look outside the gates! When I was young, I wasn't aware of the surreality of the world my father had created. It wasn't until my friends came to visit that they had found the house somewhat peculiar and started asking questions," he pauses, before adding, "It's hard to describe how it's like. Even I can't find the exact words. My father once told me, 'Our work is limitless. There is no schedule, day or night. Whatever I do, I am translating my dreams into reality.'"
With a family name that will go down in history, what's one advice he would give? "Fight and never conform. The essence is in the imagination, so dream on."