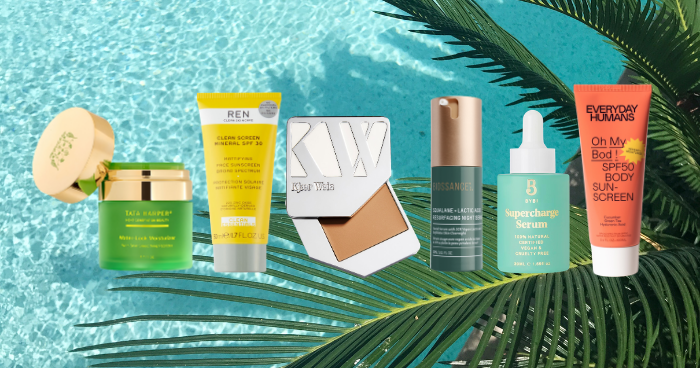 They may not be the biggest names in beauty—but what these brands stand for represent a clear shift in how and what we as consumers prioritise when it comes to purchasing beauty products that are not only good for us, but good for the environment as well.
REN Clean Skincare
View this post on Instagram
A frontrunner in the sustainability stakes, REN is tackling everything from plastic waste to climate change with its multi-pronged initiatives. Using reclaimed ocean-plastic packaging, formulated with only sustainably sourced ingredients and more—these action plans have put them on track to achieve their zero waste goal by the end of 2021. Their latest innovation features a collaboration with SABIC and Aptar to introduce Infinity Recycling. Able to fully regenerate plastic waste to make recycled plastic identical to virgin, they are opening a future where plastic can be infinitely recycled without losing its quality. 
Everyday Humans 
View this post on Instagram
Specialists in SPF, Everyday Humans make natural, vegan, sun blocking options available for all. Quirky product names like 'resting beach face' and 'oh my bod!' have got our millennial hearts racing—but it is their clean initiatives that have got us hooked. To start, they've teamed up with 1% For The Planet, a nonprofit organization dedicated to partnering with brands who are committed to smart environmental giving. Sticking firm to their eco-friendly ethos, they use tubes that are recyclable or made of PCR recycled plastic, bottles that are biodegradable, paper that is FSC certified and polybags that won't leave traces of harmful microplastics.
Bybi
View this post on Instagram
Created by the ladies of skincare blog, Clean Beauty Insiders, it was no surprise that founders, Elsie Rutterford and Dominika Minarovic would go big on clean ingredients and sustainability when it came to producing their own brand. Bybi ticks almost every proverbial climate-protecting box, with initiatives ranging from upcycling strawberry seeds from juice manufacturers, to investing in creating sugar-cane packaging – and producing everything in its own green energy-powered London lab. Passionate in their fight against carbon, Bybi are not just settling for carbon-neutral, they want to achieve carbon negative status—promising to remove more than their original share of harmful emissions. 
Kjaer Weis
View this post on Instagram
One of the earliest pioneers of refillable luxury beauty products, makeup artist Kirsten Kjaer Weiss created her brand to fill a crucial void in the market. Formulating high-performing premium organic products, whilst also keeping sustainability in mind, she quickly became an aspiration for beauty brands at large. Her products are encased in sleek, sturdy, polished metal housing which is truly built to last—then refills are cased in eco-friendly, recyclable paper to minimise waste as much as possible. 
Biossance
View this post on Instagram
Taking a deeper dive into Biossance's mission, it's clear that it goes far beyond clean beauty for them. Squalene being their prized ingredient, it is a skin-hydrating oil which is typically found in shark livers, but their sugarcane-derived iteration is just as effective and spares approximately 2 million sharks each year. Aiming to reduce their carbon footprint, Biossance has partnered with CarbonFund.org to plant trees and fund reforestation efforts to offset every order shipped—saving approximately 22 tons of CO2 from entering the atmosphere each year. Dedicated to educating others on the importance of cleaner beauty initiatives, they also started the Biossance Clean Academy, a wonderful pool of resources and information on sustainability. 
Tata Harper 
View this post on Instagram
No stranger to cleaner packaging practices, Tata Harper has continued to stay at the forefront of sustainability. Not only are their impeccable formulas completely natural and biodegradable, it's the thought into their packaging that has won over skincare fans alike. Encased in glass, all of their products are infinitely recyclable—with even their non-glass products made of 100% recyclable bio-based sugarcane plastic. "We're always looking for new ways to be sustainable" says founder, Tata Harper, revealing that her next steps to becoming even more sustainable includes incorporating refills—starting with their new Water Lock Moisturiser.