Marrakech. First, you hear the cacophony of sounds. The hypnotic lull of the pungi being played by snakecharmers, leather merchants offering you the world and more--everyone a storyteller, as the medina of Jemma el-Fna comes into view. The sights, sounds, and scents hit you without warning, culminating in an otherworldly experience unlike anything else, the feeling of having travelled back in time. But, enough excitement for one night. Jet-lagged after a 24-hour flight that it took to get here, I retire to my ornate chamber in the legendary La Mamounia with its filigreed lamps, heavily carved wooden doors, and marbled floors. Here, I drift off to much needed sleep, with dreams of Marlene Dietrich walking through the darkened corridors …
STRENGTH IN LAYERS
Exfoliating the skin gently on a nightly basis means that skin is renewed and rejuvenated in the morning, providing the perfect canvas for skincare to be absorbed and the flawless application of make-up. Here, the Pure Shots range comes into play for targeted solutions, with the best of both of what nature and science have to offer.
"I think it's very fascinating because we're seeing so many changes right now. Women are becoming the experts these days, and thanks to social media, the sharing of tips and ideas are very common," says Maynard. "So the level of expectations is getting much higher, which is very challenging for us–but in a good way."
Maynard goes on to explain that the range consists of a Hydra Bounce Essence in Lotion, three targeted serums; Y Shape Serum for sagging skin, Lines Away Serum for fine lines and wrinkles, and Light Up Serum for brighter visage, followed by a Perfect Plumper Cream– a formula so delicious it has the unique bouncy texture of a marshmallow in cream form, all in chic minimalist designs which comes with another surprise: recyclable packaging that allows you to purchase refillables.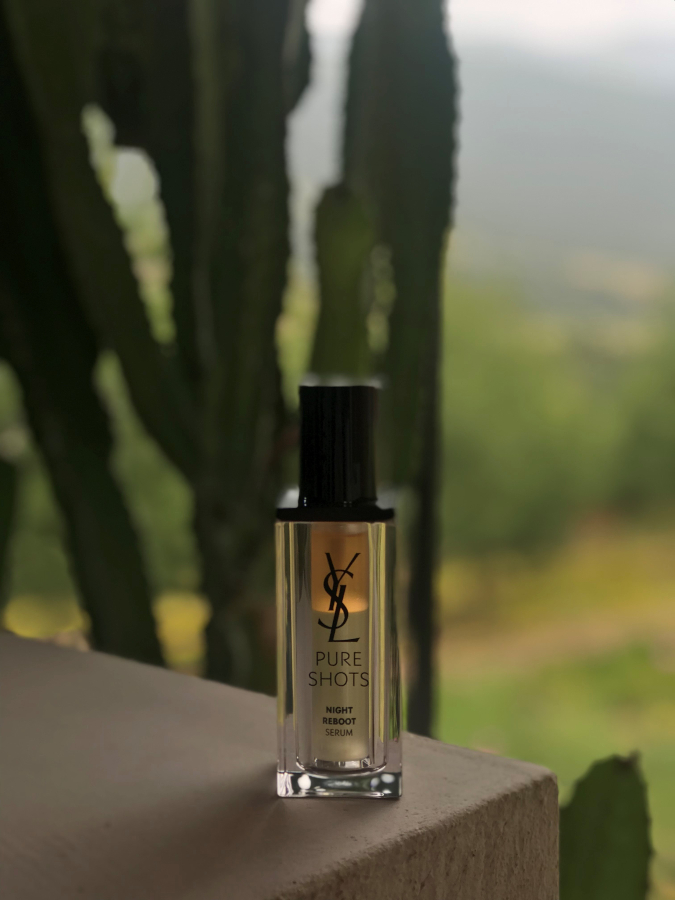 "Clean beauty is rising now. The reality is that women nowadays are much savvier and expect their skincare to be cleaner and more transparent. When you look at couture or travel, the ultimate luxury is more sustainable so they really want that," says Maynard. "At the same time, there's a wave of simplicity, but in a good way. More and more women nowadays just want to straight away know what the product does and luxury has to keep up with that. This wave of simplicity – being more about the consumer – is definitely happening today, and it's a good thing. That's why the way we're creating our products is in a way where the consumer is always at the center of everything, will she care, and the way we can change her life. That's our obsession."
Four days later, after a whirlwind of private tours of the Villa Oasis, late night parties at Monsieur Yves's favourite spots at the  Villa Dar Shabah and dining under the stars at Dar Yacout, I find myself back at the airport, dreading the 24-hour journey back. Physically and mentally exhausted, I thought about my neverending to-do list upon touch down in Kuala Lumpur; hitting the gym, meeting friends, answering a thousand work e-mails, drinking at least eight litres of water a day … Could a  girl really can have it all? Perhaps, at the expense of precious sleep–but at least now there's a shot at get gorgeous skin with the first sign of morning.