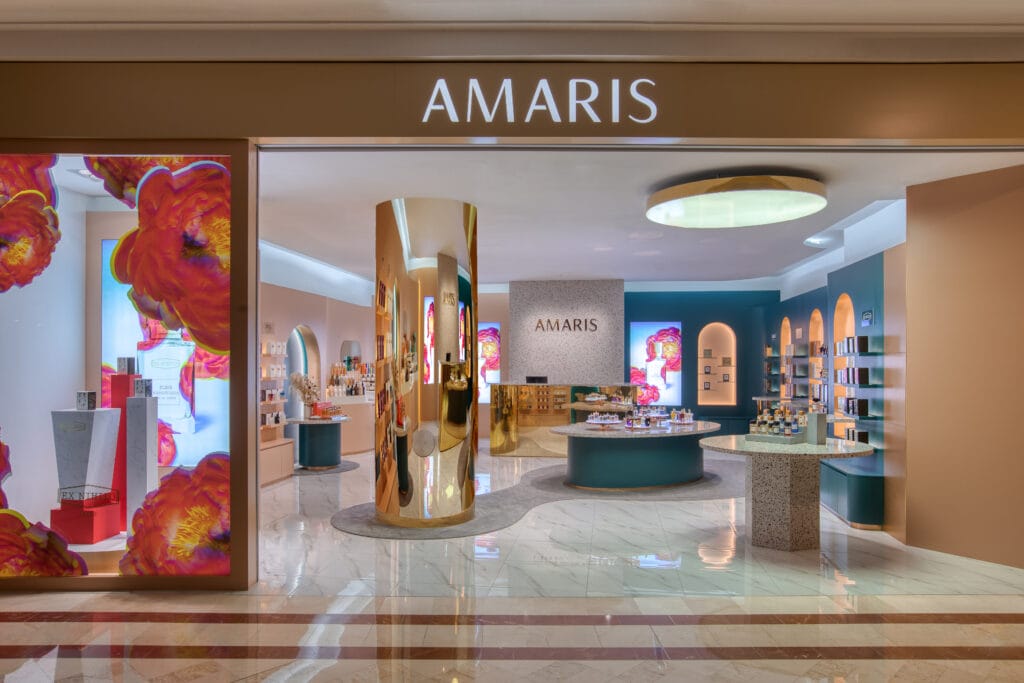 Amaris is Malaysia's latest utopia of luxurious fragrances and perfumes and they have opened their very first standalone location in Suria KLCC. Here, you'll be able to experience and shop some of the world's best in perfumery. Their curated collection of brands offer a unique and niche olfactory experience like no other.
View this post on Instagram
The new store is a balance of soft shapes with a touch of bold colour and strong gold accents to add that definitive touch of luxury to the store. Speckles of terrazzo accent various corners and countertops, adding that element of high-end design to the space.
The Discovery Bar is where all the fun happens. A playground for the nose—you'll be able to experience all the scents on offer in one delectable space. Countless flacons are on display to be smelt and interacted with. Allow yourself to experience different moods with each whiff of a different perfume. Whether you're a novice nose or someone looking to purchase a perfume for the first time, the Discovery Bar is the ideal place as you can familiarise and play with multiple scents before finding the right one for you.
View this post on Instagram
Having perused through the Discovery Bar, here are some of the highlight fragrances that are not to be missed:
Ex Nihilo
Fleur Narcotique
The Fleur Narcotique by Ex Nihilo strikes the balance between sophisticated and seductive. It walks the fine line between musky and floral and our highlight note is the initial opening of sweet lychee that plays perfectly with the sexier notes of wood and moss. It's chameleon like profile allows the scent to effortlessly transition from day to night too.
Roja Elixir
Sweet and warm, the Roja Elixir is an inviting bouquet. Its feminine combination of Rose, Raspberry, Peach and Vanilla is an automatic mood lifter and cloaks the body with an aura of confidence and irresistibility. 
Xerjoff
Accento Overdose
Not only is the scent a statement piece but the bottle is the definition of a show stopper too. Emblazoned in gold, the Xerjoff Accento Overdose is a luxurious bouquet of Egyptian jasmine, Lily-of-the-Valley and Bulgarian rose, eucalyptus, Mediterranean pine, green accord and aldehydes.
NISHANE Ani
Creamy, sweet and slightly powdery, the Nishane Ani is a unique take on vanilla that challenges the typical arrangement of this beloved scent.  Opening with a wisp of bergamot, its bright and fresh start evokes a quiet spell of airiness.
Casamorati Italica
An exquisite gourmand, the Casamorati Italica is laced with saffron and sicilian almonds that are then met with whispering silky milk notes and garnished with bourbon vanilla and butter toffee to reveal a sweet but seductive elixir. Grounded by earthy woods and sensual musk, it never smells too sweet and transitions from day to night with ease.
Apart from its extensive list of perfumes, AMARIS offer a full lifestyle olfactive experience, with body essentials, candles and diffusers and gift sets available for purchase as well. Head over to their brand new location at Suria KLCC or shop their online store at
amarisbeauty.my!