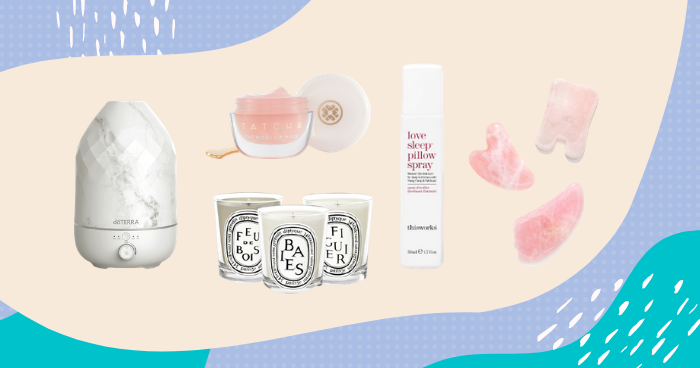 Having been in WFH mode from the majority of 2020, I have definitely been guilty of taking countless Zoom calls and completing work right from my bed — whoops (but i can't be the only one, right?). And all those months cooped up at home have allowed me to strategically place exactly what I need by my bedside for complete ease and comfort. Here's a list of some essentials that have found a permanent place on the bedside table. 
Diptyque Candles
View this post on Instagram
Diptyque has a scent for every type of nose, and they are an absolute essential when it comes to creating a calming ambiance in the bedroom. Simply turn down the lights and let the dim candle light put your mind at peace. Whether you're winding down with a sheet mask or taking a few minutes to de-stress with some meditation, a lit candle can give that additional feeling of relaxation and calm. 
Tatcha The Kissu Lip Mask 
View this post on Instagram
All the hours indoors and under the airconditioning has continuously drained my lips of moisture. Finding myself constantly reaching for lip balm during the day, at night we level up to a lip mask. Tatcha's The Kissu lip mask is a great option as it  intensely comforts, hydrates and locks in moisture for overnight renewal.
doTERRA Diffusers 
View this post on Instagram
Maximise the benefits of aromatherapy with a diffuser. A few drops of your favourite essential oil combination can lift that hazy feeling within your mind and allow you to let go of the unnecessary stress pent up inside you. Turn your bedroom into a stress-free oasis and let the diffuser do all the work. 
This Works Love Sleep Pillow Spray
View this post on Instagram
Getting to sleep has just gotten easier with This Works' Love Sleep Pillow spray. This bedtime spray encourages you to stop nightly scrolling through your smartphone and instead prioritise togetherness, touch and sleep. The aromatherapeutic super blend of Ylang Ylang and Patchouli encourages a sensation of calm and serenity, that'll hopefully help you to let go of any worries from the day. All you'll need is a few spritz on your pillow, which will allow you to slowly slip into a deep sleep that will have you feeling refreshed and rejuvenated in the morning. 
Herbivore Botanicals Gua Sha Rose Quartz
View this post on Instagram
Elevate your skincare routine and mimic the results of a typical spa facial with one of our favourite at home tools. A gua sha works amazingly to improve blood circulation in the face for a better complexion and leaves you feeling more refreshed and revitalised. Pair the massage with your favourite face oil to allow the gua sha easy movement along the skin as well as deeper penetration of the product into the face. Continuous use will improve the appearance of your skin's elasticity and reduces the appearance of puffiness and fine lines, while easing facial muscle tension too.