Prepare for your most relaxing bath ever.
Words by Lindy Segal
The bath is a place to relax, unwind, and enjoy a few minutes of solitude. Although a great body wash or bubble bath can be a wonderful addition to your bath time routine, sometimes you want to go above and beyond in the tub—and there's no better way to do that than with a bath bomb. With their ASMR-approved effervescence and soothing ingredients like Epsom salts or essential oils, these bath additions put self-care first. Read on for 14 of our favorite bath bombs for your most luxurious bath ever.
| 1 | CELEB PICK
Unwind Bath Gem 25mg CBD Bath Soak for Restorative Relaxation
Prima
SHOP AT SEPHORA
Gwyneth Paltrow is open about her love of a daily bath, and it often includes this CBD-spiked Epsom salt treat from Prima. We're partial to its spa-like lavender and eucalyptus fragrance too.
| 2 | MOST LUXURIOUS
Chance Bath Tabs
CHANEL
SHOP AT SEPHORA
Why not incorporate one of the best fragrances of all time into your bath routine? These tablets are infused with just enough of the beloved fragrance to keep your skin—and your bathroom—softly scented long after the water drains.
| 3 | BEST CBD
Let's Get Fizzical
Hoo Raa
SHOP AT WEAREHOORAA.COM
Reviewers love this citrusy bath bomb, which also contains eucalyptus and calming CBD isolate. "Like a glass of red wine, but without the hangover!" one fan writes.
| 4 | BEST BEACHY
Coconut Fragranced Bath Bubble
The Body Shop
SHOP AT THE BODY SHOP
Think of this as a coconut-scented backup when a trip to the beach isn't in the cards. It even turns the water a Caribbean-esque shade of blue.
| 5 | MOST NOURISHING
Chill Pills Bath Bombs
OUAI
SHOP AT ULTA BEAUTY
Save your sanity with these bath bombs shaped like pills, which moisturize skin thanks to a blend of safflower, jojoba, and hemp seed oils. Pro tip: Break each pill in half for double the goodness.
| 6 | BEST UNSCENTED
Bath Bomb Unscented
The Honey Pot
SHOP AT TARGET
The simple fact is some scented bath products aren't as friendly down there as others. But these bath bombs are pH balanced (to help prevent yeast infections and other types of irritation) and still have all the delightful fizziness.
| 7 | BEST SCENT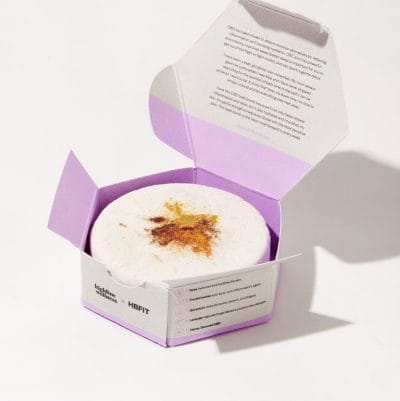 CBD Bath Bomb
Highline Wellness
SHOP AT HIGHLINE WELLNESS
A collaboration between the brand and Hannah Bronfman's HBFIT, this blend of rose, lavender, frankincense, and other essential oils is just dreamy. "​​Love these bath bombs! They smell great and the ingredients make it a luxurious but therapeutic bath. Total relaxation before bed," one reviewer says.
| 8 | BUDGET FRIENDLY
5-Count Ultra Moisturizing Bath Bombs in Lavender
Dr Teal's
SHOP AT BED BATH AND BEYOND
Dr Teal's bath bombs are just as soothing as its drugstore-fave Epsom salts, plus have added moisturizing ingredients. And at five for $7, it's just good sense to stock up.
| 9 | BEST CITRUS
CBD Stress Away Bath Bomb
Happy Dance
SHOP AT ULTA BEAUTY
These break-apart cubes from Kristen Bell's CBD bodycare line are like little pieces of bath candy—the hardest part is not using all four at once.
| 10 | BEST SHOWER STEAMERS
Eucalyptus + Spearmint Shower Steamers
Bath & Body Works
SHOP AT BATH AND BODY WORKS
For the uninitiated, shower steamers are bath bombs for when you're, well, in the shower. Set one of these essential oil-infused tablets on the floor while you're rinsing off, breathe in deep, and pretend you're at a fancy spa.
| 11 | BEST POST-WORKOUT
DETOX Bath & Shower Aromatherapy Tablets
J.R. Watkins
SHOP AT ULTA BEAUTY
These invigorating tablets are great in pretty much all settings, but especially nice after a sweat session. "I was transported into one of those commercials or movies where people are relaxing with candles and all that. Didn't even know it was possible to be that relaxed in the bath. I would give it six stars if I could," one reviewer raves.
| 12 | BEST FOR COUPLES
Sex Bomb
Lush
SHOP AT LUSH
Sometimes, the name gives it all away. Lush has a full library of bath bombs formulated with natural ingredients, including this colorful option scented with alleged aphrodisiacs like jasmine, clary sage, and ylang-ylang.
| 13 | BEST LAVENDER
Lavender Bath Bomb
Kylie Skin
SHOP AT KYLIE COSMETICS
Indulge like Kylie Jenner with this super-soothing bath bomb made with moisturizing coconut oil, sea salt, and actual lavender flowers.
| 14 | BEST ENERGIZING
J'adore Matcha
Bathorium
SHOP AT BATHORIUM.COM
Those who can't go a day without their morning matcha will love this bath treat, made with premium grade Japanese Ceremonial Matcha for antioxidants, awakening peppermint, and organic honey.
– – – – – –
This article originally appeared in harpersbazaar.com