The last stop in fashion month is always the most artistic and exciting when it comes to hair and makeup trends. Models took the Parisian runways this season wearing a face-full of glitter (literally), sport eyeliner, dominatrix braids, and eyelids covered in real gold foil. Here, the 18 can't-miss beauty moments and tutorials from the Paris fall 2018 runways.
1. 
Louis Vuitton
https://www.instagram.com/p/Bf_rKf5Hcgd/?utm_source=ig_embed
Sporty lines in shades of orange and blue were swished across the eyelids of select models at Louis Vuitton.
2. 
Maison Rabih Kayrouz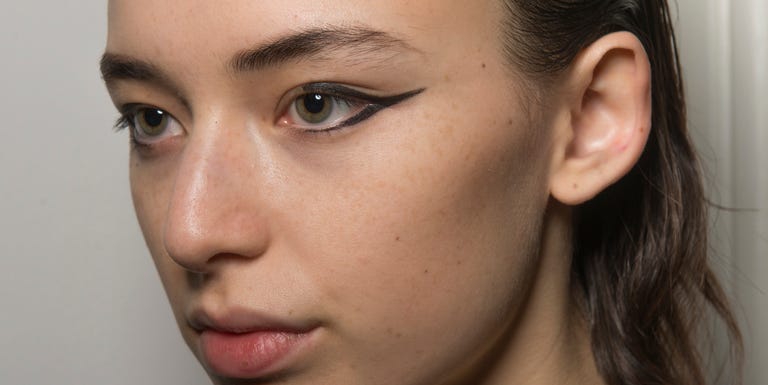 Upgrade your cat-eye like the one seen backstage at Maison Rabih Kayrouz: instead of lining only your top lashline, connect the wing to your lower lashline as well. Stop the line about half-way across your lid for the most eye-opening effect.
3. 
Maison Margiela
<
Multicolored glitter lips that can (and should!) only be created by legendary makeup artist Pat McGrath made their way down the Maison Martin Margiela runway.
4. 
Miu Miu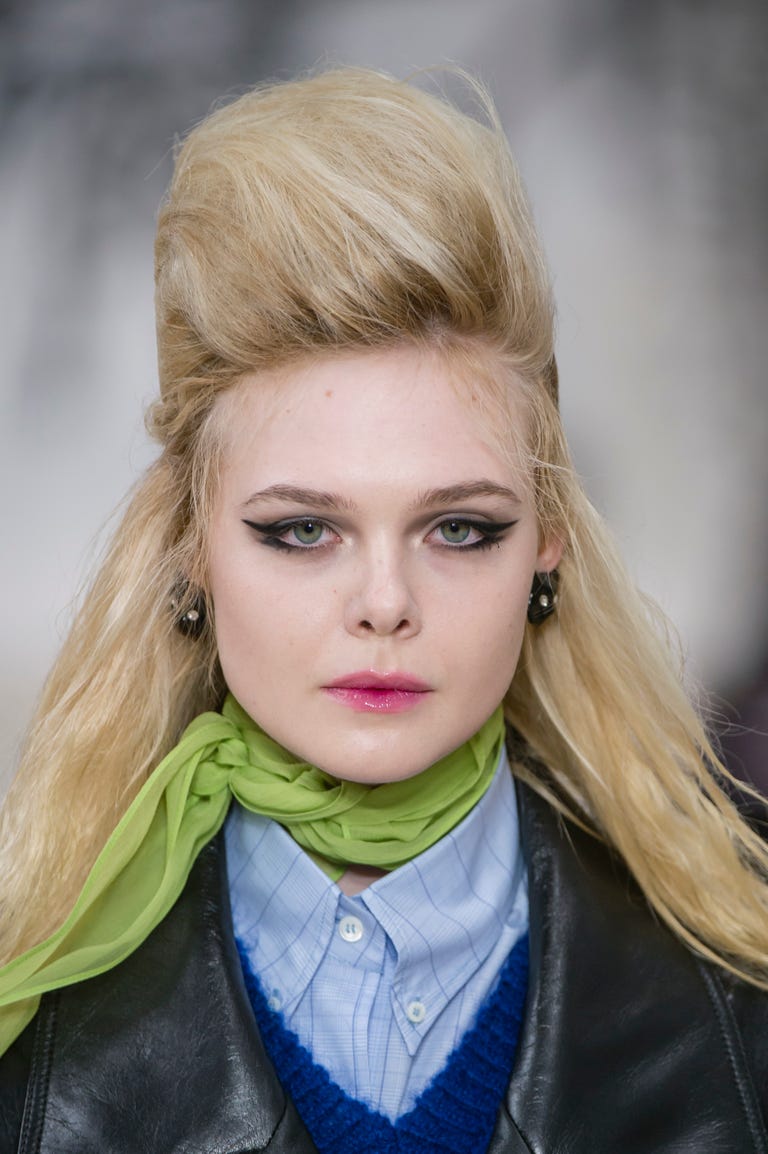 Graphic black eyeliner got the sweet and feminine Miu Miu treatment thanks to a swipe of glossy fuchsia lipstick. And yes, that is Elle Fanning making her catwalk debut.
5. 
Chanel
https://www.instagram.com/p/Bf-pqCBAb8u/?utm_source=ig_embed
 As models stomped their wall through crunchy leaves on the Chanel runway in Paris, their hair looked as if they were running from class to class on the campus of a New England University. It was pulled into a perfectly messy bun by hairstylist Sam McKnight, then secured with an oversize double-c pin.
6. 
Akris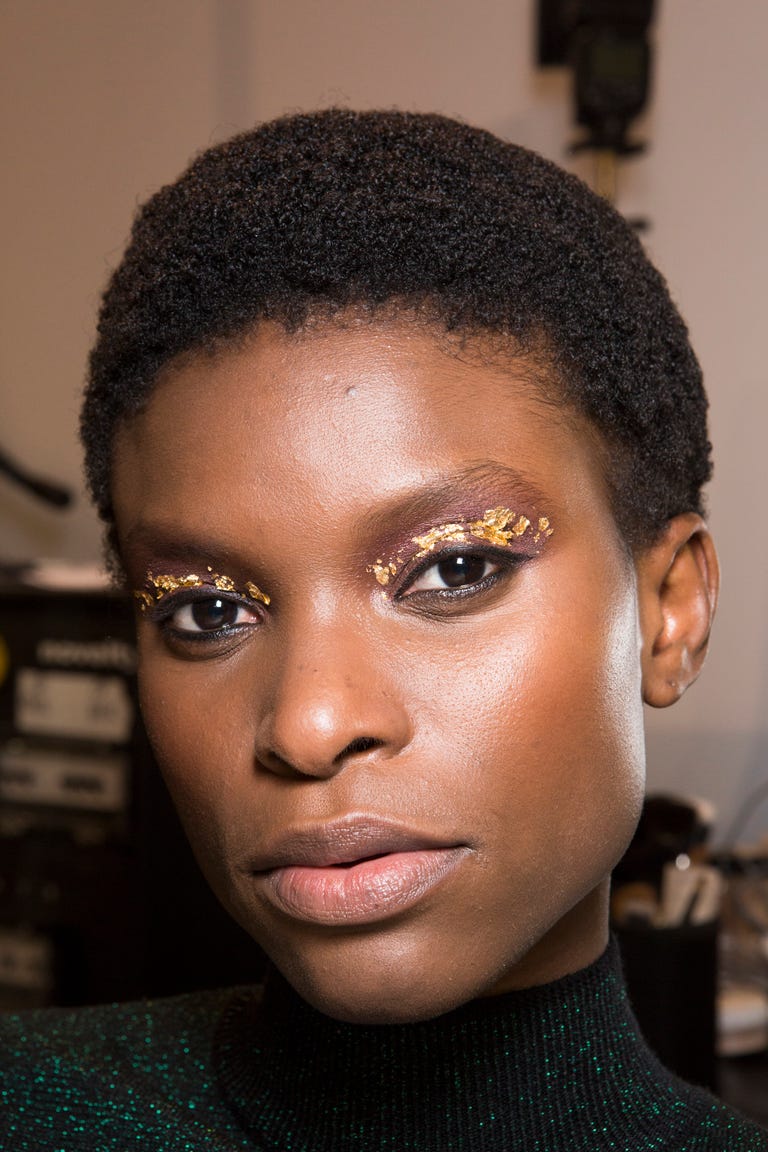 The only thing better—and more runway—than gold glitter eyeshadow? Sheets of gold foil delicately pressed along the lids, as seen backstage at Akris.
 7. 
Akris
Watch as makeup artist Diane Kendal used sheets of gold leaf, eyeliner, and powder shadow to create the showstopping eyes at Akris.
8. 
Sonia Rykiel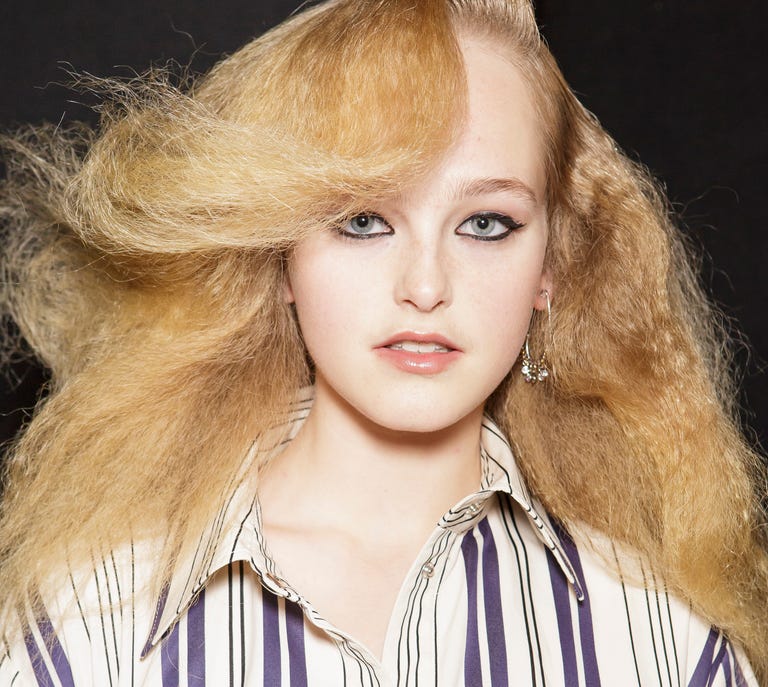 Teased and crimped hair was fluffed to new heights backstage at Sonia Rykiel. The look, like those in season's past, was inspired by the beauty preferences of the late designer.
9. 
Sonia Rykiel
Makeup artist Diane Kendal used a drugstore L'Oréal Paris liquid eyeliner to create the "sharp winged liner" backstage at Sonia Rykiel.
10. 
Christian Dior
Makeup artist Peter Philips used new Dior liquid eyeliners to create cool and colorful lines that perfectly coordinated with the models' sunglasses.
11. 
Olivier Theyskens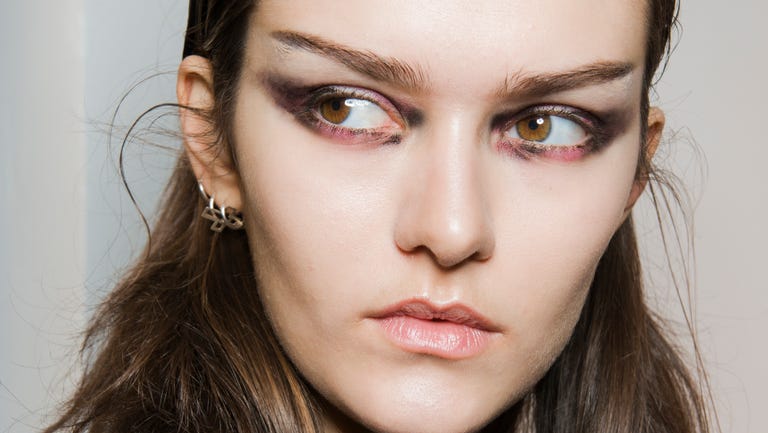 The beauty look at Olivier Theyskens was a smoky eye that looked as if it had been strategically wiped-off from the middle of both lids and replaced with a sheer wash of red shadow.
12. 
Alexander McQueen
Classic red lipstick and a glossy, dominatrix-inspired ultra-long braid seen at Alexander McQueen's fall 2018 show.
13. 
Miu Miu
Hairstylist Guido Palau used more cans of Redken hairspray than you'd probably own in a lifetime to create the sky-high volume seen at Miu Miu.
14. 
YSL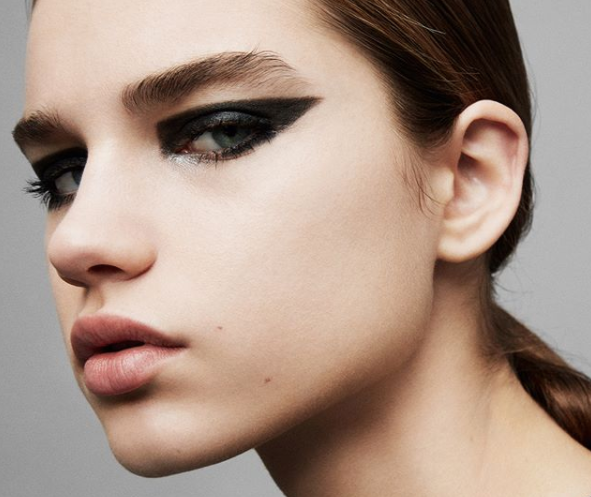 Makeup artist Tom Pecheux created this graphic cat-eye with a metallic touch at the YSL show in Paris.
Floppy hair bows and punky colorful eyeliner were the look backstage at Elie Saab.
16. 
Giambattista Valli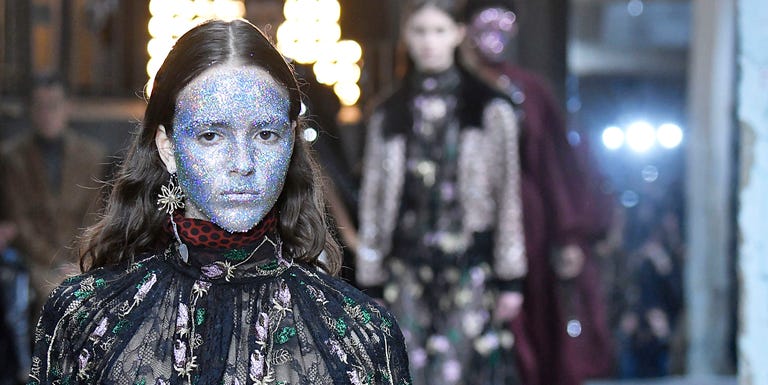 A handful of models walked the Giambattista Valli runway wearing a face-full of blue-and-silver glitter. It took the glitter makeup trend to another level.
 If you thought the models simply dunked their face in a vat of glitter, you're wrong. See how delicately and artistically makeup artist Val Garland created the glitter faces backstage.
18. 
Balmain
A collection full of iridescent metallics called for skin that shined just as bright. Instead of piling on the glitter like at Giambattista Valli, makeup artist Val Garland and her team took a dewier,w tter approach to highlighted skin.
From: Harper's BAZAAR US