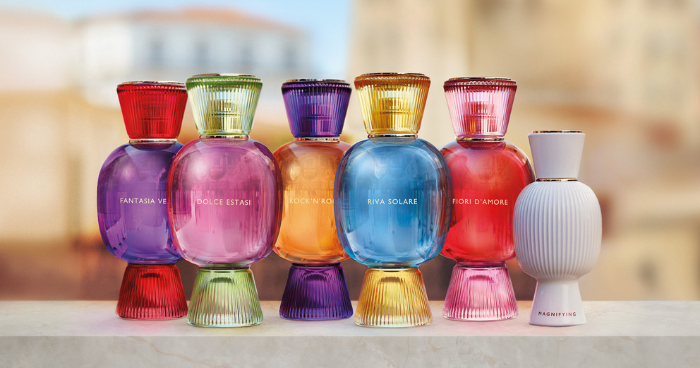 Perfumes have an undeniable ability to be able to transport us or uplift moods with just a single spritz. Wearers can take on different guises, re-live tethered memories and take flight to far away destinations. In the case of Bvlgari Parfums' latest Allegra collection, it sees them dipping into their distinct Italian DNA with each scent tapping into and spotlighting different profiles and emotions—spanning from romance and passion, to the joie de vivre of life. 
The collection consists of five eau de parfums: Fiori d'Amore, Riva Solare, Dolce Estasi, Fantasia Veneta and Rock'n'Rome. All embodying a distinct personality, watch these fragrances be brought to life by Ameera Khan, Alicia Amin, Scha Alyahya, Daiyan Trisha and Juwei Teoh. 
Fantasia Veneta 
Charismatic, care-free and overflowing with creative spirit, the Fantasia Veneta is sophisticated and opulent. Just like the singer, songwriter and a creative that Daiyan Trisha is, she personifies the enchanting essence of the fragrance with her exuberant outlook of life and overflowing passion for exploring the arts. The Fantasia Veneta is a lavish composition of patchouli, red peach accord and a hint of vanilla that marry together to exude decadent splendour. 
Rock'n'Rome

The Rock'n'Rome is a glitzy, liquorous floriental bouquet. Inspired by celebratory nights and aperol spritzes, this unique scent opens with an effervescent-like sparkle of zesty notes, before greeting you with dashes of Osmanthus, apricot and sweet benzoin gum to bring this floral, fruity aroma full-circle. Always stylish and never one to say no to a party, Juwei Teoh embodies the fun, feel-good fragrance as she welcomes the glimmer of dusk and good company—with a cocktail in hand, of-course. 
Fiori d'Amore
Bvlgari's take on a rose scent is a contemporary reinvention of the classic floral bouquet. The Fiori d'Amore is fresh, youthful and passionate—inviting the feeling of falling in love and the whims of romance. Delicate and unbridaled, it gets its distinctive olfactive flair thanks to a new modern accord—Prelude Raspberry—that adds a brighter, sweeter flair to the inviting rose. Ameera Khan portrays a woman undoubtedly in love. With her space enveloped in roses, her admirer just can't resist treating her with bouquet after bouquet. 
Riva Solare 
Reminiscent of the sparkly shores of the Italian Riveria, the Riva Solare evokes the electrifying sensation of bright sun and sea. It opens with a lively splash of bergamot before neroli and sultry musk accord intensifies the sensuous olfactory experience. Vibrant and beaming with sunshine is Alicia Amin. It's as if we're water-side with her—basking in the summer heat and indulging in the freedom of travel. 
Dolce Estasi 
Dreamy and sweet, the Dolce Estasi magically transports you to one of Italy's most famed pasticceries. It's a powdery floral bouquet that delicately intertwines the irresistible charm of candy and desserts. Feminine, soft and like a gentle caress, its silky powdery flair is met with heliotrope and musk accord that's full of sweet reminiscences and cheerful tranquillity. Scha Alyahya is a wearer of many hats, but her love for family will always reign as number one. She embodies the gentle, womanly flair of the fragrance but also represents its duality as the stronger notes of musk seep through.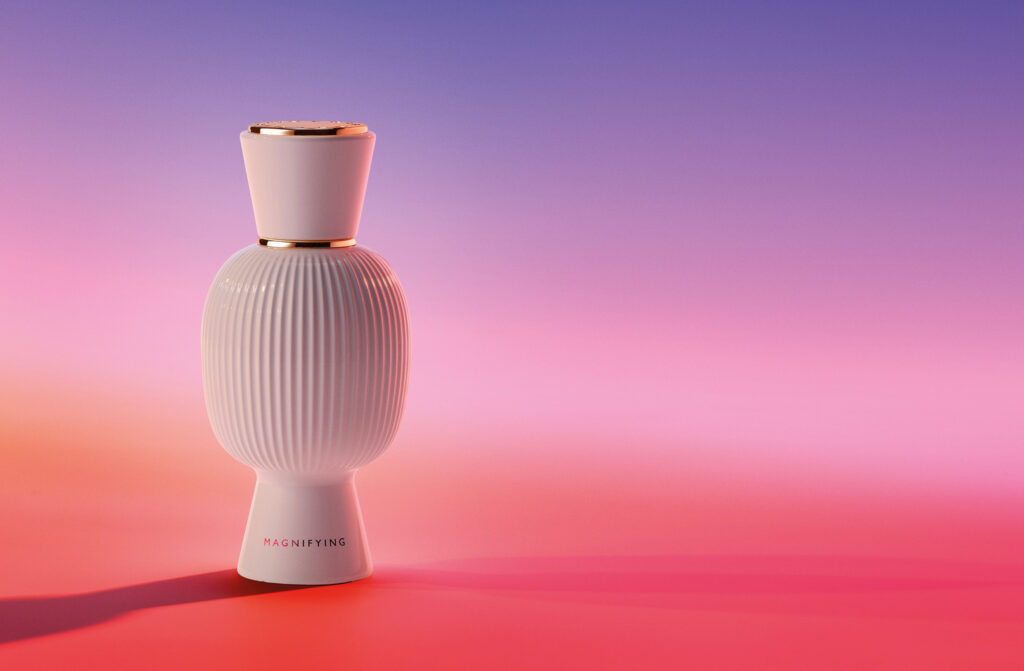 Elevating the perfume experience, Bvlgari's newest proposition sees them play with the idea of customisable scents. In addition to the five core fragrances of the Allegra collection, they also introduce five additional Magnifying Essences. These refined distillations of single notes can be paired with your Bvlgari Allegra EDP to further create your own personal fragrance. Choose between Vanilla, Patchouli, Musk, Bergamot, and Rose. 
The Bvlgari Allegra collection will be exclusively available at the Bvlgari counter at Parkson Pavilion KL.