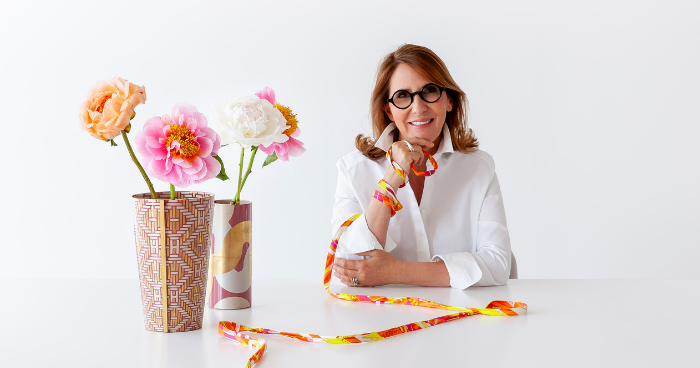 Christine Nagel has been the brains behind Hermès Perfumes and sole in-house perfumer since 2016, creating cult-classics like the Twilly d'Hermès. Now, she introduces a lighter, youthful iteration of the Twilly: the Twilly d'Hermès Eau Ginger. Here, she speaks exclusively to BAZAAR on the adventures of creating the latest Twilly d'Hermès Eau Ginger and tips on how to find your signature scent.
How does the process of creating a fragrance start for you? 
Creating a fragrance involves working with memory, with our archives. I'm both curious and sensitive, so each new day brings me its share of images, impressions, encounters and moments that leave their mark on me. I store them away in my memory until the right moment comes along for them to express themselves in fragrance. In any case, they feed my imagination and creativity continuously. I have been working for Hermès since 2014. It is a house of creation with a wonderfully rich history. It has an abundance of worlds and I see sources of inspiration in it everywhere, every day. I'm inspired and nourished by the house, which offers a bottomless well of inspiring stories for each and every one of us.
What was your inspiration for the Twilly d'Hermès Eau Ginger?  
I didn't have a single person in mind but a tribe, because the young girls of this inspirational generation are multi-faceted. Like its two predecessors, Twilly Eau Ginger was inspired by the young women of today, those creative and mischievous girls who embody femininity in the making and who love reinterpreting the rules. As a tribute to their youthful spirit, their love of doing and undoing, of being themselves and reinventing themselves, I wanted to offer a new twist, a different expression of Twilly, revealing the sparkling side of their characters. The same tribe, the same boldness, but a new attitude.
View this post on Instagram
What makes the Twilly d'Hermès Eau Ginger so unique? 
After the original and piquant versions, here is the sparkling option. Twilly Eau Ginger is the dazzling facet of the Twilly spirit; it is the olfactory expression of a sunny, sparkling, and joyful personality. Her companions find her raucous laughter contagious; her joy brightens their days.
Were there any unique stories or interesting moments that happened whilst creating the Twilly d'Hermès Eau Ginger that you could share with our readers? 
Creation always involves interesting moments and many of them are really exciting: when you've been stuck on an accord for a long time, and you finally find it; when you discover a new raw material or molecule and instantly see its huge potential; when you present your trial fragrances to the creative team, and they start smiling. There are also frustrating moments, when avenues suddenly close-up or when you stumble into an impasse or come up against the constraints inherent to large-scale fragrance production.
View this post on Instagram
Who do you envision wearing the Twilly d'Hermès Eau Ginger? 
I imagine a young woman who doesn't take anything too seriously, neither herself nor her fragrance. She goes further than her older sisters, asserting her uniqueness with unshakeable joie de vivre. As the youngest in the family, her laughter is disarming, and she can get away with anything. Twilly Eau Ginger is transgressive, a sort of liberating invitation.
What tips would you recommend to the woman that is still struggling to find their signature scent?
 Above all, you must trust your instincts, ignore trends, images and muses that add nothing relevant to the most important thing: the fragrance. Furthermore, time seems to me to be an essential factor. Time—always time—time that we no longer have. The time needed to wear a fragrance, to experience and smell it. More practically, my advice is very simple. Walk through a perfumery with an open mind and follow your nose. Blotters are perfect for a first impression, to make a first selection. Once an initial choice has been made, trying it on the skin is essential and wearing it for 1 or 2 days is ideal to ensure that the initial emotional response is still there.