Renowned dermatologist Dr. Dennis Gross launched his eponymous brand back in the early 2000s and since has created a cult-like following of exfoliating fanatics. A pioneer and visionary of the beauty scene that has successfully simplified and made chemical, spa-grade like treatments available to the masses, he now introduces a brand new retinol collection that is age-defying and one you won't have to be afraid of.
Walking us through the Dr. Dennis Gross journey is the doc himself as he speaks to BAZAAR on how the brand came to light, the magic of chemical peels, what to expect with the new Advanced Retinol + Ferulic range and how to treat and prevent maskne!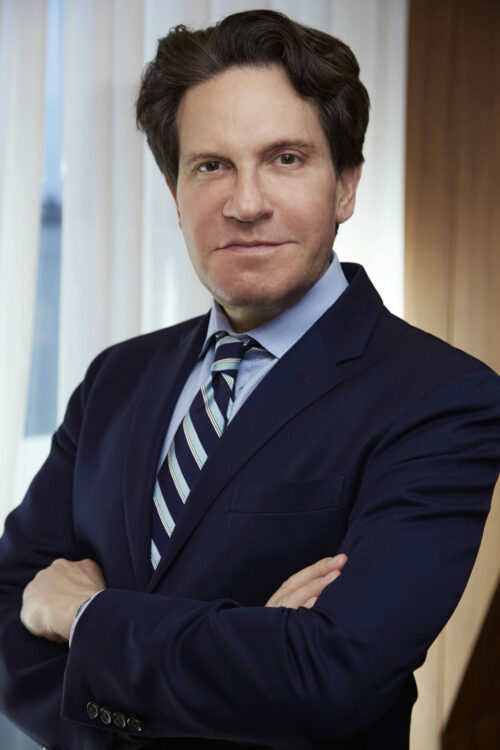 How did Dr Dennis Gross get started?
I started out my career researching melanoma at Memorial Sloan Kettering Cancer Center in New York City. I spent most of my time in the lab studying cell biology. My deep knowledge of skin physiology that I learned while working at MSK plays a big role in how I formulate products today. Eventually, I came to the realization that I wanted to be more hands on and interact directly with patients, so I opened my dermatology practice. Overtime, I noticed my patients lacked efficacious skincare options. They would bring in products, but they did nothing but provide hydration and lacked any active ingredients that could achieve results at-home.
It wasn't until I met my wife, Carrie, and started our family, that we realized we could be the ones to provide at-home innovative skincare options. At the time, my in-office peel had generated lots of buzz for its gentle, yet immediate results. Word spread around New York City and even my wife had trouble getting into the practice to see me. When Carrie was pregnant with our twins, she asked me to bring the peel home. That is when Carrie has the lightbulb moment to create a version of the peel for consumers to use at-home. Together, we created Dr. Dennis Gross Skincare. Like the in-office peel, word of mouth for the Alpha Beta Daily Peel spread like crazy and the rest is history. My patients inspire me daily; Carrie and I take their feedback to heart to create safe, skin health solutions.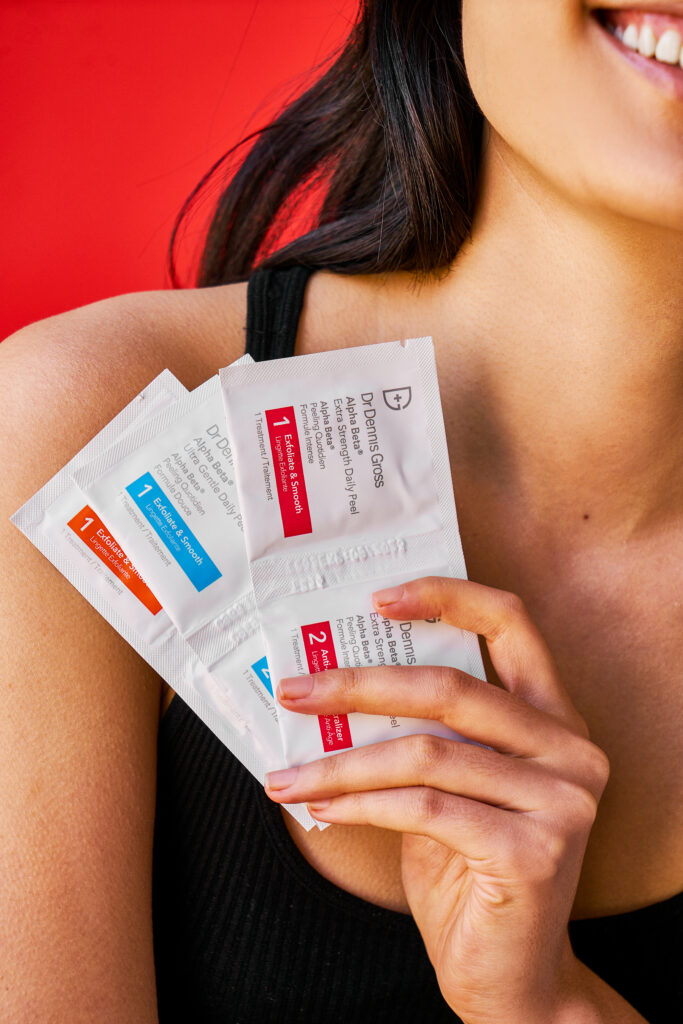 What is your philosophy when it comes to developing skincare and has it changed since the start of the pandemic?
My philosophy to skin health has remained the same since I became a doctor – I don't believe in injuring the skin to "improve" it. Our skin is the largest organ in our body and it should never be harmed in the pursuit of treating it. You should always keep your skin in balance. I also believe that daily, consistent use of clinically proven skincare is the is the best way to tackle skin concerns for long-term results and optimal skin health. It's best to use a cocktail of active ingredients at lower concentrations to address multiple skin concerns. This will have a meaningful effect without irritating the skin. A compromised skin barrier unable to protect itself is at a greater risk to infection aka breakouts, conditions like rosacea, rapid aging.
During the pandemic, I saw many patients over treating their skin, meaning over-using products with high concentrations of one active, like glycolic or retinol. The result was injured skin that was dry, flaking, red, irritated and vulnerable to flare-ups, like the ones mentioned above. Instead, I am reminding patients to go back to the basics. Daily, consistent use of skincare that is gentle and proven to work without irritation is the fastest way to achieve healthy skin at-home.
What would your two product recommendations be for someone who's just starting out on their Dr. Dennis Gross Skincare journey?
My Alpha Beta Daily Peels are still our best selling product to this day. Now we have 3 types – Ultra Gentle, Universal, Extra Strength. All three are gentle chemical exfoliants with low concentrations of acids that add up to a meaningful concentration that remove the top layer of dead, dull skin to reveal the vibrant skin underneath. It is important to remember that peels must be 2 steps. Step one exfoliates the skin while step two neutralizes the alpha and beta hydroxy acids in that first step to avoid any irritation. Step 2 delivers powerful anti-aging ingredients to firm fine lines and wrinkles, texture and dark spots, among other benefits. In addition, the anti-ageing ingredients penetrate deeper into the skin because of the exfoliation in step one.
Retinol is the gold standard for addressing aging concerns like fine lines, wrinkles, and dark spots. It is very effective at treating acneic skin, from preventing future breakouts to diminishing acne scars. All ages can benefit from incorporating retinol into their skincare regimen. However, not all retinol is created equal. Retinol can be irritating to some if not formulated with other ingredients that soothe and reinforce the moisture barrier. I created my Phyto-Retinol Blend™ with bakuchiol, rambutan and ferulic acid to achieve smooth texture, reduce blemishes, visibly reduce fine lines, balance oil and increase cell turnover. This unique cocktail provides all the benefits retinol has to offer, but none of the irritation. In fact, our Phyto-retinol Blend™ strengthens the moisture barrier, whereas other retinol products can weaken the moisture barrier – the cause of sensitivity and irritation.
Chemical peels are a big part of the Dr. Dennis Gross DNA. Who would benefit most from using them?
All ages and skin types – every 24 hours dead skin cells accumulate on the surface of the skin and it is safe to remove these daily. These inactive skin cells can be a barrier to any topical actives ingredients being applied on the skin. If we remove them, actives penetrate better and have a greater impact on results.
Alpha Beta® Ultra Gentle Daily Peel – sensitive, first-time peel users
Alpha Beta® Universal Daily Peel – combination, normal/balanced
Alpha Beta® Extra Strength Daily Peel – combination, balanced, oily
View this post on Instagram
The term 'chemical peel' can be scary to some, what are some myths you'd like to debunk about them? Why would you consider them a staple in everyone's routine?
As long as the peel is two steps it is safe! There is no such thing as a one step peel, which would only be a strong exfoliator. The second step is very important because neutralizes the acids in step one; after two minutes with the Alpha Beta Daily Peel. Two steps is why doctors have been doing it this way for decades in their office professionally. My Alpha Beta Daily Peel copies this method. Also remember, the pH of skin is already naturally on the acidic side so when using a 2-step peel, the acids put the skin right at-home.
Let's go back to my philosophy of never injuring the skin. In the 90s, there was a surge in dermatology offices treating patients with one acid at a very high concentration, like glycolic acid. People were lining up to receive these harsh treatments thinking the higher the dose, the better the results. Instead, skin was left red, raw and injured. (Remember that episode of Samantha from Sex in the City?) Peels got the reputation for being scary, and for good reason!
What I created with my Alpha Beta Daily Peels is the opposite of this approach. A low dose of multiple acids can effectively target multiple skin concerns like hyperpigmentation, fine lines, and breakouts without causing ANY irritation. It is safe to remove the dead and dull-looking skin cells on the surface. The Alpha Beta Peels also have two steps which is key to eliminating irritation. Step two shuts off the acids in step one and also has soothing ingredients like chamomile and green tea extract. You have to remember that not all peels are created equal. I created these peels with the goal to never through your skin off balance or cause irritation.
The pandemic has brought around the term 'maskne' to many consumers. How would you treat maskne and what should we be doing more to prevent it?
Acne treatments are the best way to treat maskne, however not all acne treatments are created equal. To tackle maskne, look for products that use a combination of strong, fast-acting ingredients with soothing and hydrating ones. For example, salicylic acid is great to decongest pores, azelaic acid to regulate oil chemistry, farnesol which kills acne-causing bacteria and soothing ingredients like green tea and aloe to sooth inflammation and redness. Stay away from products that have benzoyl peroxide – it can be harsh on the skin and cause further irritation.
Unfortunately, as long as we will be required to wear COVID face coverings, there is no real way to fully prevent maskne. However, you can take steps to alleviate inflammation and irritation. For example, in the morning, wash your face with a gentle cleanser and lukewarm water. Afterwards, apply the remainder of your skincare routine – serum, eye cream, moisturizer, and SPF – but only to the areas of the skin uncovered by a mask. It's important that there's no product or makeup under the mask because this will cause further irritation. Once you take off the mask, again wash your face with a gentle cleanser and lukewarm water and then use your acne treatment for maskne.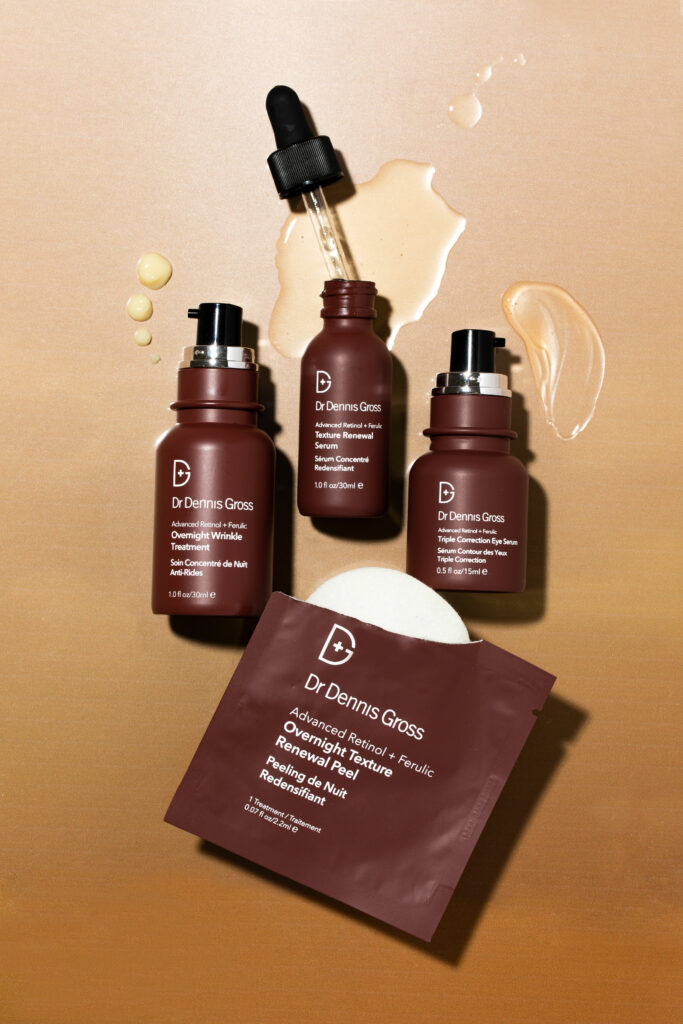 What has been your favourite product to formulate thus far, and why?
I don't follow trends – I follow science. When there is a breakthrough in research, that is what drives my innovation. This has led to the launch of the new Advanced Retinol + Ferulic technology. Bakuchiol is clinically proven to deliver retinol-like effects and reinforce the moisture barrier. I knew I could use this breakthrough in to enhance the benefits of retinol and simultaneously mitigate dryness and irritation by supporting the skin's barrier. After lots of research and clinical study results, I created the Phyto-Retinol Blend™, a cocktail of rambutan, ferulic, bakuchiol, and two types of retinol. This blend is clinically proven to treat and prevent signs of aging, texture concerns and acne without the irritation. I am proud to offer a retinol formulation that strengthens the moisture barrier and delivers anti-aging and acne-free results. I have never seen something like this offered to patients before.
Why do you think there's a sense of fear with retinol usage amongst consumers?
Bad experiences with retinol have caused many consumers to avoid the ingredient all together. Traditionally, retinol alone can be very irritating to the skin. Science tells us that we can formulate retinol with other ingredients that will prevent this irritation from forming in the first place.
How has the new Advanced Retinol + Ferulic range addressed this fear?
You don't have to fear irritation with the new Advanced Retinol + Ferulic products. Instead, these formulations actually strengthen the skin's moisture barrier. We have been working hard to educate consumers that alternative retinol formulations can work for all ages and many skin concerns.
View this post on Instagram
What are some of your suggested and recommended ways to apply the Advanced Retinol + Ferulic products? Should we be applying them in the day?
I prefer applying products that contain retinol at night, however my Phyto-Retinol blend is gentle enough for day use in conjunction with SPF. To play it safe, use the Advanced Retinol + Ferulic technology at night.
Texture Renewal Serum – Can be used AM or PM. The Phyto-Retinol Blend contains antioxidants and botanicals to soothe skin and help prevent irritation cause by UV exposure. That said, don't forget to always apply a minimum of SPF 30 in the AM! Apply 8-10 drops on the face, neck and decollate.
Triple Eye Correction Eye Serum – Can be used AM or PM because of the Phyto-Retinol Blend. Apply ½ pump for both eyes, tapping gently around entire eye area including lids, crow's feet, and elevens. Don't forget to apply a minimum of SPF 30!
Overnight Wrinkle Treatment – For PM use. Massage 2-3 pumps into clean, dry face and décolleté nightly. Follow with a moisturizer.
Overnight Texture Renewal Peel – For PM use. Massage peel pad into clean, dry skin – including face, neck and décolleté. Use 2-3 times per week.
What do you think will be the next big skincare trend, any predictions?
You heard it here first – let's go back to basics. After months of being stuck inside and over treating with the latest, buzzy skincare product, I am seeing patients go back to what really works for them. Healthy skinc can be achieved with a cleanser, peel, serum, moisturizer, eye treatment and SPF. The key is daily, consistent usage!