Lee Ming Chiang
From purple pansies to yellow daffodils, the classic smokey eye gets a romantic twist. Transform the satin midnight blue Spring from the Strange Flowers Night Garden Eyeshadow Palette to a frosted royal purple by first basing the eyelids with Multi-Use Highlighting Pencil in 'White Phox', and finishing with a dash of of the satin marigold 'Reborn' above the eyes. Then, keep the lips nude by blending Strange Flowers Lipstick in 'Voodoo Lily' to achieve fleshy, rosy tints that are soft and unassuming.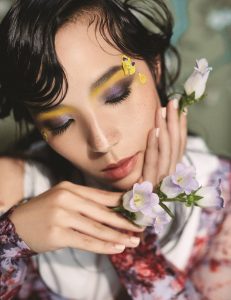 "Skin as white as snow, lips as red as blood, and hair black as ebony" — the Snow White adage perfectly embodies this look on Lee Ming Chiang. Her crimson lips are produced using Strange Flowers Poison Rose Lip Powder Palette in 'Ottoman' by gently patting on the powdered pigments. The brows are then spruced up with a metallic green line just beneath the brow bone with Larger Than Life Long-Wear Eyeliner in 'Rue De Rivoli'.
Here, a character straight out of the pages of the Brothers Grimm.