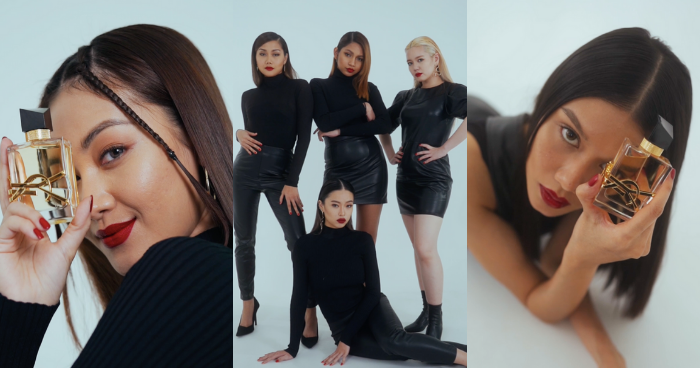 Introducing a reinvented, liberating rendition of a floral fragrance, the Libre EDP boldly flirts with the line between masculinity and femininity and pays tribute to one of YSL Beauty's most defining and iconic pillars and values: freedom.
View this post on Instagram
Enigmatic and multifaceted, its statement making olfactive experience ranges from sensual orange blossom to cooler lavender notes to reveal a remarkable floral fusion that is complemented by audacious notes of Musk Accord. Beneath the floral flavours is a sexy blend of smoky and smouldering vanilla and amber—which is responsible for giving the Libre its unique masculine character. Its distinctive boldness acts as a direct translation of the classic spirit of the fashion house—embodying the genius to masterfully challenge masculine silhouettes into gorgeous feminine pieces. 
Personifying the very essence of the Libre fragrance is Daiyan Trisha, girl group DOLLA and Mimi Lana. Watch as they share what the idea of Freedom means to them.
Freedom is Power with Daiyan Trisha
Daiyan hones freedom in the sense of power. The power to be unquestionably her. She is strong, independent and beautiful—just like the Libre. She balances between seductive, yet feminine flair and doesn't shy away from being bold either.
Freedom Is To Be Able To Express Yourself with DOLLA
The ladies of DOLLA  may all possess different personalities, but as a group, they unite to create an unstoppable force of energy. Freedom to them is being able to express themselves full heartedly. Whether as individuals or as a collective, they epitomise the Libre spirit—full of youthful flair, style and edge.
Freedom is Being You Without Anybody Else's Permission with Mimi Lana
Mimi Lana's duality and ability to fluidly shift between sexy and sweet is why she embodies the essence of the Libre to a tee. Fearless in all aspects of her life, she's never afraid to be her authentic self. She defines freedom as the ability of being you without anybody else's permission—mirroring what the Libre and the house of YSL Beauty stands for.