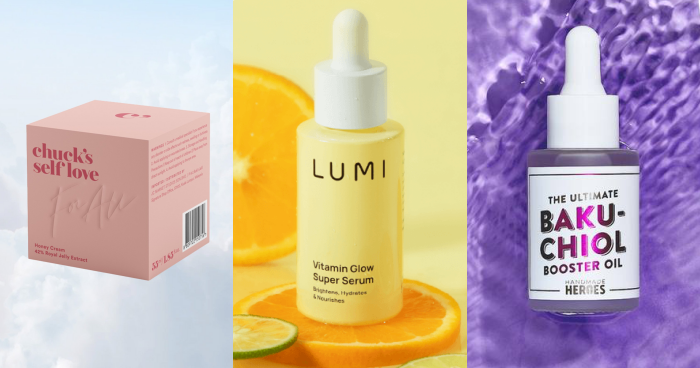 Despite the whirlwind of a year 2020 was, we saw the local Malaysian beauty scene produce some of its best offerings yet. With clean ingredients and innovation in mind, we highlight some of the biggest standout launches that we've just can't get enough of! 
Chuck's Self Love For All Honey Cream 
View this post on Instagram
Chuck's unveiled its own rendition of self love — in a jar. Expanding from their fan favourite sheet masks, the Self Love For All Honey Cream serves as an all-in-one healer. This multipurpose hydrating facial moisturiser consists of 42% Royal Jelly Extract, the highest concentration of this ingredient in any product worldwide. Tying together the benefits of Niacinamide and Malaysian Red Palm oil, we turn to this cream to hydrate, soothe and repair the skin when in need. 
Handmade Heroes The Ultimate Bakuchiol Booster Oil 
View this post on Instagram
With bakuchiol extract taking center stage, this booster oil from Handmade Heroes is an anti-aging powerhouse. The superstar extract has been clinically proven to stimulate collagen production and boost skin-cell turnover to visibly smooth out fine lines and maintain youthful, glowing skin. 100% natural, this vegan-friendly alternative to retinol is a more gentler, natural source to prevent fine lines and even out hyperpigmentation and acne scarring, 
Lumi Beauty Vitamin Glow Super Serum 
View this post on Instagram
The brainchild of Chryseis Tan, and her first venture into beauty, Lumi Beauty came storming onto the local beauty scene with their much-anticipated launch of their Vitamin Glow Super Serum. With each restock constantly selling out this naturally-derived Vitamin C serum is perfect for even those with sensitive skin. Boosting skin's hydration with Vitamins C, E & beta-carotene from fruit and veggie extracts, it's light-weight texture leaves your skin feeling moisturised, and glowing with antioxidant protection.  
Velvet Vanity Super Slim Stick 
View this post on Instagram
Velvet Vanity Super Slim Sticks have stolen a part of our heart thanks to its incredibly creamy texture and by how comfortable it sits on the lips. Available in six different colours, favourite shades include Crazy Classic and Fight Me. It's sleek packaging allows it to fit in just about any sized purse and it's vegan, cruelty-free and paraben-free as well!