Real estate broker falls in love with fitness, leaves the corporate world, helps expand leading fitness platform GuavaPass to China and Malaysia, and raises USD5 million to expand to more markets. Guru status, cemented. Diane Chia shares her fitness tips with BAZAAR.
GuavaPass provides convenient access to boutique fitness studios. Is that like the usual subscription-based class pass?
We're different in many ways. We carefully curate the most premium boutiques and the best instructors. We trial and test every single studio, and we know what our members like because we've been operating since April 2015, and learned many lessons across 11 cities.
What would you say is GuavaPass's biggest draw?
Unlimited monthly packages, which our competitors no longer offer. The biggest thing that sets us apart is that we are very dedicated to building a community so we work with many brands, whether it's a local juice bar, an activewear brand, or even cryotherapy. We try to empower the community by bringing like-minded people together to just have a blast while sweating it out.
Could you share your day on a plate?
I start my day with a green smoothie that I make with my NutriBullet. I use kale, spinach, banana, blueberries, and superfoods such as hemp and spirulina. If I can, I try to mainly eat raw with lots of greens, but because I usually workout, I'll incorporate carbs like potatoes and quinoa. If I had to choose a cheat meal though—probably banana leaf! But I don't eat it that much because I know it's very naughty!
What is your workout routine like?
At my best, I would workout up to 10 times a week. I have a lot of energy so I do a lot of bootcamps, HIIT, and spin. I complement that high energy with hot yoga, vinyasa, and pilates to calm my mind.
Any tips for staying on top of fitness goals?
Surround yourself with people who live and breathe fitness. I talk to a lot of instructors, ask them about their latest classes, then grab people who enjoy working out as much as I do and try it with them.
My love-yet-hate exercise is ...
Probably yoga. I love it so much but I'm a little bit afraid of inversions. That's what stops me from progressing because it's all in my head.
It's A Wrap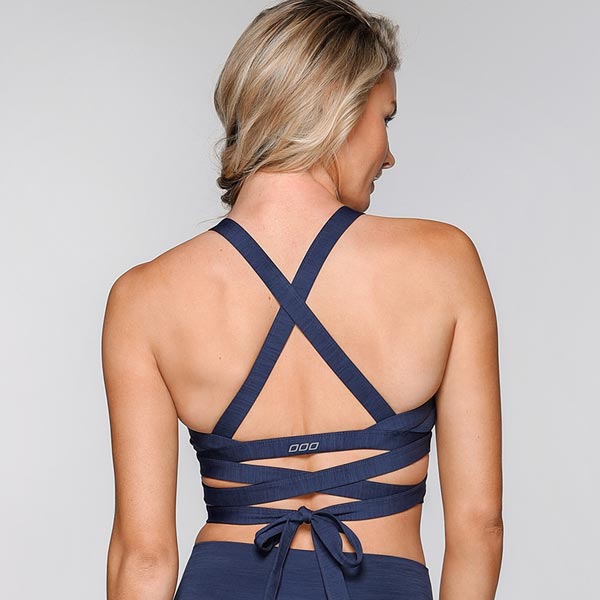 The sports bra of our vinyasa dreams does exist. Moisture-wicking fabric? Check. Flattering wraparound feature? Check. Cute enough to wear anywhere? Done deal.