Words by Hannah Fox
The best modern-day guides to help you live your best life
You might not need a new year to present an opportunity to refocus your mindset but, often, January can feel like the ideal time for a fresh start.
Whether you're wanting to shake off the past, are plumping for a
promotion at work
, or feel the need to take your personal life in an entirely new direction, these books offer a feast of expert guidance, empathetic inspiration and game-changing motivation.
Here, we review 12 thoroughly modern self-development books to set you on the best path for a more fulfilling 2023.
Why Has Nobody Told Me This Before?
Dr Julie Smith
Clinical Psychologist Dr Julie Smith became a social media sensation by providing actionable, practical insights and tips for users to improve their mental health. In her book, Why Has Nobody Told Me This Before?, Dr Smith makes therapy techniques accessible for all – because they should be, right? – and claims that the tools provided in the book are "not therapy skills, [but] life skills".
The book aims to educate readers on the ins and outs of how our minds work, in an understandable, digestible way, to empower us to take control, build resilience and nurture good mental health. If you're looking for lightbulb moments and practical tips on what to do with them, 'Why Has Nobody Told Me This Before?' is a good place to start.
Manifest
Roxie Nafousi
We've all seen that orange cover: queen of manifestation, Roxie Nafousi, has created something iconic in her debut book, Manifest. It inspires readers to take control and gives us the steps to do so – through what Nafousi describes as the "seven steps to living your best life".
While candidly sharing intimate details of her own life experiences, Nafousi debunks manifesting myths and gives us all the tools to try it for ourselves and create the lives we really want to live. Science meets life experience in Manifest, and we've no doubt you'll be dipping in and out of this book long after you first pick it up.
Roxie Nafousi's second book, Manifest: Dive Deeper was released in January, but we recommend starting here first for the full experience.
Good Vibes, Good Life
Vex King
Vex King's modern take on the law of attraction is enough to challenge any sceptic. According to King, everything carries its own energy – and that includes us. Our bodies vibrate with this energy, and vibrations can be high or low based on the emotion behind them: negative emotions create low vibrations, and positive emotions create high vibrations.
In Good Vibes, Good Life, King reveals how raising your vibration can encourage further positivity towards us: joy breeds joy. But the approach is one of realism – it's not just a case of deciding to be positive from… now. It's about dealing with the things you need to deal with, prioritising self-care and overcoming all of the things which are holding you back.
The Life Changing Magic of Not Giving a F**K
Sarah Knight
If you're feeling overwhelmed, uninspired and 
stressed
, you might need a f**k budget. Sarah Knight encourages readers to consider where they may be spending too much energy, whether that be through unwanted obligations, people pleasing or having a 'bikini body' (no thank you) – and to spend that energy elsewhere, where we actually want to. In 
The Life-Changing Magic of Not Giving a F**k
, we're challenged to review where and how we spend our time and focus back in on how we want our lives to be. We could all do with spending a little less time on certain things, or with certain people, and Knight's no-nonsense approach will help you work out what really matters.
How to Fail
Elizabeth Day
Elizabeth Day takes the message of her cult podcast to this stirring book. Part memoir, part inspirational guide, it's all about learning how to embrace failure in order to know how to succeed better.
Day reminds us all that failure is really part of success if we can use it as an opportunity to grow. How To Fail is based on the simple premise that understanding why we fail makes us stronger in the end and provides an important part of our process as human individuals: we all fail, and sometimes, going wrong can be a wonderful thing.
Ice Cream for Breakfast
Laura Jane Williams
A light-hearted but thought-provoking exploration of what it means to be an adult, Laura Jane Williams encourages us to rediscover our inner child in Ice Cream for Breakfast.
Through anecdotes from Williams' time as a nanny, the book encourages each of us to revive our inner silliness and find more time for play. Remember when you were a child and you became totally obsessed with dolphins, and you didn't care what anyone thought? It didn't cross your mind that people thought it was a unique interest, and you had no problems telling everyone about it, just because you wanted to? More of that, please.
Untamed
Glennon Doyle
"Who were you before the world told you who to be?" asks Glennon Doyle's Untamed, a thoughtful exploration of the conditioning of women – and it's a wake-up call. Encouraging all of us to be brave, Doyle shares stories from her own life and learnings to help us unleash our true inner selves, untamed.
Somehow written with both extreme sensitivity and powerful force, the messages Doyle shares in Untamed provide life-changing revelations for readers who are open to the idea that the true you may not be present in your day-to-day life – and once you know this, you will want to find her.
The Course of Love
Alain de Botton
As one of the world's greatest thinkers, we're always intrigued about what Alain de Botton has to say. Debunking the myth of the 'happily ever after' we're all sold, The Course of Love explores marriage in its most messy, beautiful, modern-day form.
The book provides a safe sense of familiarity through relatable, real-life anecdotes and learning opportunities on them, to help all of us nurture our relationships in ways which are real. It's not romantic, it's not always pretty – and that's the best thing about it.
The Body Keeps the Score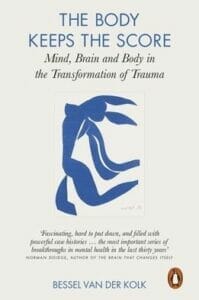 Bessel van der Kolk
We all carry past emotions within us, and Bessel van der Kolk has dedicated his life to exploring the impact this has on us and how we can overcome it. Each of us has experienced things we'd rather leave in the past; but our brains and our bodies don't forget. In The Body Keeps the Score, van der Kolk shares his life's work in understanding the very real impact that serious stress can have on us long after it's passed, sitting in our bodies and often wreaking havoc on our lives.
The Body Keeps the Score gives us practical tips and information on how we can release the past from the very fibres of our bodies, live more fulfilling lives, and truly leave our past experiences behind.
The Discomfort Zone
Farrah Storr
It's human nature to favour things within our comfort zones – but is that really where we thrive? Former editor-in-chief of Elle UK, Farrah Storr, has penned this eloquent guide to moving towards the things that scare us and finding power in facing challenges head on. Her book teaches an adaptable method to allow you to – yes – feel the fear and do it anyway.
Storr shares that "brief moments of discomfort" are what help us to grow and get to where we need to be, and in exploring our discomfort zones, we can achieve great things.
That Little Voice In Your Head
Mo Gawdat
Mo Gawdat's personal story of the loss of his son is tragic and inspirational – though he wouldn't describe it as that. Gowdat is full of wisdom on how we can optimise our minds for happiness – because unfortunately, it's not always the default for many of us.
The premise of Gowdat's message is that in understanding how our brains work, we can engineer happiness for ourselves: beat negative self-talk, change thought processes, and use the predictability of our brains to reprogram them for positivity. Based on neuroscience, That Little Voice in Your Head brings simplicity to our most complex of functions and what it means to be human, and empowers us to "adjust the code" running our brains.
Ikigai
Héctor García and Francesc Miralles
Ikigai, which means "a reason to live" in Japanese, is a word that we should all have in our vocabulary. Ikigai itself is about balance, and that's what the book aims to help readers achieve. Bringing together your needs, wants and desires isn't always practical – perhaps you're passionate about something you're trying to turn into a career, or you're unsure on what your purpose is – but García and Miralles make it refreshingly simple to find your joy.
Ikigai also explores how making choices to prioritise wellness and lead healthier lifestyles can help us to live longer, providing practical tips on how small changes can have big effects.
This article originally appeared in harpersbazaar.com