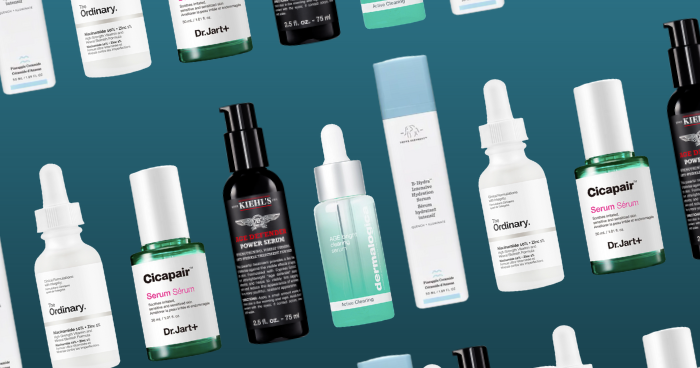 Serums work as that added booster to your core skincare routine. Doing a lot of the heavy-lifting when it comes to treating more specific skin concerns, we recommend incorporating one into your regiment as it can truly make all the difference in the way your skin looks and feels.
Although we do see a handful of brands extend their skincare collection to feature a mens specific range to cater to the fact that men typically have thicker and oilier skin, the majority of serums are indeed genderless and adding one into your daily routine may just be what you need to bring your skin from good to great. Finding the right fit for your skin may be tricky, but we've narrowed down some of our favourites for each skin type and concern to reveal your best skin yet.
If You Have Oily Skin
The Ordinary Niacinamide 10% + Zinc 1%
View this post on Instagram
One of our must-have serums—regardless of gender—The Ordinary Niacinamide 10% + Zinc 1% is both oil controlling and acne-fighting. The 10% niacinamide in its formula smartly works to reduce skin congestion and keep blemishes at bay, whilst the 1% zinc tirelessly works to balance sebum and oil production.
If You Have Dry Skin
View this post on Instagram
This cult favourite is a hydrating powerhouse that leaves skin feeling refreshed and rejuvenated. Its ultra-hydrating formula is infused with pro-vitamin B5 and pineapple ceramide to replenish nutrients to improve your skin texture and tone.
If You Have Acne-prone Skin
Dermalogica Age Bright Clearing Serum
View this post on Instagram
If you're looking for anything acne fighting, salicylic acid is your best friend—just be mindful not to OD your skin on it as it is quite drying too! A key ingredient in the Dermalogica Age Bright Clearing system, we see salicylic acid and niacinamide combine to be the two hero ingredients of this serum. Lightweight and extremely gentle on the skin, this highly-concentrated serum works to exfoliate and resurface the surface of the skin to help prevent breakouts and reduce signs of skin aging too.
If You Have Fine Lines and Anti-Ageing Concerns
Kiehl's Age Defender Power Serum 
View this post on Instagram
As men tend to have thicker, oilier skin, Kiehl's have formulated their Age Defender Power Serum with this in mind. Specifically developed to help treat wrinkles and fine lines, this anti-ageing formula is boosted with adenosine, cypress extract, and glycerin to reduce the appearance of wrinkles and help to visibly firm the skin for a smoother, vibrant complexion.
If You Have Sensitive Skin
Dr.Jart+ Cicapair Serum
View this post on Instagram
Skin soothing centella asiatica combines with a strengthening botanical complex to deliver a highly concentrated, soothing serum that calms skin sensitivity and dryness, whilst reducing redness.