From fine perfumery blends to mind-soothing scents.
Today's best scented candles are more than a pretty centrepiece – they have the power to alter and enhance your mood. A clean, crisp fragrance will clear the air when you're feeling foggy-headed, while a rose-tinted bouquet will bring a flicker of romance to a cosy evening in. For the exhausted, a lavender candle will encourage deeper sleep, and grounding cedarwood notes should slow an anxious mind.
But finding the best scented candle for you (or a lucky recipient) is more than a matter of scent, because not all are created equal in terms of materials, burn time and scent throw.
The new school of soy and coconut-based candles is sure to appeal to those on a natural beauty path. Brands such as Eym are using aromatherapy oil blends to bolster the soothing effects of a flickering flame, while emerging perfumers Sana Jardin and D.S. & Durga are shaking things up with spectacular, space-filling scents.
And of course, for a candle that looks as good as it smells, the stalwart Diptyque and Byredo still reign supreme. All of the candles below rank high when it comes to burn time and intensity – all you have to do is select the scent that speaks to you.
Best limited-edition candle
Diptyque Baies Candle
RM345
Diptyque's limited-edition candles come with weighty collector's appeal, and this season's offering is well worth snapping up.
The Graphics collection, launched in celebration of the brand's 60th Anniversary, sees four of the brand's most iconic scents reworked with a striking graphic votive. Our choice has to be the best-selling berry and rose blend of Baies.
Best statement candle
Bella Freud 1970
Approximately RM640
As coveted as the designer's slogan sweaters, this supersized gilded candle is so in demand, it rarely stays in stock for long. The signature scent is an escapist ode to the 1970s, with patchouli and oakmoss combining to entrancing effect.
Best cult candle
Le Labo Encens 9
Approximately RM303
Few things will look chicer on your coffee table than a Le Labo candle. Encens sits in the 'smoky' category, yet is crisp enough to work all year around. Frankincense is the dominant note, while amber and clove leave behind a cosy, comforting warmth that'll make any room feel instantly homely.

Best incense candle
Sana Jardin Tiger By Her Side
Approximately RM280
Sana Jardin is a perfect example of how to create a brand with social conscious, but that's not the sole reason to invest. Steeped in the top-selling Tiger By Her Side (also available as an eau de parfum), this candle throws a heady rose and incense scent that lingers for hours. It's sweet, earthy and smells – as any good candle should – like a fine fragrance. If you need a push to give this stellar brand a go, consider that every sale empowers female flower harvesters through reliable employment and business mentorships.
Best clean and crisp candle
Byredo Cotton Poplin
Approximately RM350
Byredo's cult candles are loved for more than their status-symbol aesthetic. The brand's most fail-safe scent, Cotton Poplin smells fresh, clean and entirely crowd-pleasing.
Something cosier? Try the equally well-loved, vanilla and bourbon Ambre Japonais.
Best sleep-inducing candle
Neom Bedtime Hero
Approximately RM270
This brand-new candle is a fresh alternative to Neom's classic Real Luxury scent. It's formulated with chamomile, rather than lavender, yet will quieten a racing mind just as well.
Three wicks are set into a sustainable vegetable-wax blend, which will burn for up to 50 hours.
Best citrus candle
Jo by Jo Loves
Approximately RM320
Legendary perfumer Jo Malone has created countless cherished scents throughout her career, but this is the first fragrance she made for herself. So popular, the brand released it in candle form, Jo By Jo Loves is citrussy without being overly summery, thanks to the soft cedarwood in the base.
Best sweet candle
Acqua di Parma Oh L'Amore
Approximately RM320
Sweet, heady and entirely romantic, Acqua di Parma's Oh L'Amore scent is destined for cosy nights in. Warming rose, amber and musk combine to intoxicating effect.
Best spring candle
Malin + Goetz Bergamot
RM295
Malin + Goetz' crisp candles have long been an insider go-to, and this brand-new launch is bound to brighten any living room.
Inspired by sun-soaked Italian orchards, the perfume-oil blend is sharp and citrussy, with bell pepper and ginger to add depth and a typically unique twist. A perfect choice for brighter days.
Best mint candle
Cire Trudon Abd El Kader
RM385
Cire Trudon's candles can be seen on the shelves of the most stylish homes, but it's the sublime scents that keep people loyal to the brand. While the gilded glass votives are indeed opulent, the fragrances inside are surprisingly light and fresh,
An ode to Morocco, Abd El Kader is a hyper-realistic blend of sweet mint, sharp lemon and green herbs, with the tobacco and vanilla notes taking a backseat.
Best herbal candle
D.S. & Durga Big Sur After Rain
Approximately RM350
Brooklyn-based D.S & Durga is one of the best-looking niche fragrance brands to invest in today. The scents are remarkable, too – Big Sur After Rain clears the air with a hit of herbal eucalyptus, underpinned by wet grass and dew-kissed plants.
Connecting the dots between sound and scent, the duo have created a playlist to match the mood of each votive – head to the brand's website, and hit play as you ignite.
Best centrepiece candle
Buly 1803 Pater Mateos Candle
Approximately RM805
For something truly centrepiece-worthy, look to Buly 1803's exquisite marble creations. This one contains a plant-wax candle that burns with the scent of freshly cut grass, and sits beneath a glass dome for maximum opulence.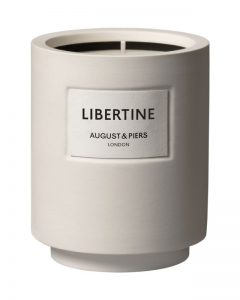 Best opulent candle
August & Piers Libertine
Approximately RM345
It won't take long for August & Piers' candles to become as coveted as those fine-fragrance behemoths (you know the ones). Brand new, yet already settled on Rosie Huntington-Whiteley's very chic shelves, these minimalist votives burn with unique, thoughtful and intriguing scents. Our pick is Libertine, which blends smoky woods with heady patchouli for maximum impact.
Best fig candle
Jo Malone Fresh Fig & Cassis
Approximately RM525
Jo Malone has just launched what might be its chicest home-fragrance offering to date. The Townhouse Collection comprises clean white ceramic vessels that house five brand-new scents, each one chosen to enhance the atmosphere of any room.
Our pick is Fresh Fig & Cassis – a fruity ode to the end of summer. Something smokier? Glowing Embers will conjure the cosiness of a crackling log fire.
Best decorative candle
Fornasetti Losanghe
Approximately RM960
Fornasetti's maximalist candles can fill a room with scent like no other. Powerful yet pretty, the lavender and herb blend in this hand-poured candle (created by renowned perfumer Olivier Polge) is heady and complex yet entirely sophisticated. The 60-hour burn time is impressive, too.
– – – – –
This article originally appeared on harpersbazaar.com/UK