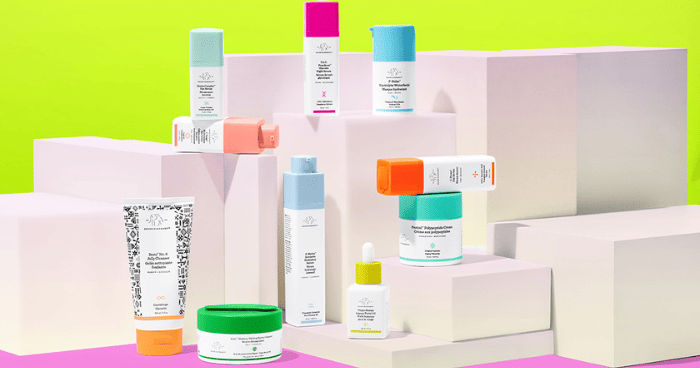 A concept that recently blew up on TikTok, but to the novice Drunk Elephant user, you'd know this is a practice that founder, Tiffany Masterson has been preaching about for years. One too that I have been skeptical about previously, I always wondered how it would be possible to mix such active ingredients with one another without causing a reaction. 
You're usually warned to not mix active a with active b, especially if it is more volatile ingredients like retinol or vitamin C. This concept is what I've previously based my skincare philosophy on, so for Drunk Elephant to proudly preach on the opposite definitely took me by surprise but I was intrigued nonetheless. 
Claiming that 'mixing is the new layering', Alex Fu of Drunk Elephant's global marketing explains the concept as such—"Much like you choose ingredients for your daily smoothie based on your body's cravings, we believe in picking products for a.m. and p.m. smoothies based on how your skin feels. All of our products are biocompatible and designed to be mixed together (except Umbra Sheer and Umbra Tinte sunscreens, which are formulated to sit on top of the skin). So mix a little of this and a drop of that or a pump of this and a couple pumps of that in the palm of your hand, apply it all in one go, and boom. Bob's your uncle."
People have even pointed out that Drunk Elephant's packaging is created with this concept in mind. Taking a look at most of their creams, they are packaged with a push down top that is shaped like a dish to make mixing all the more easier. So, after some time exploring their smoothie recipe book, we've narrowed down our four favourite smoothies. 
Glow Crazy Smoothie
The glow this smoothie mixture brings out of your skin is incredible. Working almost instantly, this mixture reveals firmer, more hydrated and luminous skin. The combination of the B-Hydra and Virgin Marula Oil works great as a couple if your skin is in need of a big drink of water, but the added Protini Polypeptide Cream boosts the skin with much needed proteins to address the appearance of skin's tone, texture, and firmness. 
Butter Days Ahead Smoothie
Soothe tired and irritated skin with this comforting combination. We love the Wonderwild balm for healing dry spots not just on the skin but for the body too. Mixing it with the exfoliating properties of the T.L.C Framboos and hydrating benefits of the B Hydra make for a great healing salve to mark the end of your night. 
Liquid Gold Smoothie
A combination I was sceptical at first with was this Liquid Gold Smoothie. This daytime pairing is super packed with vitamin c, a splash of retinol and a bundle of proteins. This power trio isn't for the faint of heart but the result is exceptionally brighter, smoother and firmer-looking skin. 
Show Sun Strength Smoothie
Get that 'I've just returned from holiday' glow instantly with this combination of products. The Protini serum works to exfoliate the skin and reveal a natural luminosity, whilst the Lala Retro soothes and nourishes the complexion. The star is the D-Bronzi that adds a sunkissed glow to the mix. 
Read More: The Skincare Brand We Can't Get Enough Of