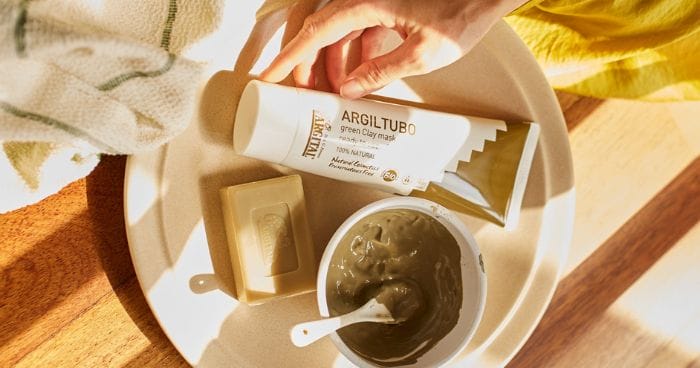 As we continue to become more conscious of what and how we consume our beauty products, we're pivoting to brands that go beyond providing products that simply work. We're looking at cleaner formulations, better ingredients, environmentally-friendly packaging and more.
In this expanding beauty landscape, it's always hard to pinpoint brands and products that deliver on all aspects. But this new natural beauty find of ours doesn't disappoint. Having just discovered the brand Argital and its signature Sicilian Green Clay—we wished we would've come across the brand sooner.
First created back in 1979, Argital was founded by Dr. Giuseppe Ferraro, a Sicilian biologist. Encapsulating the healing properties of the rich elements found in his homeland, he created Argital with Sicilian Green Clay as its backbone. The name even weaves his dedication to the power of this clay. The word Argil (argilla) meaning clay, Ta (Tartaruga), meaning turtle and the 'L' for longevity—essentially meaning 'clay that brings you longevity'.  His method and belief with his products also revolve around the study of Anthroposophy, which emphasises on the power of nature that relates greatly to the human body and mind.
Using 100% natural ingredients and fragrances, as well as organic herbs, Argital products are great for all skin types, even those on the sensitive side too. The differentiating factor from other organic brands and Argital is their Sicilian green clay. 
It gets its natural moisturising and nourishing properties from its 16 million year old sea origin—rich in sea minerals and iron divalent, it also possesses volcanic ashes from Mount Etna too. Only harvested during the summer months where the sun is its strongest, this remarkable clay is thoughtfully sun-dried as compared to dried mechanically. Embracing the energy from its surrounding environment, Dr. Ferraro ties the Anthroposophy theory with biodynamic farming to fully maximise the healing powers of nature. Never compromising on the vitality of their products, all Argital products are made without preservatives as well. 
Another star ingredient of Argital is their Gold essential oil. A process of dynamisation that was created by Dr Ferraro himself, it uses the rhythm of the human hands with the presence of an earth material to activate the properties of the plant—a method of producing essential oils that is only used by Argital. 
Our Must Try Products
Argital Active Green Clay Powder
This multi-functional powder is an all-in-one treatment that works for the face, hair and body too. Made from 100% pure sun-dried Sicilian Green Clay with no additives and fragrance, this active clay powder is packed with natural healing properties that boost skin elasticity and betters blood circulation. 
What I love most about this mask is its versatility. I can use it as the traditional face mask, but also a body scrub, hair mask and in the bath too. Working with a 20/20 method. I mix 20g of the powder with 20ml of water to create a paste-like texture that suits my preference when it comes to clay masks. One of my favourite ways to nourish the skin, I let the Sicilian green clay sit on my face for roughly 15 to 20 minutes to absorb any excess oils and toxins from the surface. Once removed, I immediately notice that my complexion is brightened, plump and hydrated.
Argiltubo Green Clay Mask
View this post on Instagram
If you're looking for a quick, fuss-free solution and don't want to deal with the concocting of the Green Clay Powder, the Argiltubo Green Clay Mask is the next best thing. Powered by both Sicilian Green Clay, Argital's Gold essential oils, as well as a blend of organic healing herbs, this nourishing clay mask detoxifies and revitalises the complexion without drying out the skin. Expect a more supple, radiant complexion after each masking treatment and notice pores and the appearance of inflammation decrease. We also love that this mask can be used on both face and body too!
For more information on Argital and to purchase their products, head over to the Klay Organic website